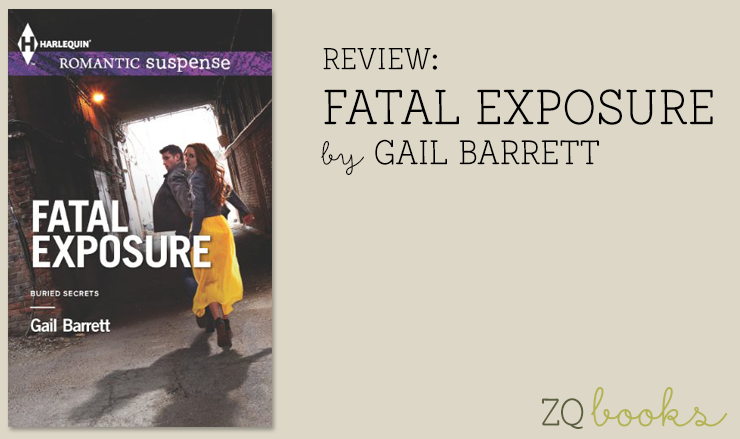 REVIEW: Fatal Exposure by Gail Barrett
The first book in this romantic suspense trilogy is sure to grab readers' attention as it did mine.  Highly recommended to those who love gritty suspense with well-drawn characters, promising more to come in these intriguing stories about three runaways all grown up and struggling to survive their past.
Fatal Exposure by Gail Barrett
Series: The Buried Secrets trilogy, Book 1
Category: Romantic Suspense
Publisher: Harlequin Romantic Suspense (releases June 4, 2013)
ISBN: 978-0373278275
Rated 5 out 5 Stars + Recommended Read!
Book and review courtesy of Romance Junkies.
Fifteen years ago three teenagers became friends while living on the streets as runaways.  Their ability to survive depended on each other and one young man who watched out for them.  Being in the wrong place at the wrong time and two murders force the three young women to run, hide the evidence and keep their identities secret.  Until now.
Cold case detective Parker McCall is positive that the candid shot of the woman in Baltimore's newspaper's exposé is reclusive photographer B.K. Elliot, his brother's killer.  Determined to prove that the teenaged girl in the photo with his brother taken fifteen years ago is the very same woman in the exposé, Parker has the older picture professionally aged.  There's no doubt that they're one and the same.  Now he must find her before she disappears again.
Brynn Elliot has remained out of the spotlight even though she is well-known for her photojournalist techniques in revealing the desperation of homeless youths.  Depicting the cruelty and hopelessness of the runaway lifestyle is her specialty, a subject she knows well, having been one herself.
The newspaper photo exposé followed by a cop at her door forces Brynn to consider running once again.  Having just bought a home under a fake name and enjoying a prosperous career, Brynn had thought she could finally settle down.  But, the cop is persistent and too close to the truth with her enemies nipping at their heels.  Will she ever feel safe again?
When Brynn finds her agent almost murdered, she knows her only chance is to partially confide in Parker McCall and convince him to help her.  He seems sincere and when a child turns up dead, Brynn knows she has no choice but to expose the man from her past for what he is before more children are hurt.  Can she face the demons from her past and get justice for the crimes, all while keeping her two best friends, Haley and Nadine, safe?
I haven't read a romantic suspense this good in years.  FATAL EXPOSURE packs in the details in a small package of 288 pages with some of the best gritty police work, where every word and sentence counts toward unmistakable believability.  An unusual background for a heroine makes this one as heroic as the detective she relies on.  Brynn is smart and brave, as well as never helpless.  She pushes just as hard as Parker and earns his respect.  Street savvy in his own right, the pair of them form a team that works beautifully in love as much as in defense.
I love the concept of this trilogy—three runaways become friends as teenagers, witness a crime, then go into hiding, working hard to realize their dreams without discovery by an unknown killer.  It's the perfect set-up for a trilogy and the characters are interesting, strong and sympathetic enough to make you want to take up their cause.
Superb characterization in a true-to-life story, FATAL EXPOSURE is a thrill to read.  It's modern, edgy and convincing, ramping up expectations for what's to come.  Author Gail Barrett has crime writing chops proven by her wordsmithing talent.
The layering of clues is exquisite.  I was so surprised by the turn of events toward the end.  THE BURIED SECRETS trilogy kicks off with a gripping and heartrending story of runaways in FATAL EXPOSURE, setting the stage for readers to crave the next two installments.  We won't have too long to wait because A KISS TO DIE FOR (Haley's story) releases in August 2013 and SEDUCED BY HIS TARGET (Nadine's story) releases in December 2013.  I can't wait to find out what happens next!  FATAL EXPOSURE earns Romance Junkies' highest rating of 5 Blue Ribbons and a Recommended Read status for packing a punch in a small package.
Support this site by following these links or commenting below…
What's on your Mountain? What do you like best about Romantic Suspense?

Print this Post