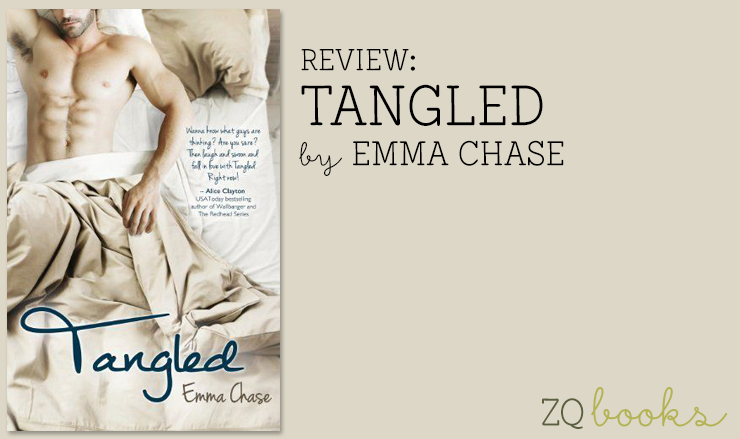 REVIEW: Tangled by Emma Chase
A very funny adult rated contemporary romantic comedy, TANGLED is written from the male point of view and is just as crass and hilarious as you can imagine.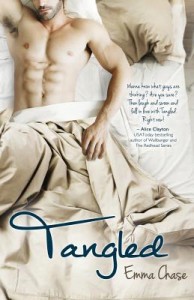 Tangled by Emma Chase
Series: Tangled, Book 1
Genre: Contemporary Romantic Comedy, Adult
Publisher: Omnific Publishing (May 2013), Gallery Books (August 2013)
ISBN: 9781623420154, 9781476761473
Rated 5 + Recommended Read
Book pulled from my eBook TBR Mountain Range, purchased by me.
Book recommends from other readers are always a great way to find a "new to me" author and that's exactly how this one landed within my radar. Thanks to Jill at Goodreads for suggesting TANGLED because the cheeky humor is just what the doctor ordered.
There are so many things to love about TANGLED by Emma Chase. First, it's written from the male's point of view and not just any male, but from one who is a proven and self-proclaimed player. Drew Evans, an investment banker, is as nasty as they come in a "love 'em and leave 'em" kind of way, but his one redeemable quality is that he doesn't pretend he's anything else so you get exactly what you should expect if you tangle with him. Don't worry though—the other thing that I love about this book is that the heroine, Katherine "Kate" Brooks, can outplay the player in more ways than one. She's smart, successful and engaged. Smart enough to outwit Drew's every move, if she wants to, and can give him exactly what he has coming to him when he decides to be a jerk.
If you love raunchy and funny movies like NO STRINGS ATTACHED, then you won't be offended by the words and naughtiness within this book. TANGLED is written with the adult reader in mind, taking full advantage of adult language and situations for your entertainment. Drew will probably appall some readers and you might want to smack him a time or two before you've read to the end of his story. But, if you love to laugh, Drew isn't the only character who is ridiculously funny, sometimes in a very irreverent way. He has friends who can be just as crass and sometimes worse, plus, family members who know him well and love him anyways but who aren't afraid to say exactly what they think of his antics when he deserves it. Truthfully, Drew is sort of afraid of his sister and with good reason. She's a viper just waiting for Drew to screw up so she can put him in his place. Of course, Drew is humanized by his interaction with his almost four-year-old niece who adores him. I'm sure she'll make you laugh and melt your heart!
In the end, I think that Emma Chase is one of my favorite "new to me" authors of 2013. Ms. Chase's ability to write a believable romantic comedy from the male POV is a sparkling addition to the romance genre. TANGLED will make you wish for more and hope that someone realizes that this book has great movie potential. I know it played out like a movie in my head, making me laugh while wanting to throw something at Drew, then diving in for more. After reading this book, you'll be pleased that TANGLED is now a series with more to come in 2014. Don't we all want to know if Drew can actually behave himself in the future? Sexy, smart, modern and hilariously funny, TANGLED is highly recommended to adults who love a naughty book with a sarcastic sense of humor.
Note: I read the eBook version of TANGLED that was published by Omnific Publishing in May 2013, which I purchased earlier in the year and just got a chance to read. TANGLED has since been published by Gallery Books, released August 2, 2013 in eBook and will publish in print in January 2014. Enjoy!
Support this site by following these links or commenting below…
What's on your Mountain? Have you ever read a romance book that was written entirely from the male point of view?


Print this Post