Time savers for Fresh Veggie lovers
I believe in eating as organic as possible and the only way to do that in an affordable manner is to grow or buy your vegetables and fruits within your local harvesting season. If you're not a gardener, the easiest way to do this is to frequent farmers' markets, join a CSA (Community Supported Agriculture) group, or find a local organic farm to buy from throughout your harvest season.
Buying in volume what you love and then preserving by some method that you prefer will give you that special fruit or vegetable off-season without preservatives and without a lot of effort or financial outlay on your part. Of course there are exceptions but if you're adventurous enough you can change the way you think about eating fresh into eating what's fresh right now.
In our fast-paced world, it's sometimes too easy to grab what's convenient over what's good for us. If you find yourself buying take-out, or grabbing frozen or canned vegetables more often than eating fresh, then I hope I open your eyes to what you can do to make fresh vegetables and fruit part of your daily routine.
Eating what's currently available locally will save money, but I find that it also needs to be convenient or you'll throw out your savings in perished produce. Batching tasks works best for me, so I hope some of these ideas will make it easier for you to eat fresh daily as well. Incorporate some type of preservation method in small increments into your food prep each day and you'll easily have a sustainable kitchen in no time.
Tips to use your available produce to its fullest extent without waste…
1. Celery – buy what you can consume is easier said than done when you're a family of one or two. We use celery almost every day but we can't always use up a large bunch of it before it's no longer crisp and we can't take advantage of sale prices without some type of preservation method. Freezing for later has become one of my favorite ways to extend the life of this delicious vegetable. Thanks to a friend's suggestion, I saute it, then freeze it for use in a stir fry later. I like to saute it in a vegetable or chicken stock that's leftover from something else I made that week. If I have no stock, I simply 'sweat' some onions, which create their own juice, then add in the celery and some garlic. I look for celery to buy that has nice looking leaves so I can freeze them for soups. I keep a bag in the freezer that I add washed and dried celery leafy stalks to (without cooking them first), then chop them up later for soup when I need them. There's no need to defrost them, just drop them in as you make your soup.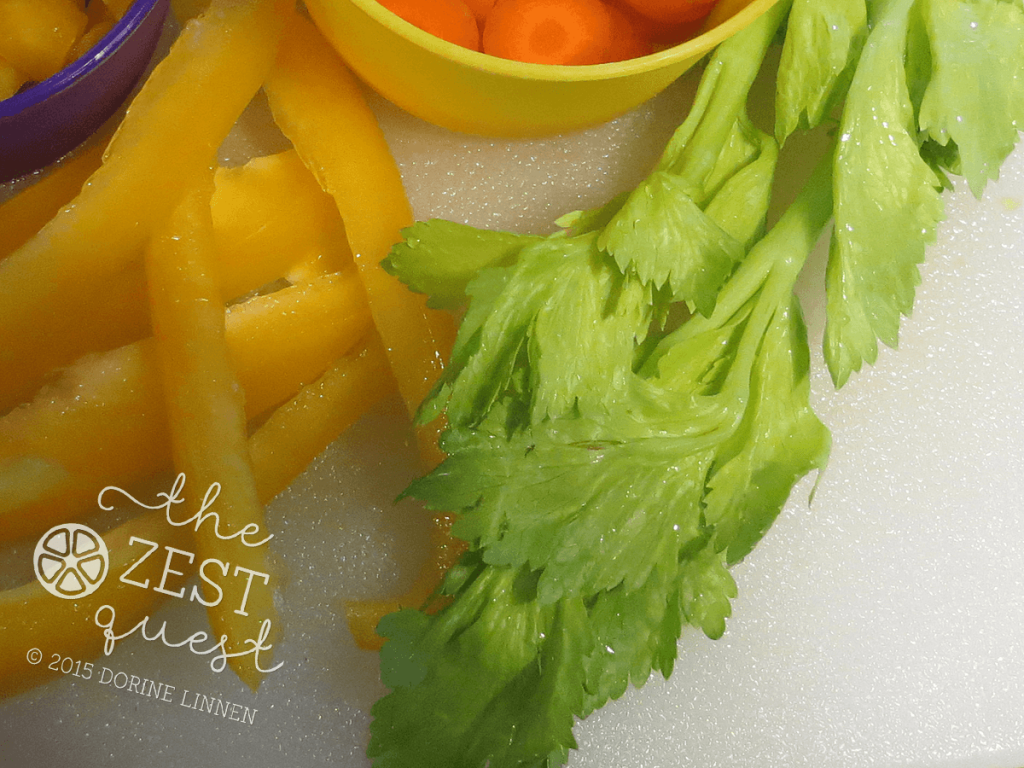 2. Peppers – watch for bulk sales at your fresh market. Peppers are a staple in my cooking, so I buy them or pick them from my garden and preserve daily as I'm fixing dinner. Every time I pull out a pepper to use at dinner, I cut it into the shapes I use most often: long strips and small chunks. Long strips go into a baggie or a container in the refrigerator for use in a stir fry or grilling this week, and chunks go into a baggie or container for use in salads and/or into the freezer for use in soups in the winter. For the freezer, I buy bulk at my fresh market when they're in season, then I bag them by color so I have yellow, orange and red available all winter long. I don't saute them but simply chop, bag, date the bag and freeze. Then, when I only have one vegetable to steam or stir fry, the added pepper will perk up the color and taste. I just throw the frozen chopped pepper into whatever I'm cooking without defrosting, usually sauteing them with onions and garlic. Everything tastes better with a bit of yellow, orange or red in it!
3. Lettuce – wash it, wrap it and bag it. I like a wide variety of lettuce in my salads but having more than 3 heads in the refrigerator for a family of two can create a lot of waste, even if we eat salads every day. I've tried everything, including washing the leaves and individually patting them dry, using lettuce keepers, etc…, but my simplest method is the most successful.
Wash the lettuce while it's still in a head form and let it drain upside down in a colander. Inspect the outside leaves. If they're showing signs of decay, remove them before moving to the next step. Wrap the entire head of lettuce in a paper towel in a cone-shape so that the root end is encased in paper towel and the leafy end is not. Use more than one paper towel to enclose the entire head of lettuce if needed. Then place the paper towel wrapped lettuce root-side down into a zip-lock baggie and close, or twist-tie shut other styles of baggies. Make sure you remove most of the air out of the baggie before closing. Each time you remove some leaves from the head of lettuce to use, wash the outside of the next set of leaves if necessary, then re-wrap in a clean paper towel if your previous paper towel is overly damp. Continue to reinspect the lettuce each time you use it to make sure it's still crispy and without rot. By removing outside rotting leaves frequently, you'll have fresh inside leaves longer if the lettuce is left intact in its head form.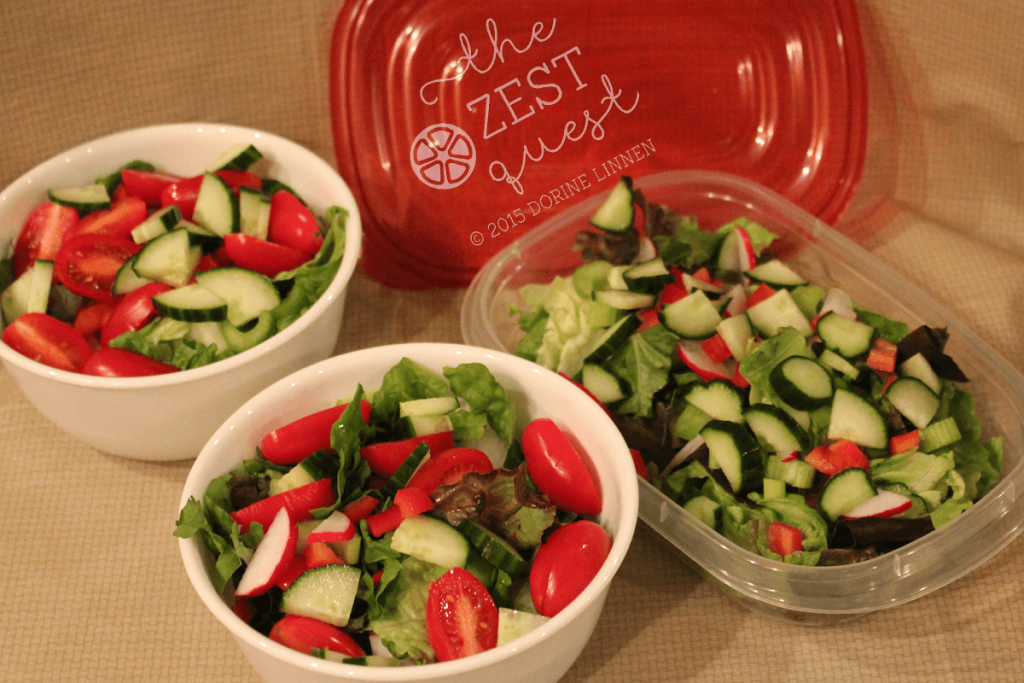 4. Salad – one for you, one for me and one for tomorrow. First of all, if you don't have a salad spinner, go get this one from Progressive right now. It's the best one I've ever owned because it spins super fast which dries all greens quickly and it's collapsible so it doesn't take up room in your cupboard. I use it to wash all leafy greens and herbs for fast thorough cleaning. By using a salad spinner, you can clean and prep your greens for individual salads today and put one in a container for tomorrow. If the leaves are well-dried in a salad spinner, they'll stay fresh for a day in the refrigerator after they're torn into bite-size pieces. I layer the third salad as I'm layering the two we're going to eat with everything we like except tomatoes. Tomatoes are just too juicy to keep the rest of the salad crunchy enough for tomorrow. Use a plastic container with a lid that you can fill to the top and make it an air-tight seal. I've found if there is too much air-space in the container, the lettuce will start to brown around the edges so a shallow container works best such as sandwich keepers. Make two individual extra salads if you are making salad for two for tomorrow, or use a very low long container such as the one I have pictured here which is only about one and a half inches high.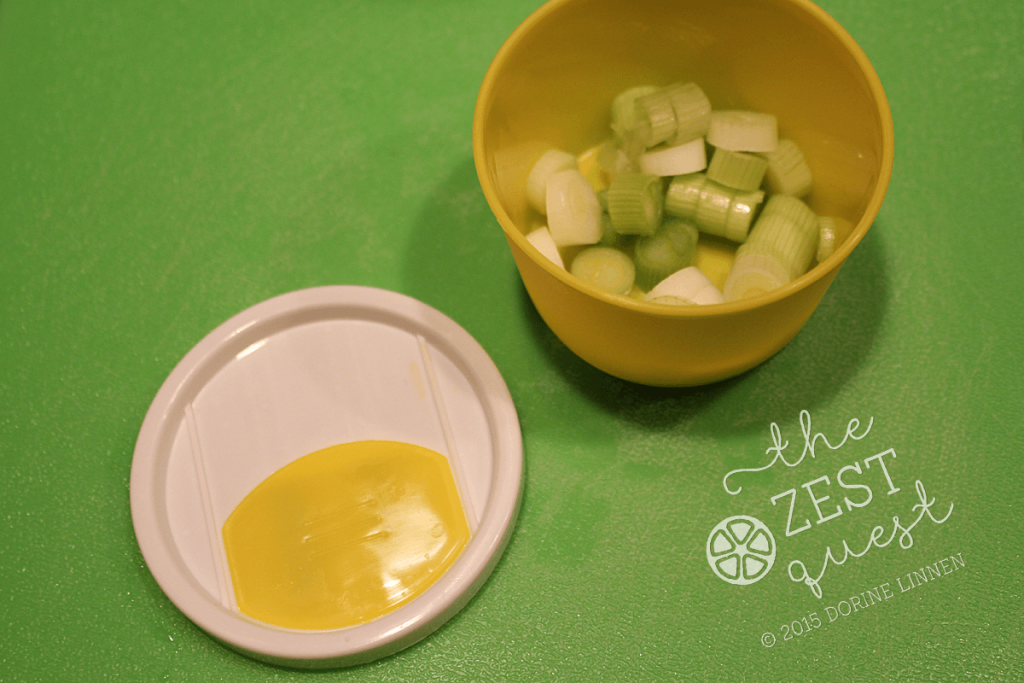 5. Chop it once, use it twice. I find chopping vegetables therapeutic so I don't use a food processor daily, even though I have one. I dislike the cleanup of a food processor in comparison to scrubbing a cutting board and because cutting boards are inexpensive at the dollar store, I have enough of them to not worry if we run the dishwasher daily or not. Besides, if I'm up close and personal with my vegetables, I'm assured that any rotten bits don't make it into whatever I'm making. That said, I always over chop and have too many vegetables prepared by the time I start cooking or layering my salad. So, this started by accident and became a habit so we can have "leftover stir-fry" or "leftover soup". It's also a fun game to look in the fridge, see what's already prepared and ready to go into a last-minute omelet for dinner. Fresh doesn't have to be hard! I love these little snack containers that have an opening in the top that are great for kid's snacks. They're also great for shaking out peppers, onions, broccoli, carrots, celery or anything else you've been chopping this week. Then go hunting for those lovely containers and shake them out into your omelet, scrambled eggs or panini for dinner. Mix them all together in a wrap for lunch. The possibilities are endless when you over-chop.
What time savers have you incorporated into your kitchen for eating fresh?

Print this Post