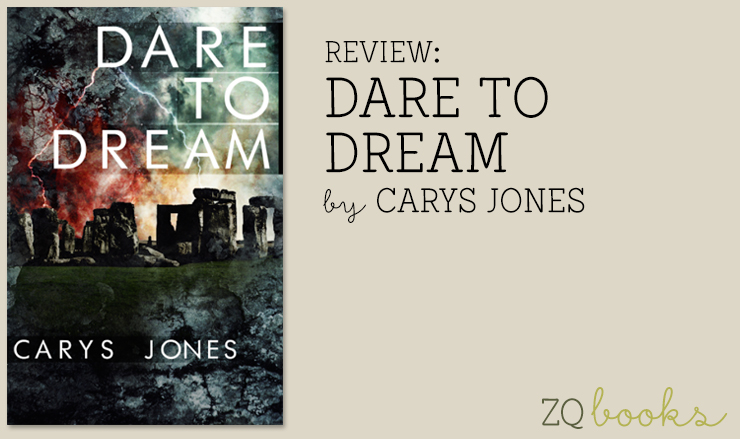 REVIEW: Dare To Dream by Carys Jones
Fourteen-year-old Maggie Trafford is one of five children under the care of a single mother. Maggie is old enough to understand when her mother drinks too much, as well as question why their father left them and never returned. When Maggie begins having nightmares about the world coming to an end, she tries to talk about it with her mother who doesn't seem worried.
Maggie's dreams escalate, affecting her good grades and sometimes in a physical way. Teachers become concerned, which only upsets her mother more because she fears she'll lose all her children based on Maggie's actions. Maggie's two friends believe her, but will they trust her enough to follow Maggie to safety if her dreams come true?
Maggie's life hasn't been easy since her father left his family. She is a great student, has a devoted best friend and does especially well in maths, where she attracts the attention of a boy who admires her, but she misses her father and doesn't respect how her mother handles their situation. With the unexplained nightmares recurring every night, Maggie's life seems to be spiraling out of control. Will her book-learned knowledge and a couple friends help her survive the worst time of her life?
I have always been intrigued by the Stonehenge structures in England, so an apocalyptic novel which is connected to this mystery is what prompted me to accept this book for review. I was given a digital copy of this book by the author for my unbiased opinion. Normally, I don't take author requests for review but the blurb and cover for this book intrigued me enough to accept. This is the first book I've read by Carys Jones.
I'm classifying this as a young adult fiction novel because the bulk of the story is about a fourteen-year-old girl and her thoughts about her life while in a crisis. As to the age range that should read it, this needs to be decided by the parents. There are some graphic words used by the characters, although not excessive, and it's a dark adventure novel which isn't an uplifting story as much as it is a survival journey.
DARE TO DREAM has qualities that will appeal to those who enjoy teen fiction books that focus on the possibility of an apocalypse and its ramifications. The teen characters are realistic and supportive of one another. The story concept is unique and some of the plot has a science fiction quality that isn't completely explained, so the mystery continued in my mind at the end of the book. The plot moved a bit too slow for me because Maggie repeatedly tries to sort out the reason for her nightmares and is sullen and frustrated because of it. Maggie is not a happy child so her story can be frustrating to an adult when you recognize her unsatisfactory options for intervention. I wanted to help Maggie, so her plight affected me, but I think I prefer young adult books with older protagonists who I can relate to better. I liked the connection to Stonehenge and the mystery that begs for a more elaborate conclusion. This novel has an ending that is satisfactory, but there is enough unknown that it could continue into a series of books. I enjoyed getting to know Carys Jones' skills through this example and will look forward to reading something else by her in the future.
Reviewed by Dorine, courtesy of The Zest Quest. Digital book provided by the author.
Get your copy at Amazon.
Dare To Dream by Carys Jones
Category: Young Adult Fiction
Rated 3.5 out of 5

Do you enjoy books with an "end of the world" theme?

Print this Post