Hiking Challenge 2015 – Bike & Hike Munroe Falls
Last week we got a respite from the cold snap we experienced over the weekend (several hard frosts) and the sun came out so, of course, we went on our fourth hike. I was trying to find an easy hike because I didn't think we were ready for something more strenuous, yet. The Bike & Hike trail from Brust Park in Munroe Falls, Ohio, to Silver Lake, Ohio, was marked easy for the Summit County Metro Parks hiking spree, even though it would be 2.4 miles in total if we hiked the whole distance. I didn't think we were ready for that yet, either, and I was right. But, we went as far as we dared and paid for it that night and the next day with pain. I realize I'm going to have pain as I increase mileage or difficulty, there's no way to get around it with Fibromyalgia. I also won't know what I'm capable of unless I push harder.
Part of the trail goes along the Cuyahoga River so we had fun taking some photos when we could get a peek at the water. There used to be a beautiful waterfall at Brust Park when we lived in Munroe Falls, but they removed that, as well as other water controls, along the river to help with the ecosystems and to get it back to its natural state. Which makes it a really good river for those who like to kayak or canoe, providing some pretty active natural rapids in Cuyahoga Falls. I'm sure there are other highlights since the water restrictions have been removed but I haven't experienced them yet. We used to canoe from Kent to just before the waterfall that used to be in Munroe Falls, but I haven't done that in years.
The main reason for our difficulty in walking this time was that the pathway is asphalt and that's a completely different condition for our bodies to handle. It encouraged us to move faster because of the smooth surface, but it also used different muscles. I ended up with pain in the balls of my feet and so did my husband, but that wasn't anything I expected. At first, my hips were sore on that surface, within minutes of being on it, so I expected more back pain than I got.
Am I sorry we tried it? Absolutely not because we learned more about the area and we may just invest in bicycles or scooters to make better use of trails like it in the future. Has anyone else tried the scooters? They look like fun, although I haven't seen adults on them, yet. There's always a first for everything, right?
I used to hike and ride this trail years ago, so I was familiar with it, but I forgot how nice it is for cycling. It was about equal numbers of hikers to bikers, plus, I came across a man in a wheelchair on oxygen who was thrilled to be upright and moving right along outside. That experience was worth trying this new spot. His attitude was an attention-getter and made me thankful for the beautiful day created for both of us to enjoy. There's a lot of reasons to be grateful for these trails and his ability to still get outside and enjoy nature is one of my grateful reasons on the top of my list.
We ran into another woman hiking down the trail with a camp-chair, fishing pole and tackle box, hoping to catch herself a Northern Pike or two. I liked her spunk (and her fishing outfit complete with a great hat and vest!) and think I may be willing to walk that far to the pond we found to try my hand at fishing, too. I would use our 4-wheel cart to tote our gear, though, because although I could make it to the lake with all that gear, I might not be able to make it back to my car. I love to fish in cooler weather — I'm just not fond of it in the summer. I like it even better when my husband is fishing and I'm reading a book! HA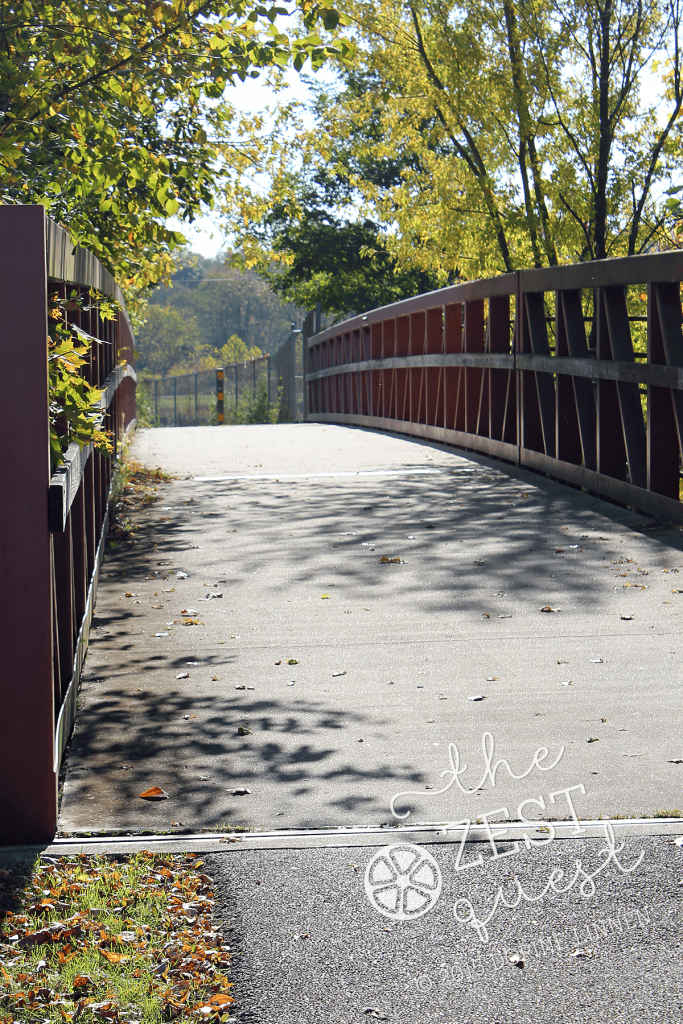 We made it seven-tenths of a mile to the Kelsey Bikeway that goes 1.5 miles to Galt Park in Cuyahoga Falls. We enjoyed the river views from the bridge for that bikeway (pictured above), then turned around to go back to the car. In our defense, we did have to backtrack on the trail about two-tenths of a mile to get my jacket that I dropped, so that added mileage we didn't expect. In the end, I'm guessing that we walked a total of 1.6 miles, which is more than we've walked anywhere during this challenge. An accomplishment for sure and well worth our achey bodies!
I highly recommend this trail to cyclists and those confined to a wheelchair. For cyclists, there's a bicycle repair station at Brust park in Munroe Falls. For those walking or running, be sure you're used to that type of surface before going too far, because the trail goes for miles and miles and you have to go back the way you came to get to your car, unless you plan on calling a cab! We GPS bookmarked where our car was so we could tell how far we had to go to get back to it, just so we didn't overstep. I'm glad we did that because there weren't any benches or picnic tables or rock formations, logs, etc… to sit down on for a rest. That would be a nice addition, because I'm sure if those were available, we would have pushed further, knowing we could have rested comfortably for a bit before starting back. To someone physically fit who can just sit on the ground and not worry about how they're going to get back up unassisted, none of this would matter. But for those of us physically challenged, we have to think of all the options or lack of them when we're getting mobile.
Overall, a very enjoyable trail and one where I've learned a few things. Most importantly how sensible pulling a cart or wagon would be so we could stow our camera gear and have a place to sit down when we're worn out. Although I took out the big lens and some of the miscellaneous stuff in my camera bag, even that wasn't enough when trudging down that last stretch of pathway, lugging the load of two cameras, water, etc…
That idea has actually freed me enough to dream of bigger challenges and further distances on the Towpath or Hike and Bike trails, while being able to take the heavier lens and possibly a tri-pod. I might look like a goober trailing my cart, but who cares when I get to do what I love more comfortably?
For cyclists, if you want to know more about the Bike and Hike as well as the Kelsey Trail, there's a good article here.

Print this Post