REVIEW: Forever This Time by Maggie McGinnis
This is a holiday story in a way, but it doesn't actually take place during Christmas. It's about coming home when you don't truly know if the place you remember is really a home, or how you'll be received once you get there. The lighthearted banter of the first few chapters did not prepare me for what followed. FOREVER THIS TIME packs an emotional wallop that's unique and beautiful.
Therapist Josie Kendrew returns to her hometown when her dad has a serious stroke and is hospitalized. She hasn't been home, or in contact with anyone there, for ten years and doesn't plan to stay long. Josie feels obligated to be in Echo Lake now, and to overcome the flood of bad memories created by the events that led to her leaving the first time. Even though deep down Josie wonders how she'll survive facing her past. Josie is fully prepared to leave again as soon as her dad's condition is stable.
Ethan Miller was a professional military hopeful, until an injury forced him to change his plans. His brother now lives Ethan's father's dream of a military hero for a son. Now the CFO of Snowflake Village in a small town in Vermont, as well as the creator of a very special place for children, Ethan can't imagine seeing Josie again. He is worried how Josie will react to all the changes since she left Echo Lake. Or how he'll react to seeing the girl who he was engaged to marry, now all grown up, the very same high school sweetheart who left him practically stranded at the altar.
Josie's homelife was more horrific than she thought anyone knew. It was especially bad during her high school years. The only bright spot was the love that she and Ethan shared. Several tragedies convinced Josie that she could never be happy in Echo Lake and Ethan could never be happy anywhere else. So Josie did what she thought was best for both of them. She left for Boston a month before their wedding and never looked back.
In the first few chapters, I really thought this book was going to be full of fluff and cutesy. I'm not a huge fan of cutesy. Some of the situations seemed contrived and a bit over-the-top, almost sickening sweet. But that's Josie. That's how she remembers the place she ran away from because it was such a farce in comparison to what was really happening in her world. That's actually the true beauty of this novel because amidst all that fluff and nicety-nice, you'll never expect the soul-sucking emotion that will grab you.
This book is a hidden gem within itself due to the way it steadily builds a relationship with the reader. The emotional baggage starts to stack up, the best friends' anger at Josie launches, and the real story of what happened ten years ago begins to unravel. It's good. It's emotional. It's completely unexpected.
Even though this novel seems all sweetness, happiness and light in the beginning, the powerful emotion FOREVER THIS TIME eventually radiates truly wallops in the end. Wow. Just wow. I cried me a river. Such a heartrending story of growing up, running away, then coming back to find where you left your heart. Excellent emotional journey toward a well-deserved happy-ever-after. I can't wait for Josh's story in HEART LIKE MINE, book 2 of the ECHO LAKE series releasing in April 2016!
Review by Dorine, courtesy of Romance Junkies and The Zest Quest. Digital ARC provided by the publisher through Netgalley.
Forever This Time by Maggie McGinnis
Series: Echo Lake, Book 1
Category: Contemporary
Publisher: St. Martin's Paperbacks (November 3, 2015)
Rated 4.5 out of 5
Book 2, Heart Like Mine, available in April 2016!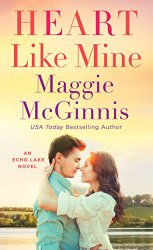 Do you enjoy books that draw out your emotion?

Print this Post