REVIEW: Super Foods Every Day by Sue Quinn
SUPER FOODS EVERY DAY by Sue Quinn is one of the most visually appealing and easy to mitigate nutritional resources I've found. I read about the benefits of specific foods almost daily, trying to instill that knowledge into my brain to be referenced for meal planning. I find that most books with detailed health benefits can be dry as toast to read, often sending me off to nap land, so I'm enamored by this book which held my interest and excites me about nutritious meal planning for the future.
SUPER FOODS EVERY DAY has colorful charts that appeal without distracting, organizing information in simple groups that makes it easy to embrace the information without feeling overwhelmed. I love the Vitamins in Super Foods chart that lists foods by vitamins they contain. I think that's particularly useful to anyone hoping to increase their health benefits through food selection.
I was especially excited about the recipes. So much so that I wrote a bunch of them down to try after my digital ARC (advanced reading copy) expires. I think the best compliment I can give to an author for a book I've reviewed is to buy a copy for myself and a friend. SUPER FOODS EVERY DAY is the type of book you'll want to own in print to have on hand for reference and to ignite your meal planning.
The recipes are divided into categories just like any cookbook, but I was fascinated by its division choices. The section on Breakfast contained Toasts, Smoothies and Bowls. The toasts are so intriguing and I can't wait to try Cherry Crush Toasts that includes frozen cherries, honey, lemon juice, basil, yogurt, seedy bread and seeds. I might actually learn to love breakfast with ideas like these.
In Salads, Soups and Small Plates I was attracted to Super Salad, Super Slaw and the pizza recipe that's made with a tortilla, topped with various ingredients including spinach and artichoke hearts. The Peanut Hummus recipe might actually get me to make my own hummus instead of buying some at the store. The Vita Frittata recipe sounds delicious with acorn squash, lentils, feta and Swiss chard. It was difficult to test recipes as there were specifics missing from my ARC, but I'm looking forward to buying this book to enjoy in the future.
Out of all the recipes, I was especially enamored by the Side Dishes which contained all the items we receive in our farm share, making them easily something I can imagine making for our dinners. Who can resist recipes titled as Creamy Turnip Bake, Nutty Grilled Lettuce, Green Smash or a Mediterranean Vegetable Bowl? Not to mention the Plum and Cranberry Crisp that is calling my name!
I was also very pleased by the photographs which showcased the food in white bowls on a white background, something I like to do in my own food photography. This gives the book a very clean and fresh look that's appetizing. There are also simple and colorful illustrations that add to the overall reading experience.
With 17 pages of charts and the remainder of the 160 pages filled with yummy sounding and nutritious recipes, SUPER FOODS EVERY DAY will entice the pickiest of eaters. My favorite feature of this book is that the vitamins, minerals, etc. are listed for each recipe, along with the potential health benefits. I don't think any of my nutrition books or cookbooks feature both in such a simple and appealing package.
Currently at $10.60 retail for print and $10.99 for digital, SUPER FOODS EVERY DAY is a valuable and economical addition to any kitchen.
Review by Dorine, courtesy of The Zest Quest. Digital advanced reading copy provided by the publisher through Netgalley.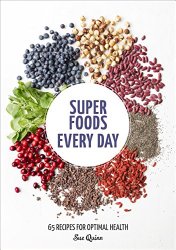 Super Foods Every Day by Sue Quinn
Category: Recipes, Health, Nutrition
Publisher: Ten Speed Press (December 29, 2015)
Rated 5 out of 5
What resources do you use to focus on the benefits of food?

Print this Post