REVIEW: A Walk in the Woods by Bill Bryson
There is nothing I love more than A WALK IN THE WOODS myself, so reading about thru-hikers is fascinating to me. After reading this book by Bill Bryson, I realize I need more of his books!
I love travelogues, so Bill Bryson's books have long been on my radar. I caught the bug with WILD by Cheryl Strayed and had to find more. Both books remind me why I love reading about these amazing people who set a physical goal and do their best to attain it. So inspiring!
I saw the movie, A WALK IN THE WOODS, first in the theater before I had a chance to read the book, and then rented the DVD to see the movie again after reading the book. In conclusion, the movie is a little light in comparison to the depth of the book. I highly recommend the book A WALK IN THE WOODS for travel and nature lovers. The movie is fun and will entertain those who have read the book much more than those who haven't read it. It almost comes across as a family movie if it wasn't for some adult situations and language, but in many ways it's the complete opposite of WILD. What follows are my more in-depth thoughts about the book and the movie, plus some photos I took of the Appalachian Trail (AT).
It was during my frenzy for more after reading WILD that I went digging through my personal library to find Bryson's book. Only to discover it was THE LOST CONTINENT: TRAVELS IN SMALL TOWN AMERICA (also sounds good) in my to-be-read pile. Have you ever looked at a cover (that bear!) so many times that you swear you bought the book? That was me, exasperated that it wasn't really in my house at 2am when I couldn't sleep. I immediately ordered A WALK IN THE WOODS online, as well as a few others for my thru-hiking dream pile, then took it with me when we traveled south last spring.
I've included some photos from our brief peek at the AT in Shenandoah National Park so you can see for yourself why I have this fascination with this beautiful resource. Not that I'll ever physically be able to walk the AT, but the dream still lives inside me, so I'll do the next best thing, live vicariously through others and their books. Seeing it in person made me realize what an extraordinary challenge these thru-hikers face. I couldn't resist talking to a female distance hiker while I was in Shenandoah and her enthusiasm for living on the trail for a few weeks every year, inspired by her father, fueled my dream even more. So brave! Who knows? Maybe someday…
My love of travelogues started over twenty years ago when I read a book about a guy who built a bicycle that he rode across country. The people he met and the stories he told, charmed me. If anyone remembers this book, please save my sanity and tell me the title. Maybe it's a good thing I forgot the title because I read travelogues to recreate that feeling. Would I have ventured further if I had found that book to read again? Will it seem as magical now years later? I may never know, but I'm having a great time finding more of them to entertain me.
The Book…
Bill Bryson made me laugh-out-loud and kept me captivated from beginning to end in A WALK IN THE WOODS. I also enjoyed his tendency to go off on a tangent in regards to safeguarding our environment. His insight in these areas reignited my passion for preservation of our nation's resources. There is great depth threaded into the story that explains how the Appalachian Trail was formed, it's history, who maintains it and what we can do to retain this national treasure, along with all the other national assets we may lose if we don't stay vigilant.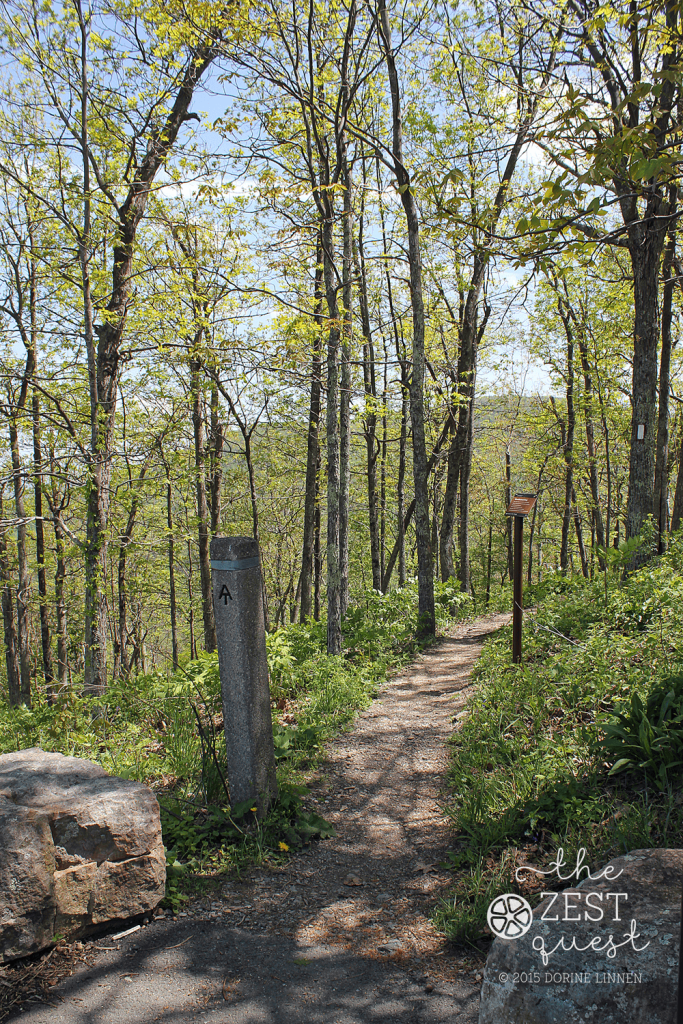 I didn't expect the detailed research shared within these pages, so that was a pleasant surprise. I did crave more actual day-to-day trail thoughts, so that wasn't explored as much as I'd hoped. There was a point toward the end of the book where I felt bogged down by statistics. I think that could have been broken up more within trail stories to be more effective. Even with those minor quibbles, I highly recommend A WALK IN THE WOODS to travel and nature lovers. Plus, read the book before seeing the movie because you'll appreciate it more that way.
The Movie…
I don't normally read a book after I've seen the movie because I feel that the visual stimulation from the movie usually ruins the way my imagination works while reading. I keep seeing scenes from the movie in my head, instead of letting my imagination roam. But, since travel writing is one of my passions, I felt the need to know the background to this movie. I'm so glad I didn't skip reading the book! The movie, A WALK IN THE WOODS, is fun. I do love Robert Redford and Nick Nolte together. They are the perfect odd couple, which is entertaining. If you've enjoyed them over the years, too, I think you'll get a kick out of them. They both resonate the people they're playing believably. Some of the other characters are a quirky caricature of what I assume the real characters from the book were like. In my opinion, they're a bit over-the-top, but if you've read the book, you'll enjoy them more.
I did enjoy the movie more on DVD than I did at the theater. In the theater, I appreciated the scenery on the big screen, but I think I caught more of the humor the second time on DVD. I think the movie is more visually effective on the big screen, but it's also more enjoyable after reading the book.
The combined experience…
Most of all after this movie/book experience, I believe I've found a new-to-me favorite travel writer. Even though Bill Bryson makes me laugh, I love his attention to detail more. He caught my attention with particulars about our nation's forestry and park systems' history. I feel that parks and libraries are two of this country's best assets. It's something I'm passionate about and Bryson seems to share that same passion with his readers. Bryson is also an excellent memoirist, adding in research that makes his experience come alive.
In my opinion, we should all get involved with our parks in some way, whether it's through volunteering, offering financial support, or fighting for good legislature to protect them. I've done all three and books like A WALK IN THE WOODS bring attention to the value we have in our own backyard. If for nothing else, you should read this book to be a better informed American. It will make you question and investigate, as well as hopefully take action.
If you're not an environmentalist, you'll still enjoy the book for its humor and adventurous spirit. But if you're a nature lover, then you'll relate to this book even more. I'm drawn to the woods and Bill Bryson creatively evokes the feeling of walking deep in them, with someone as well as walking alone. I agree that being alone in the woods has its solitary and silent appeal, something I crave, yet it's spooky at the same time. Bill Bryson's emotions are especially well portrayed in each situation as a keen observer and as a participant. He really does see the funny side of human nature and says what I think, sometimes, which makes me laugh even harder. I love Bill Bryson's quirky personality and sarcasm. It's perfect for travelogue writing.
A WALK IN THE WOODS accurately portrays the feel of the trail to those of us who love to walk them. I'm not a thru-hiker but it has been a lifetime dream, so until I'm able to physically do one on my own, I'll live vicariously through others. Bill Bryson pokes fun at the variety of personalities that hike, including himself. It truly takes all kinds, but I think they're all exceedingly brave, whether they hike the full length of the AT or not, they've done more than most of us in a lifetime.
The accuracy between the book and the movie is almost seamless. There was one funny scene with bears that was added to the movie for affect but wasn't in the book. Even though it did seem far-fetched, it added humor in the right spot. It was strange reading the book after seeing the movie since I don't usually do that. I wasn't overly impressed with the movie from the perspective of the actual trail and adventure side of things. It seemed to be more focused on the people and humor, so I missed the detail I had hoped for, or maybe I was just distracted enough to make it seem less important. In my opinion, the movie WILD did a much better job of portraying the trail and adventure side, so I was expecting more expressive cinematography from the movie of A WALK IN THE WOODS, even though they take place on two different trails. Even though I'm comparing them here, I feel that they're polar opposites in content in both the book and the movie, so if you love one the other may not appeal to you in the same way. I read them both because they're about thru-hiking, but in the end they're both about survival on the trail, mentally and physically.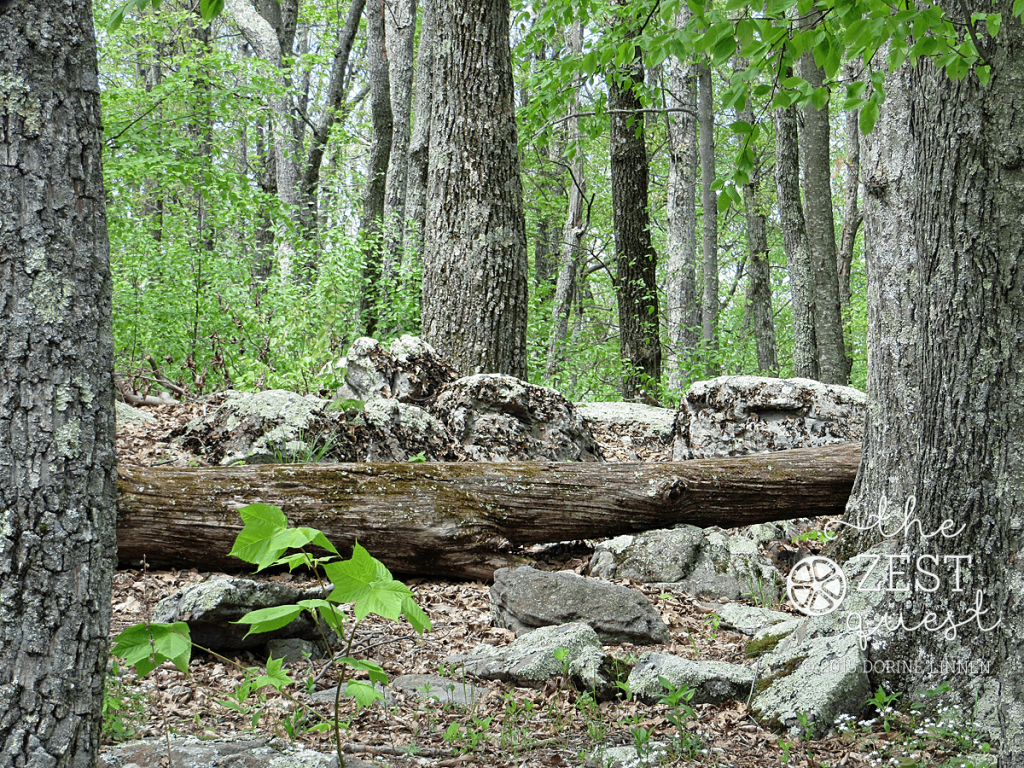 In conclusion…
I highly recommend the book A WALK IN THE WOODS to those who want an inside look at the freedom offered by America's Appalachian Trail. To those who support the AT and other trails like it, you have my thanks and I hope you know the value you bring to this country. Bill Bryson – you are a treasure to travelers worldwide. I can't wait to read NOTES FROM A SMALL ISLAND in preparation for the recently released THE ROAD TO LITTLE DRIBBLING in hope of my own someday tour of England.
For more information about thru-hiking versus backpacking, this article is a good one that helps you understand if you're prepared for success. For the nitty gritty on thru-hiking for females, this article is enlightening. More great tips and gorgeous photos here for those thinking about thru-hiking. If you have thru-hiked, or intend to do so, I'd love to hear about your journey and may even feature you on this blog in the future, with your permission, of course!
Please note: If you're interested in more hiking books and hiking articles, follow this link on my site for more of my posts on that subject.
Happy trails!
Review and Photos by Dorine Linnen, courtesy of The Zest Quest. Book purchased.
A Walk in the Woods by Bill Bryson
Category: Travelogue, Humor
ISBN: 978-1101970881 and 978-0307279460 (Movie tie-in version)
Rating: 5 out of 5, Recommended Read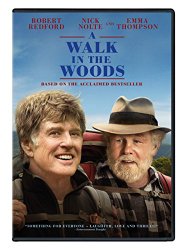 Do you enjoy reading books made into movies? Do you read them and watch them or just one or the other?

Print this Post