Food Love February 2017 – making memories
We kept up the Food Love in February 2017 by continuing our living on a farm share adventure. We traveled a lot most of February, so it was a challenge. Luckily we got a lot of frozen that we could stash until we're ready to use it. The apples came in handy when running out the door before breakfast was eaten.
One thing I forgot to mention in my January post is that there were extras we purchased in the first week's share. I've changed the way I do our pictures to simplify. The pictures are what we get in our share, plus whatever we buy extra, and then we split it between two households. If you want to know exactly what is in each week's share without extras, you can find that at Fresh Fork's site in the bag contents section. I'll try to remember in the future to state one way or the other like I did below.
We had two farm share pick-ups in February – here's a picture of each share enjoyed by two families for a total of four people…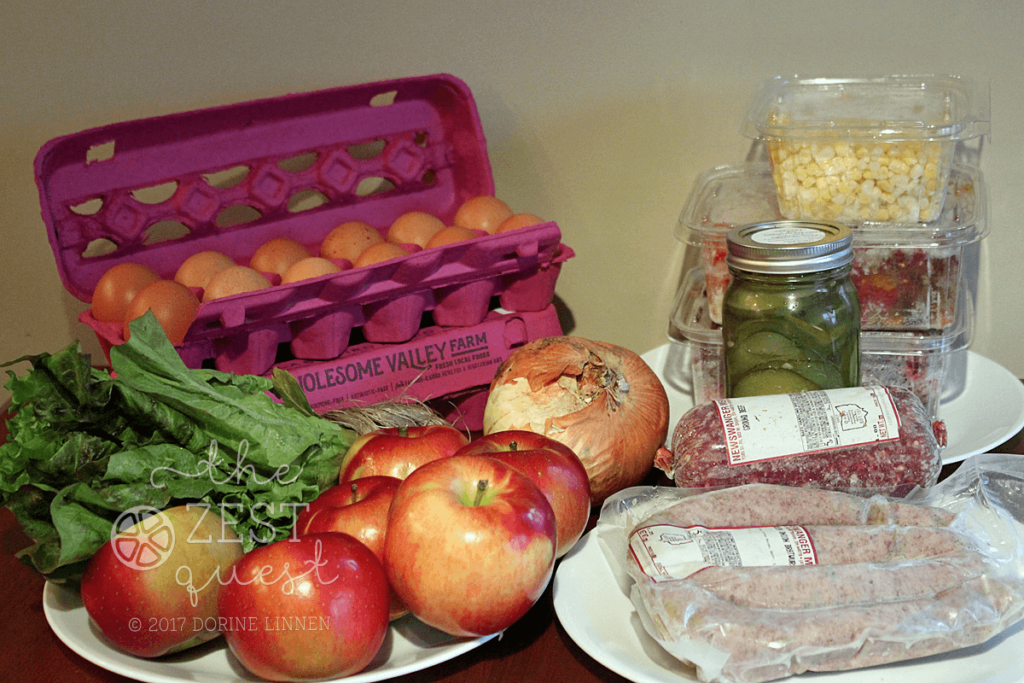 Notice the sausages? These Green Onion Brats are to die for. We poach them first above 160 degrees (about 25 minutes), then saute them in a pan to brown or grill them. I use the directions at Fresh Fork which explain it in more detail. One sausage is enough for two people but it's hard to resist eating a whole one all by yourself. I slice the rest of them into some type of stir-fry or eggs later in the week. Mr. Carnivore is especially fond of the garlic pickles – I can't even remember if I've tasted them. It also goes without saying that we can't ever go back to store bought eggs. There isn't anything extra in the picture above but I believe we bought more sausages and ground beef so each family would have a package.
We switched to Vegetarian this week as I didn't want a small chicken to try and split. The baby kale has become a favorite. We add it to salads and soups, as well as layered in our sandwiches. The purple and red potatoes sure look funny but they taste amazing. I lost the sweet potatoes – more than once. They must be getting frozen on the truck because they no longer last in my cupboard where I keep potatoes. I guess the cupboard isn't cool enough for them and they wrinkle up. I put some in the fridge and they worked out okay. If we'd eat them faster they'd work in the cupboard but I keep forgetting about them. This week we didn't add any extras. This was a very large share week with plenty for each family.
RESULTS…
Something I love about a Winter farm share are frozen veggies. They make dinner time super easy. I'm especially fond of the tomatoes. They land in everything, including scrambled eggs. I used to buy frozen veggies at the grocery every winter. I can't remember the last time I bought frozen or canned veggies – probably a year or more, at least. Everything in our freezers is from the farm share, our own garden, or a local meat market. Simplify is my 2017 mantra for everything we do.
Categorically different from summer farm share, you'll notice winter share isn't always enough for a family of four without adding from other sources. It's a bigger share, but it needs to stretch two weeks and it doesn't always work because we like more variety. The second week was my favorite because of all the root vegetables, but I couldn't live on that for two weeks. We always supplement from the farm share, or a fresh market, or just by diving into what we have stocked in the freezers.
I'm spending half of what we used to spend for groceries. This is because we prefer fresh and are in such a habit of cooking with fresh that it doesn't even occur to me to buy anything else. I can go into a fresh market and spend $20, but if I go into a regular grocery I'll always end up spending $80 on things we don't need. It's not that I'm that good at being focused in the fresh markets — the key is that they don't usually have the junk that tempts me.
Things we can't live without are cereal, bread and bananas. We often buy some Greek yogurt and add our frozen fruit to it. Mr. Carnivore can't do without his pretzels and I've become fond of them, too. We'll grab some tomatoes or cucumbers somewhere once a month because I can't go without salads. I also like to use chopped tomatoes when cooking and at this point, I'm almost out of frozen.
I always buy at least 6 more apples when they're available, because they're usually not waxed and they taste better. Dad and I love them so we usually eat all of them between us. I've been stockpiling the frozen fruit this winter so I think I need to do some baking. This Blueberry and Sweet Corn Oatmeal bake is calling my name. I have a huge stockpile of corn as well.
Since we had Mr. Carnivore's radiation treatments 5 days a week, plus numerous other doctor appointments, we ate out almost every day for lunch. We did this on purpose. It was our "spoil us" time and we got to try a bunch of restaurants we'd never tried before.
One of our favorites is Creekside in Brecksville, Ohio. The food is amazingly gourmet but reasonably priced. There is always something different to try and they have some great specials.
One of my favorites was the Teriyaki Turkey and Rice Noodle soup enhanced by the Greek Salad. Doesn't it look lip-smacking good?
This Grilled Veggie Stuffed Quesadilla was amazing paired with sour cream. I thought I was being a good girl with all those veggies but I could taste the butter that made this extra tasty. It was worth blowing my diet for the day just to taste this delicious combination. Highly recommend.
Plus, who can resist this view? Check out those icicles hanging from the ledges. Gorgeous!
So yes, our food spending was exorbitant in February, and not so farm share focused, but it was memorable Food Love. More restaurant reviews coming soon!
What's for dinner at your house?

Print this Post