REVIEW: Daddy's Girl by Lin Stepp
DADDY'S GIRL by Lin Stepp celebrates the beauty of small town life mixed in with the issues of everyone remembering who you were in high school. Even if you've moved on and improved, it doesn't mean those who remember you will accept you for who you are. Two people who were once in love, and separated by their social differences, try to reconnect. Can you ever really go home?
Former cheerleader Olivia Benton has made her peace with love lost and settles into life within her hometown. After her mother's death, Olivia feels responsible for her dad's well-being and happiness. Losing her best friend and first love to a city far away seemed to have left her with a substandard life, even if she's a successful business owner with many friends.
Geek Warner Zachary left his hometown to follow his dreams. Now a famous writer, he comes home for his high school reunion. Never able to face the love he lost, he hasn't been back to the town he grew up in since he left. He feels he has moved on and grown up, able to face the demons that haunted his childhood. Will those who teased and taunted him respect him as the man he's become?
Nature lovers will enjoy the details about plants in the garden and the hiking trails. This isn't a fast-paced story. It's a "getting reacquainted" story between two people who loved one another as children. There's a lot of hurt that needs to be resolved between the miss-popular cheerleader and the not-so-popular geeky writer and artist who is now famous. Lots of dialogue as they work through the hurt and lost love. Many of their classmates have yet to outgrow their high school antics, so this couple has outside influences to overcome. They must learn to accept the past mixed with the present, which isn't easy.
Olivia frustrated me because she was stuck in the past, allowing her high school friends to continue to influence her. Although Warner had grown up and away from his small town, his grievances were still fresh. I wasn't always pleased with how he treated Olivia, even though she needed a wake-up call. I had a lingering feeling at the end that they still had some issues to work out.
I love Lin Step's books for their nature detail. I always learn so much about the location of her books as her characters hike and enjoy the scenery. Even though the characters in this book weren't my favorite, I still enjoyed the journey.
Review by Dorine, courtesy of The Zest Quest. Print copy provided by the author for an honest review.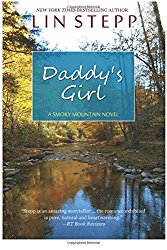 Daddy's Girl by Lin Stepp
Category: Women's Fiction
Publisher: Mountain Hill Press (April 1, 2017)
ISBN: 978-0998506302
Rated 3.5 out 5

Print this Post