Review: The Winter Sister by Megan Collins
The Winter Sister by Megan Collins grabbed me with the first sentence. Metering out clues chapter by chapter, author Megan Collins kept me riveted with this unsolved crime story. Even though I wasn't sold on the book's conclusion, the author's prose set my craving for whatever she writes next. Great debut!
The Winter Sister begins in fourteen-year-old Sylvie's point-of-view when her older sister Persephone is discovered missing from the home they live in with their mother. Sylvie's mom breaks down and hides in her room, even before they know Persephone is dead. Everyone suspects boyfriend Ben Emory, the mayor's son, to have done something to Persephone, especially Sylvie. So much so that she can't forgive him years later, even when he has moved on with his life, having been released as a suspect and never convicted.
The intense suspense latches on immediately and doles out the hints, forcing the reader to rush for more. Persephone's murder is discovered early on but the who and what connected with her death isn't unraveled until the end.
The fallout from that horrible day shaped Sylvie's life, destroying her childhood and the relationship she had with her mom. Forced to return to her hometown as an adult – that's when the clues start mounting again. Who killed her sister? Will the killer start to chase Sylvie?
The Winter Sister isn't listed as New Adult, but I see similarities to what I love about NA. It's not as angsty as NA, even though there is some of that. I thought I knew the killer by instinct, but there were enough suspects to keep me unsure. A good story that I read quicker than I anticipated. It's simply written and tightly woven, so I didn't need to backtrack much due to my drifting brain. It held my attention most of the way through.
I did get annoyed with Sylvie and some of her choices. I thought she used poor judgement where Ben was concerned. There were revelations that weirded me out enough to be uncomfortable with the end of the book. Even though I wasn't happy with the end, it didn't detract from my enjoyment of the author's style. My impression of the conclusion is more personal choice than anything to do with storytelling.
Sylvie's mom Annie was an interesting character. I didn't like her for most of the book, even though I empathized with her cancer treatments, but I was impressed with her redemption. I especially liked how it was tied to her favorite book and Sylvie's understanding.
The Winter Sister will satisfy fans who gravitate toward a murder mystery while appealing to those who love the nuances of the New Adult sub-genre of romance. It's not completely New Adult, but the book includes enough of what I love about it to appeal to me in that way. This book fits in many sub-genres of fiction, especially the difficulties between mothers and daughters, that I feel it will appeal to a large percentage of readers. It was just announced that we'll get another book by Megan Collins in 2020. I'm ready now so the wait will be difficult but expectantly worth it. Notable debut!
Review by Dorine, courtesy of  TheZestQuest.com. Digital copy provided by the publisher for an honest review.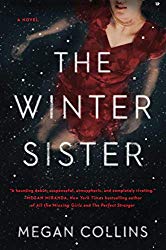 The Winter Sister by Megan Collins
Category: Women's Fiction, Thriller Suspense, New Adult Romance
Publisher: Atria Books (February 5, 2019)
ISBN: 978-1982100148
Rate 4 out of 5
What type of sub-genre combination do you enjoy most?

Print this Post