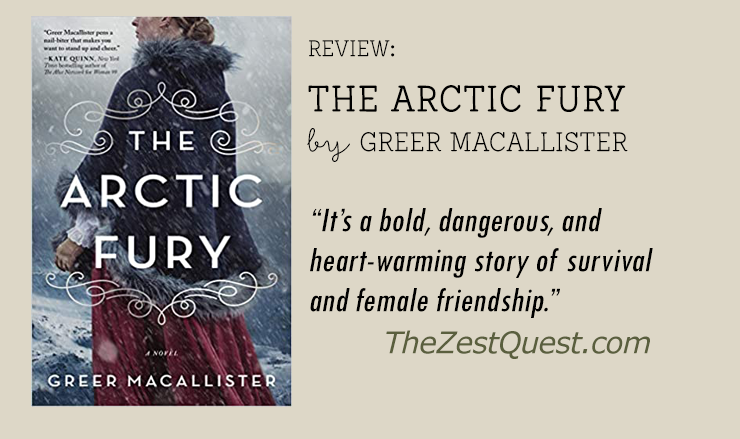 BOOK REVIEW: The Arctic Fury
THE ARCTIC FURY by Greer Macallister is exactly the type of historical fiction adventure story I love to read. An all-female crew including a journalist, a translator, two maids, a mountaineer, a nurse and a med student, two British Royal Navy wives, an illustrator, a dog breeder and trainer, and a navigator, join their sometimes-fearless leader Virginia Reeves on a journey to find some missing men. It's a bold, dangerous, and heart-warming story of survival and female friendship.
Why was this book in Dorine's TBR? This month's TBR Challenge theme to read a new-to-me author is one of my favorites. Preferring to find new voices, I have gobs of new-to-me authors in my TBR. But an author I follow on Goodreads read this book last month and the cover screamed "read me," so I put myself on the waiting list at our library. I love arctic adventure stories. Never thinking I'd get a copy so fast, I decided it was kismet and chose it for my challenge book. I'm so glad it landed in my lap. Score times three!
I've endured such difficulty reading anything. My concentration has been almost non-existent. From reading 5-10 books a month to maybe one if I'm lucky is frustrating. I love to read. It's my survival tactic in almost any given situation, but it failed me for almost an entire year. I was beginning to wonder if I'd ever get back to it when I discovered I'm a multimedia reader.
I started THE ARCTIC FURY in hardcover because that was the format available to borrow first. Hoping I'd get one sooner than later, I signed up for every format. This is a large book – over 400 pages. That's a crazy thing to take on when you're struggling to read. I knew I'd never finish it in the two-week maximum window allowed to borrow. But I'd try.
Thankfully, the digital version came up as "skip the line" available just as I had to return the hardcover. I had no idea what that meant, so I said yes, then realized it was only available for 7 days. I wasn't sure my slow-poke reading was going to make it work within 7 days. Then, miraculously, the audio version came up available, so I borrowed that as well. That did it. I was on a roll – I'd listen at night and read during the day.
That lasted maybe a day or two, because in the end I loved the audio version so much that my headphones were attached to my head constantly. I can easily block out the noise around me with headphones, where earbuds just bug the crap out of me.
I did go back and read a few chapters after listening to them. Loved the book and its ending so much that I had to savor it just a bit longer. Finished the book on the exact day they took the digital version back, so it took me three weeks and three formats to read this book and I loved every bit of it. And yes, I returned the audible early, along with another digital copy that landed in my queue for the next anxious reader!
Here's my review…
I'm a huge fan of travel stories, especially when they feature pioneers of their time. The main character Virginia Reeves is the ultimate female pioneer – imperfect, yet deeply rooted in her faith and what is right or wrong. This book isn't heavy on the faith element, but it's essential for Virginia to get through her ordeal.
THE ARCTIC FURY begins in the fall of 1854 in Boston, Massachusetts, in Superior Court. Our heroine is staring at five women in the courtroom who survived their epic expedition together. She remembers who they lost and how they lost them. We get just a glimpse – a few words about each one – knowing we'll learn more about them as the novel progresses.
In Chapter two, we go back to Boston in the spring of the prior year. Virginia meets her benefactor, the wealthy woman who entrusts Virginia with an expedition, as well as dangles a reward if she and her team are successful.
In Chapter three, we're back in the courtroom. This novel follows this pattern and is a big part of what makes it so good.
In the beginning, all we know is that Virginia planned to lead an expedition north to find a lady's husband who never returned. His disappearance included two Naval ships and their crew. Now in the courtroom, Virginia is accused of kidnapping and murder. She is in dire straits and we're about to learn her fate within the fifty-five chapters.
Yes – this novel is long but fascinating. There is never a point where I felt uninterested in continuing. I was enthralled from beginning to end.
There are many reasons to love THE ARCTIC FURY. It's based on historical facts that many of us will recognize, but the characters, plus how their story is told, are the best-laid mystery. Full of excitement and deftly created anticipation, author Greer Macallister's storytelling made me think about this book all the time.
I loved how I got to know each character as her part in the journey is told. They all are not, as to be expected, likeable. Several are scream-worthy despicable and add to the drama as it unfolds. I also loved how small hints or one-liners from witnesses were revealed, then we're switched in timeline, left to wonder what happened and anxious to hear more.
If you like romance in your fiction, there is the slightest hint of one or two brought out in the most-welcome moments. I appreciated having those in there, but it's not the focus of the story, nor will you want it to be because this is more about women-empowerment. Putting a man in there in the wrong places would detract from what makes this such a great story.
Mostly, this is a grand expedition story that explores the strengths and weaknesses of humans faced with an insurmountable task. I loved it and was sorry when it ended. So much so, that I've already set WOMAN 99, another intriguing sounding book by this author, onto my audible to-buy list.
I think it's important to conclude that I tried every format I could get of THE ARCTIC FURY. The hardcover is beautiful and easy to read. I enjoyed the ease of the digital when matching it with the audio format. I could easily go back and forth between the two. But, in the end, the audio won because I loved the narrator Eva Kaminsky's enactment of the women's voices. I could picture them easily when listening. Her voice and talent easily matched Greer Macallister's wordsmithing.
If you love historical crime adventures with strong women at the helm, then THE ARCTIC FURY should land at the top of your reading pile. Highly recommend!
Review by Dorine, courtesy of TheZestQuest.com. Library copies were borrowed and returned. Thanks in advance for following links and sharing this review on social media. #TBRChallenge
The Arctic Fury by Greer Macallister
Category: Historical Fiction
Publisher : Sourcebooks Landmark (December 1, 2020)
ISBN-13 : 978-1728229058
Rating: 5 out of 5 Stars – Recommended Read!

Print this Post