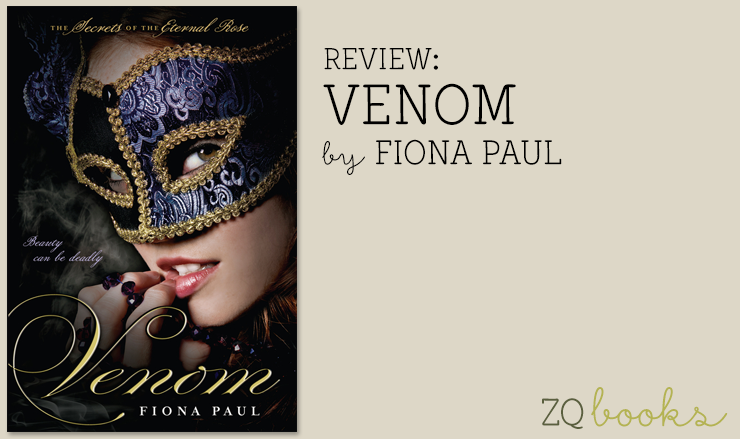 REVIEW: Venom by Fiona Paul – YA Historical
A young adult novel that could easily become a mother/daughter favorite.  Cassandra's chase after a killer in historical Venice leads her down paths she should never cross.  Can she protect her reputation and still live the life she craves?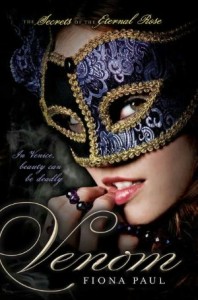 Venom by Fiona Paul
Secrets of the Eternal Rose, Book 1
Available October 30, 2012
ISBN: 978-0399257254 | Rated 4 out of 5 Stars
Book and review courtesy of Romance Junkies.
Cassandra is at an impressionable stage of her young adulthood, unsure if she can follow through with the future that has been pre-planned for her.  Engaged to a young man she hasn't seen in three years while he's been away at school, she has hope for love and not just an arranged marriage to someone she's not even sure that she likes.  Cassandra doubts that love is in her future without the freedom to choose for herself.  Living with her aunt after her parents' death has its advantages, but Cassandra can't stop wondering what her mother would tell her if she could.
The death of a young friend and the disappearance of her body from the family crypt lead Cassandra on a chase to discover who left a murdered woman in its place, not to mention what happened to her friend's remains.  On the day of her friend's funeral, Cassandra meets a young man, an artist named Falco.  Together they try to track down the killer before he decides they're a risk a murderer can't overlook.  In the process, Falco tries to tempt Cassandra into following her heart instead of what's proper.  Can she ignore everything that she's been taught, or will the consequences be too great?
This is a huge book, but so worth reading every word of it.  It paints a beautiful picture of Venice during a time when social events were a pool of gossip and intrigue.  Falco introduces Cass to the seedier side of Venice and of course, she finds him and his secrets very hard to resist.  Will they succeed in finding what they're looking for before Cassandra's aunt catches on to their subterfuge?
VENOM lures you in bit by bit until you're completely obsessed with finding out who the killer is, as well as how Cass will decide to live her life.  Will she stick to the rules or throw caution to the wind and explore a city that has always been forbidden to a young, unescorted female of her class?
Fiona Paul has written an intriguing first book in the SECRETS OF THE ETERNAL ROSE young adult series.  Don't expect everything to be sewn up nice and neat at the end because VENOM leaves you anxious for future books. Targeted at readers fourteen-years-old and up, VENOM may be a bit too sensual or realistic for some, depending on the teen, but probably not for those sixteen and over.  For adult readers, it's a perfect blend of a coming-of-age story mixed with a thriller style mystery, which makes it a great book to share with your young adult daughter.  Cassandra is coming into womanhood after being sheltered all her life, so she struggles with what she's told and what she feels, just like any teenager.  The book did get confusing at times for me, but I'm betting that a second read-through will clarify what I missed.  This is not a book to rush through, but should be savored slowly to be fully appreciated.
What I liked most about VENOM is that even though it feels like a historical, it has gothic-like intrigue which will easily appeal to a younger audience.  Combined with lush, descriptive prose in just the right places, VENOM is a very addictive read.  If my advanced reading copy is any hint at what hardback buyers will experience, I think you'll be quite impressed with the beautiful visual chapter introductions, as well as the scrolled edging on each page.  VENOM could quite easily become my favorite coffee table book just for the artistry of the package, not to mention something I'd easily recommend to a friend as a fun experience to read.  Well done!
Order Hardcover and eBook at AMAZON | B&N
~~~
What's on your mountain?

Print this Post