REVIEW: Tip of the Spear by Marie Harte
One of the most unique plots that I've read this year, this post-apocalyptic creation is a rare find.  Exceptionally layered with clever world-building, a New West is born after a cataclysmic event that almost destroys the world.  Can a female Amazon warrior get the revenge she craves, or will meeting a handsome bounty hunter in the western territories land her more than enough to handle?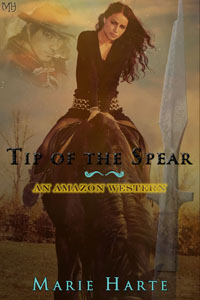 Tip of the Spear by Marie Harte
An Amazon Western, Book 1
Available Oct. 7, 2012
ASIN: B009N835VQ, Rated 5 out of 5 Stars
Book and review courtesy of Romance Junkies.
The story begins in the year 1156 NB, which stands for New Beginning.  After a devastating storm that almost destroyed the earth, some of the people who are left have a whole new appreciation of the world around them, some have also inherited special talents, and others are filled with enough meanness to qualify them as wild westerners.  The highest law of the territories is to respect the land, but respecting each other?  That could be a whole other matter.
Hinto Dakota is a bounty hunter by trade, but not just to earn a living.  His father is very ill and needs the medical expertise located back east, which will be costly.  Although he'd much rather be back at his family's ranch, his ability to raise gold much quicker as a bounty hunter keeps him dealing with lowlifes who break the law.
Thais is an Amazon woman generally naïve of the ways of men, except for witnessing their evil when her tribe is annihilated by a group from the western territories.  Her all-woman tribe had trained her physically to protect, so as a warrior she is better than most men.  Her tribe also taught her that men are only used to procreate to increase the tribe numbers, but any other contact with men was prohibited.  That leaves Thais at a disadvantage compared to most in this new world.
Thais left the jungle and came to the territories to find the man who orchestrated the killing of her mother, her friends and her queen.  There were others who came with her, but they've separated in order to cover more distance faster.  Striking a deal with a madam of a whorehouse, Thais must kill the madam's enemy to get the information she needs.  It seems a small price to pay, until she realizes that the madam expects her to take Hinto Dakota with her.  Having run into the bounty hunter before in this small town, Thais doesn't welcome the way he makes her feel.  Hinto awakens a curiosity in men that Thais has never experienced.
Hinto and Thais are quite a pair, both with their own set of beliefs, but they can't seem to avoid their attraction to one another.  Physically, it's evident why they'd find each other attractive, but there's something more to their burgeoning relationship than just sex appeal.  Will Hinto ever gain Thais's confidence?  Can Thais trust a man after all that she's seen?
The New West is a definite adventure in the New Beginning.  It's a cruel place with fewer women than men, so don't expect a nice little homey place.  As always, when a new world is created out of necessity, the atrocities are sometimes overwhelming, but that makes the good guys look even better.  Author Marie Harte keeps the war between good and evil so realistic that I couldn't help but shed a few tears for the losses before the gain.
Erotic romance at its finest, TIP OF THE SPEAR is creative and addictive.  Marie Harte's unique storytelling skills captivate, ensuring that you'll anticipate the next book, while disappointed to let the current protagonists go.  With carnivorous horses exhibiting intelligence beyond a normal horse, plants and trees that come alive with a taste for human blood, sexy men just waiting for the right woman, plus some men and women too evil to consider ‒ you're never quite sure what Ms. Harte will come up with next.  TIP OF THE SPEAR is completely entertaining, and in true series-romance style, Ms. Harte made me over-the-top anxious for book two, BITE OF THE BLADE, due out in 2013.  If you like your romance reading erotically charged amongst a clever world, within a story that's completely intriguing, then you'll love TIP OF THE SPEAR.
Order eBook at AMAZON
~~~
What's on your mountain?

Print this Post