REVIEW: Rescue My Heart by Jill Shalvis ~ Recommended Read!
If you agree that there's something so very magnetic about a soldier who has faced the worst that humanity can throw at him, with enough humanity left within to want to heal an abused horse… Who also continues to deny his own happiness because he's so broken that he can't possibly expect another human to endure the non-existent love he has to give…  Then you're ready for Adam and the only woman who completes him.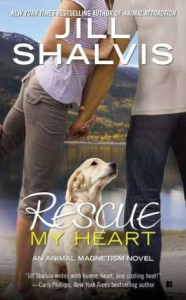 Rescue My Heart by Jill Shalvis
An Animal Magnetism Novel, Book 3
Available November 6, 2012
ISBN: 978-0425255810 | Rated 5 out of 5 Stars + Recommended Read!
Book and review courtesy of Romance Junkies.
Adam Connelly returns to Idaho to work at the animal clinic that he runs with his brothers, Brady and Dell.  Everything that he experienced in Search and Rescue has given him the training he needs to continue to help others who need someone with his expertise.  But Adam no longer rescues, so broken from one rescue in a war-zone that he can't forget, haunted by it actually, to the point that therapy may be his only salvation, if he's willing to do it.
Holly Reid is satisfied with her life as it is, working for her father at their ranch, even though the pain from her divorce is a fresh reminder of what she never wants to do again.  Relationships are for others who have the ability to forget the pain of being duped not just once, but twice.
But, what if you're thrown together with the man who broke your teenaged heart, when he's the best man to help you find your father, who may be lost or injured in the mountain wilderness?  Can Holly push their past history far behind, enough to convince Adam to help her find her dad?  Can Adam ignore his PTSD long enough to help the woman he left years ago holding his heart?  Can either of them resist the magnetic pull that seems to insist that they belong together?
You really need to read this book to find out what happens next.  I loved all of it, but it's a story that needs to be experienced first-hand to understand why this novel and these characters are so addictive.
There was a point in the book when I realized why I enjoyed it so much.  Here's this bad-ass former soldier with his tough exterior and silent, dark mystique that's sure to draw women to him like a moth to a flame.  Adam runs a dog obedience class and his reactions to his students, as well as their reactions to him, are very telling.  If you haven't fallen in love with Adam by this point in the book, I'm betting you will in chapter seventeen.  I laughed, and then was awed by how heart-rending a rollercoaster this love story could be.
I chose this book for review because I really love stories about animal shelters.  What's not to love about three guys who love animals enough to run a clinic to help them?  But more than that, what if they're battle-worn, damaged individuals?  I couldn't help but wonder how author Jill Shalvis was going to make that work.  What I never imagined was that I'd thoroughly enjoy finding out how.  Adam is vulnerable yet tough, and funny because what he experienced at war is very probably beyond anything most of us have ever known or could imagine, and when he jokes, or someone jokes with him, you can feel who he is deep down inside.  This hard outer shell, difficult to penetrate, is softened around others just like him because they can let loose and enjoy the moment with a sarcasm and wit born to share with lifelong comrades.
It may take them years of putting up a false façade, never truly loving until the perfect, yet damaged, woman comes along.  The kind of woman who can get past those walls built to protect and hide their pain because she knows mind-numbing pain in some way herself.
Adam was lost and hid behind the walls that he built to protect himself as much as protecting others from him, and what he couldn't give to another human being.  It's his journey back to living as a whole person with that very strong woman that makes this novel exceptional.
RESCUE MY HEART is a definite re-read for me for many reasons.  First, it's part of a series but completely standalone as a mesmerizing romance.  I loved the other characters too, so much so that I'll probably read the two books before this one, but by itself, RESCUE MY HEART is an absorbing romance.  Secondly, the hero and heroine are both someone I'd like to know.  They're brave, yet vulnerable, and perfect for one another.  They're adorable together, yet they have a passion for one another that is frightening enough to make them second guess themselves.  The push and pull between them throughout their story was everything that I love in a great romantic novel.  The sex was very well-written and smoking hot, but it wasn't their sexual escapades that made this novel sizzle.  It was the slow build, their magnetic push and pull, that made this a tantalizing romance, but the story, the full story and everything they experienced on a day-to-day basis, combined with the sizzling chemistry, that held my attention and kept me anticipating the gut-wrenching ending.  Jill Shalvis makes you feel like you've earned that happy-ever-after right along with her tortured characters.  So good, that you may just hang on tighter to those you love.
For a romance that meets expectations with characters that you can easily care about, to a plot that moves at the right pace to enhance the romance, to an overall perfect experience that is sexy, yet vulnerable, tense and compassionate, yet often laugh-out-loud funny, RESCUE MY HEART earns Romance Junkies' five blue ribbons and a Recommended Read stamp of approval for portraying the disparity versus the undeniable attraction between the sexes, that magnetism or spark, that fuels a perfect love story.
Order Print or eBook at AMAZON | B&N
~~~
What's on your mountain?

Print this Post