REVIEW: Beyond Cleveland on Foot plus Travelog
What better way to discover Northeast Ohio than by referencing a book describing the best hiking areas and their history.
Beyond Cleveland on Foot (Second Edition) by Patience Cameron Hoskins, Rob and Peg Bobel
Release Date: April 15th, 2003
ISBN: 9781886228405, Rated 5 out of 5 Stars
Book pulled from the Print TBR Mountain Range, purchased by me.
Hiking can be one of the best activities to do as a family.  It's free, friendly and great exercise that can be determined by the distance and terrain you're capable of walking.  You can start out slow and low mileage, and then build as your stamina increases.
But, if you're going to challenge yourself to hike weekly, then you need to prepare by whatever is best suited to your situation.  For someone who is undergoing physical therapy for an injury or ailment, the mileage as well as the difficulty of the terrain will be extremely important.  Does it need to be wheelchair accessible or just wide enough and smooth enough to push a stroller?  What about the trail itself and whether tennis shoes will be appropriate to wear, or if the ankle support and more slip proof hiking boots would be better for uneven or slippery terrain?  Is the trail rough, gravel, a boardwalk, or paved?  Are there steps or inclines?  Do you go up or down an incline, or have a choice depending on where you enter the trail?
After hiking a very strenuous trail unprepared and inexperienced, I decided that I needed a better guide than just my willpower.  BEYOND CLEVELAND ON FOOT is one of the three books that I bought, but has become my favorite way to explore Ohio quickly by county, as well as an enjoyable, informative read.  If you don't have a lot of time to hike, but want to start, then this book is the perfect kick-off to discover Northeast Ohio.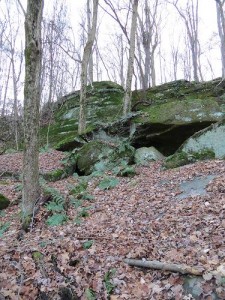 I wanted short hikes that I could do in one to two hours around other activities.  BEYOND CLEVELAND ON FOOT gives us the perfect excuse for a drive to a new destination, beautiful places to hike prepared, and the ability to control our workouts by difficulty ratings.  Add in a camera with GPS tracking and we've created a scrapbook of memorable fall hikes that we can re-discover in winter, spring and summer.  I've definitely learned to appreciate the beauty of bright green moss and deep green ferns against a stark backdrop of sandstone ledges and bare forests in cool November temperatures.  I love the fall season but I never imagined I'd enjoy the outdoors after the leaves have fallen, leaving a stark landscape to appreciate before the snow flies.  Just a rustle of fallen leaves can signal wildlife sightings that you might miss in a leaf covered canopy.
I think the best way to review a hiking book is to actually try some of the hikes recommended.  Also, this book was published in 2003 and we hiked in 2012, so we fully expected some changes because the parks are always improving.  I find that reading about a park in advance makes me more enthusiastic about each hike, in addition to giving me some history to share with my family along the way.  Each hike is covered in the book by giving distance, hiking time, difficulty rating, directions to the park, a brief description, as well as a history of the area, good maps of the hikes, and a step-by-step description of the hike.  Restrooms, parking, points of interest and picnic areas are also marked.  I like the black and white photos that give you a peek into what to expect.  I keep discovering something else I like about this book every time I reference it.
The hikes…
We enjoyed Firestone Metro Park for its diverse environment and multiple choices of paths to follow.  We were there on a misty day, so it did get muddy in some spots, so wear the right shoes if hiking in wet weather.  There is one spot that will close during high water and give an alternate route.  Our enjoyment was increased by joining a knowledgeable naturalist, who shared the amazing glacial history of the area.  If we hadn't been with a naturalist, I would have really appreciated the trail map in BEYOND CLEVELAND ON FOOT because there are several interconnecting paths, and distance can often be a factor when three generations are hiking together.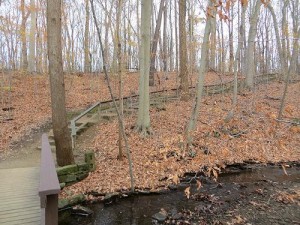 Munroe Falls Metro Park is beautifully wooded with wide pathways, and has a few challenges for those who are less active, which includes a long staircase.  In the book, the stairs are described as stone steps—I think they were more a combination of stone, log and dirt, as well as not evenly spaced.  The staircase does have a railing, but it's easier by adding a walking stick in the other hand for those who are balance-challenged on uneven surfaces like me.  You can choose which direction to take when you get there because the stairs are visible—if you're better at going down than up, choose the path by the large sign opposite the stairs, which is the intended entrance to the hike.  In the fall, you can easily miss some of the trail deep in the woods, if there's heavy leaf cover, so I'd advise a compass just in case.  The day we were there most of the trail had been cleared with a leaf-blower, but there was a section where we weren't sure if we were going the right way.  We met some other hikers who felt lost for a bit, so we made sure we had our compass just in case.  There's a lot of twisting and turning in a wooded area so it could get confusing.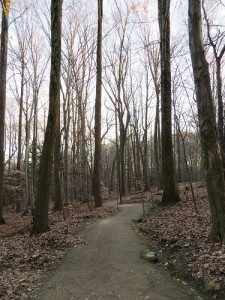 F. A. Seiberling Nature Realm not only boasts great trails but includes an educational visitors' center, arboretum and beautiful gardens.  In addition, one of the local garden clubs has rescued rare wild plants from construction sites and relocated these plants within the park, safely fenced in so you can see them, while assured that they're protected.  Some of the trails are paved or hard-packed so it's easier with a stroller, and there's a small area that's wheelchair accessible.  We did find some rougher terrain uphill filled with the most beautiful tangled array of tree roots, but they can be avoided by not traveling across the suspension bridge.  The suspension bridge itself is spectacular, including the view from it.  There's a bench situated just at the entrance of the suspension bridge that's a great spot for taking a break—I have dreams of going back there with a good book to read in that very spot.
It was a bitter cold day when we hiked at Silver Creek so I'm afraid I walked extremely fast and wasn't very observant.  All I could think about was getting back into the heated car!  But, it does have a beautiful stand of pine where the pathway meanders through them; blocking the winds and making you feel as if you've entered a different world.  I had to stop and photograph that section and I will definitely go back to check out the pathway through the meadow and the ponds more thoroughly.  One of the boggy ponds was so black on this gray day that the reflections in the water were so fun to photograph.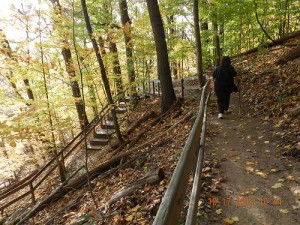 My favorite and most strenuous hike was at O'Neil Woods.  This was the trail that led to purchasing this book, since it's the first hike I took without knowing the difficulty and distance.  One must remember that what goes down must come up at some point in the hills of Northeast Ohio.  That sometimes means a steep incline with no railing to help drag your aching bones up the hill, after you've gone about a mile down a variety of steps.  After much debate and whining, I did make it back to the car, but it was the accomplishment that convinced me to set a goal of completing eight hikes within a month.  That, and the fact that I didn't want to embarrass myself again by trying to hitchhike out of there.  This book helped me set new, realistic goals by becoming better informed prior to getting on the trails.  I will hike O'Neil Woods again, but beware; it's not for inexperienced hikers.  It's rated strenuous in the
book if you take the full hike through the Schumacher Woods section and Deer Run Trail.  It may be considered moderate to some by just doing the Deer Run trail, but to me, it's quite a thorough workout.  Using a walking stick helps, but the ankle protection of hiking boots are more appropriate than tennis shoes, especially in wet weather.  The view from the upper steps in the fall is incredible so don't forget your camera to capture those stunning colors.
Final thoughts…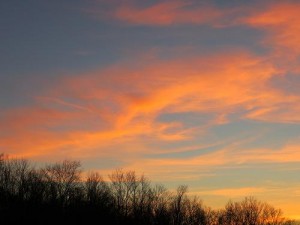 There are fifty-eight hikes described within the pages of BEYOND CLEVELAND ON FOOT (second edition) in the seven counties of Northeast Ohio that border Cleveland: Lake, Geauga, Portage, Summit, Medina, Lorain and Erie.  Since Lake Erie is such a draw for summer vacations, this book gives you plenty of outdoors to discover within an easy driving distance of downtown Cleveland.  Ohio's parks are some of the most beautiful in the U.S., and the caves or ledged microclimates in Northeast Ohio can be a cool reprieve on a hot summer day.  Enjoy beautiful vistas by challenging yourself to discover "new to you" hiking trails with BEYOND CLEVELAND ON FOOT as your guide.  I know I'm going to benefit from this book for many more years, enjoying Northeast Ohio trails, county by county.
The photographs in this review are copyrighted to Dorine Linnen at TBR Mountain Range and are not to be used elsewhere without permission.
~~~
What's on your mountain?

Print this Post