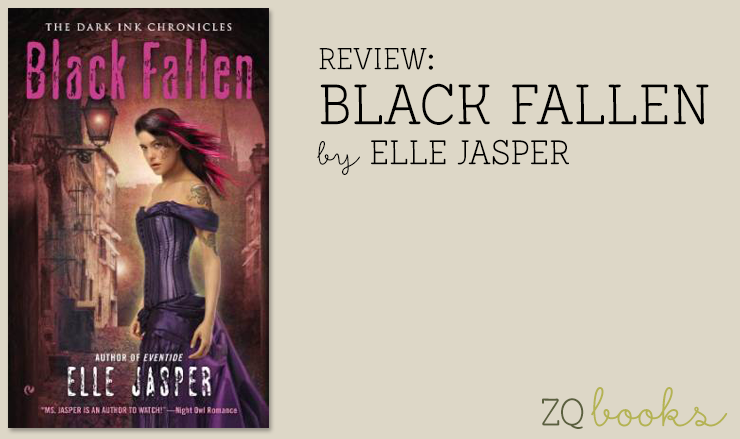 REVIEW: Black Fallen by Elle Jasper
An addictive paranormal series, THE DARK INK CHRONICLES books keep you up all night, wondering what will happen next.  BLACK FALLEN continues Riley Poe's adventure and leaves you grasping for more.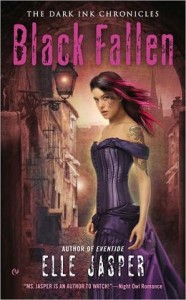 Black Fallen by Elle Jasper
Series: The Dark Ink Chronicles, Book 4
Published December 31, 2012
ISBN: 978-0451413529, Rated 4.5 out of 5 Stars
Book and review courtesy of Romance Junkies.
I didn't think it was possible, but Elle Jasper has written another mind-numbing, soul-sucking paranormal thriller that nails you to the wall.  As for the DARK INK CHRONICLES as a series, I bet you can't read just one!
Word of warning—the DARK INK CHRONICLES series should be read in order for the fullest enjoyment.  That said, I honestly think a reader could read BLACK FALLEN and not be completely lost without reading the three novels before it.  Although, I have no idea why you'd want to since the whole series is so freaking awesome, but you could try BLACK FALLEN and then start from the beginning to catch up on what you missed.  If you're a stickler about reading series books in order, then you can read my reviews of AFTERLIGHT, EVERDARK and EVENTIDE.  I try to stay away from spoilers, but in a series such as this, it's nearly impossible to do when one book's ending leads to what happens in the next.
In BLACK FALLEN we leave half the secondary cast of characters in Savannah, Georgia, while Riley Poe and her fiancé Eligius "Eli" Dupré join the Worldwide Unexplained Phenomenon (WUP) team in Edinburgh, Scotland to fight the Black Fallen.  Along with them are Noah Miles, another vampire and Eli's best friend, plus Victorian Arcos, one of the strigoi vampires who bit Riley and added his DNA to her special blood.  Other team members are immortal, werewolf or vampire and various otherworldly beings.  Riley met some of them when she was recruited but she's continuously surprised by the variety.
It doesn't take long for Riley and the others to feel the dark, evil foreboding that has draped itself over Edinburgh.  There's an awakening that's just getting started and when the Black Fallen are fully themselves, the evil will certainly be crushing.  The Black Fallen are recruiting beings to do their bidding, building their strength.  Will Riley Poe and the rest of the WUP team be strong enough to eradicate them?
First, each of the team will be trained in the art of sword fighting because the only way to kill the Black Fallen and their minions is to lop off their heads.  Yes, this is described in vivid detail, as are many other absorbing fight scenes.  BLACK FALLEN has great horror and gothic inclinations so it appeals to more than one type of reader.  Riley's special tendencies will also come into play, but does she have enough control over her new-found abilities to assist in time?
Now engaged to be married, Riley and Eli have become more comfortable with one another.  Their love and passion knows no boundaries, intent on protecting one another from the evil that grows around them.  There's more than one love story brewing amongst the characters which heightens the sensual awareness and protectiveness of all.
There are very few novels that grab me from the first page and insist that I read them cover to cover in one sitting.  So far, every book in the DARK INK CHRONICLES series has made me lose sleep and avoid anything else that dares to interfere with turning the last page.  Always so darn good!  I may not always agree with everything that happens within the pages, or I may want more of something in particular, but none of that matters because I thoroughly enjoy reading these books.  To me, it's not about each book being everything I expect or want or need, but the fact that they mesmerize me from beginning to end.
Filled with totally creepy things that insure rapt attention, you'll consistently sense something diabolical around the corner.  Love this series—it engages me like no other.  Sensually explicit, BLACK FALLEN combines sinister with sexy—romance with heartbreak—setting your nerves on edge while grasping for more.
Order Print or eBook at AMAZON | B&N
~~~
What's on your mountain?

Print this Post