REVIEW REVISITED: Shaedes of Gray by Amanda Bonilla
I read and reviewed this book for Romance Junkies in November of 2011, just before it was released in December of 2011.  This debut book impressed me and since I'm reading/reviewing two more books in the series now, I thought it would be a good one to revisit from the beginning.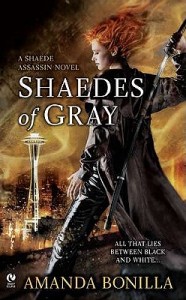 Shaedes of Gray by Amanda Bonilla
Series: A Shaede Assassin Novel, Book 1
Published December 6, 2011
ISBN: 978-0451235299, Rated 5 out of 5 Stars
Book and review courtesy of Romance Junkies.
For urban fantasy fans, Amanda Bonilla has created an extraordinary debut novel, which is sure to keep you glued to the pages until the end, as well as leave you frantic for the next book in this exciting new series.
SHAEDES OF GRAY takes you on a journey through a dark urban fantasy world with a fearless heroine at the helm, ready to take on the world as she battles her inner sense of who is friend or foe.  Darian is an assassin, admittedly an unusual line of work for a heroine in a romance book.  Her stark existence has forced her to live a life of solitude without friends, except those tied to her through her work.  She's cold and calculating, and you can't help but wonder what or who has shaped her into what she's become over the centuries as an immortal.  Is there more to Darian's bravado than what she admits?
Darian seems to tolerate Tyler, who is the source of her leads for jobs and payments in Seattle.  Even though they've been connected by her income for five years, Tyler is much more into Darian than Darian allows herself to be into Tyler.  Oh, she's attracted to Tyler and finds him hard to resist.  He's also earned her trust, but since Tyler's the source of her livelihood, will Darian ever allow him the chance to show her that they can have more than just a business relationship?
Even though Darian is a killer and gets paid for her services, she only kills those who deserve it due to their own misdeeds.  She doesn't accept jobs that are against innocents when there are so many despicable acts by those who shouldn't be allowed to live.  Everything changes when Darian's next job is to kill another just like her — a Shaede.  She had thought that she was the only Shaede left, but the real question is, why would a client send her to kill someone too powerful to be killed?
I can't tell you what happens next because you need to experience this book for yourself.  The layering is what makes this story an adventure in reading and shouldn't be spoiled.  SHAEDES OF GRAY is edgy, full of great paranormal moments and unexpected events that add just the right amount of anticipation to keep you captivated.  For urban fantasy fans, Amanda Bonilla has created an extraordinary debut novel, which is sure to keep you glued to the pages until the end, as well as leave you desperate for the next book in this exciting new series.
Rarely does a novel surprise me consistently in every chapter, but this one let loose some mind benders that I never saw coming.  At one point, my heart was yanked out in horrified disbelief.  I was doubtful at every turn, knowing the characters as strong beings, yet afraid that they had no idea of the strength of their enemy.  And, truthfully?  How could I like a heroine who's an assassin?  But like her I did, as well as understand Darian's motivations, and hoped that somehow she'd find the happiness she sought.  That's the sign of a terrific book when the author can hold you captive, as well as unsure, until the very end.
SHAEDES OF GRAY is full of revelations when you least expect them, so much so that you're afraid to put the book down for fear that you'll miss something while you're away.  The world becomes all enveloping, spinning its web of deceit around you until you're not sure if you can take the apprehension one minute longer.
I'm especially fond of Signet Eclipse novels.  They're always exactly what I'm looking for in a great book when I'm not even sure I know what I want.  Even when it's a debut author, I know I'll discover a great story, and SHAEDES OF GRAY is exactly what I expected and then some.
Excellent characterization, explosive suspense, fast-paced adventure and an unusual, as well as stimulating, love story are just a few reasons why SHAEDES OF GRAY is a superb novel.  The good news for me and the rest of you, who are sure to become hooked on Amanda Bonilla's style, is that book two, BLOOD BEFORE SUNRISE, will be available in July 2012. is available now!
Order Print or eBook at AMAZON | B&N
~~~
What's on your mountain?

Print this Post