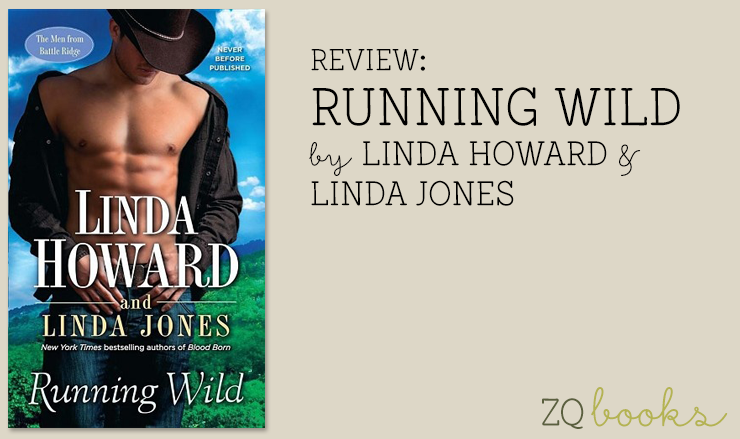 REVIEW: Running Wild by Linda Howard and Linda Jones
I especially liked the chemistry between the characters in this sexy, contemporary western.  Snappy dialogue and the promise of more books to come are two of many reasons that you'll enjoy this novel.
Running Wild by Linda Howard and Linda Jones
Series: The Men from Battle Ridge, Book 1
Publication date: November 27, 2012
ISBN: 978-0345520784
Rated 4.5 out of 5 Stars
Book and review courtesy of Romance Junkies.
Cattle ranch owner A.Z. "Zeke" Decker finds himself without a cook and housekeeper when longtime friend Libby decides to retire.  Now he's on his own, doing laundry and risking one of the hands to cook temporarily, hoping they'll find someone soon before they die of starvation.  So far no one wants to cook and clean for a bunch of ranch hands deep in nowhere Wyoming, where winters are brutal and summers are short.
Carlin "Carly" Reed moved to Dallas from Houston to get away from a stalker.  When a dear friend is killed, mistaken for Carly, running is her only answer.  Carly works her way across country, town to town, never staying anywhere too long, working for cash and using a fake name.
She had only intended to have a piece of pie at The Pie Hole in Battle Ridge, Wyoming, but something about the small town convinces her to inquire about a job.  She's hired by Kat, the restaurant owner, and ends up with a temporary job that pays in cash, two meals a day and an apartment to stay in.
Fully intent on leaving Battle Ridge after she makes some quick cash, Carly is unsure when Zeke offers her the job at his ranch.  Kat instigates the offer from her cousin because she knows she can't afford Carly this winter and wants her to stay.  Carly can't think of a better place to hide, off the grid, than a ranch in the middle of nowhere, so she accepts the offer through the winter, with the understanding that she'll leave in the spring.  If she can last that long.
In my opinion, the best part of this novel is the chemistry between the characters.  Putting skittish Carly on a ranch alone with nine men is definitely a meltdown waiting to happen.  Even though Carly doesn't really know how to cook very well (her best loved recipes are included in the book), she's determined to make a place for herself, which, in turn, gives her strength to work through her fears.  I enjoyed Carly's trial and error in the kitchen which allowed me to get to know the men at the ranch through her eyes.  Some parts were really funny and I won't react to a burnt pan without laughter in the future.  Carly's fear is tangible and often overwhelming, to a point that you're never really sure if she'll be whole again.  Carly is a brave heroine with a huge heart.  And funny—giving as good as she gets, one smartass comment after another.
Zeke, on the other hand, realizes he needs help but never considers anything more, like a wife, until he meets spunky and sassy Carly.  One divorce was enough for Zeke but can he convince his need to protect and his infatuation to steer clear of Carly?  Or, will Carly run away with his heart?
Although Carly and Zeke are the romantic lead, there are many other intriguing characters.  The ranch setting is a huge part of the story, the elements adding to the suspense.  Having traveled out west unprepared in icy and snowy conditions, the realism of the dangerous elements that negate survival stoked my anxiety for the characters' safety.
Both of these authors are "new to me," so I didn't have any expectations and thoroughly enjoyed their collaboration.  There was some suspense that was edgy and some that wasn't, but my love of the setting, the characters and the dialogue kept me glued to the pages.
Suspense, charismatic characters, laugh-out-loud teasing and a beautiful setting round out this excellent contemporary western.  RUNNING WILD is seamlessly written by two authors who ramp up the sexy with rugged cowboys who know how to win a woman's heart.
What's on your Mountain?

Print this Post