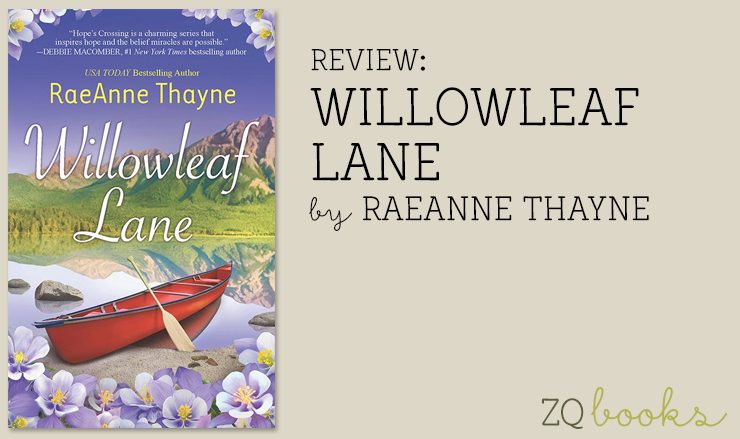 REVIEW: Willowleaf Lane by RaeAnne Thayne
In the fifth book of the HOPE'S CROSSING series, the reader meets two imperfect people who are perfect for one another.  The trouble is that neither of them realizes it until it's almost too late.  Small town fiction at its best, this is a series you'll adore for its ability to expose human frailties and then mend with love.
Willowleaf Lane by RaeAnne Thayne
Series: Hope's Crossing, Book 5
Category: Contemporary Small Town Romance
Publisher: Harlequin HQN, releases on June 25, 2013
ISBN: 9780373777693
Rating 5 out of 5 Stars
Book and Review courtesy of Romance Junkies.
Candy store owner Charlotte "Charley" Caine has always been overweight but her recent lifestyle changes have resulted in a thinner and more confident Charley.  Still, there are some things from her childhood and teenage years that she can't overcome or forget.  Her love and hate for Spencer "Spence" Gregory is one of them.
The bad boy professional baseball pitcher has returned like the prodigal son to Hope's Crossing, even though news of all his misadventures have arrived before him.  Accused of dealing drugs to his teammates and murdering his wife, Spence can't go anywhere without the rumor mill preceding him.  What makes all of these accusations even worse is that he can't keep it from affecting his teenage daughter, Peyton.
Coming back to Spence's childhood hometown of Hope's Crossing is hopefully a good temporary place to ride out the storm of his recent past.  But can the people of Hope's Crossing forgive him for hurting one of their own on his way out, or even consider overlooking the son of a drunk becoming more like his mother than they dreamed?  Even Spence can't forget what his life was like as a teenager, working three jobs to put food on the table because his alcoholic mother couldn't work half the time.  Coming back to his hometown helps Spence remember the kindness of those who assisted him through his negligent childhood, but can they forgive him for what they think he has done?
Charlotte's family looked after Spence during his teen years.  He was friends with her brothers and her dad gave him a job in his café.  Charlotte helped by tutoring Spence so he could keep up in school.  Somehow she developed a crush on the troubled young man who dreamt of becoming a professional baseball player, but her affections weren't returned.  When he left and never looked back, they all followed his career and Charley lived with a broken heart, knowing Spence would never be attracted to someone overweight when he could so easily get any woman he wanted as a sports superstar.
Harry Lange hired Spence as the director for the new recreation center in Hope's Crossing.  After his trouble with the drug dealing rumors and the murder accusations, as well as an injury, Spence needed something to do to get his mind off everything that had happened over the last couple years.  He only looked at this new job as temporary and he could endure whatever the residents threw at him in Hope's Crossing just as well as anywhere else.  But, are the residents prepared for Spencer Gregory?  And the real question is, can Charlotte Caine forget her past crush when Spence is everywhere she goes?
WILLOWLEAF LANE was the perfect book to read over the Memorial Day weekend.  With an underlying theme of helping veterans, it meant more to experience this book on this holiday weekend.  Charlotte's relationship with her wounded veteran brother, Dylan, who is recovering from his injuries, is compassionate and heartrending.  I hope we find out more about him in future stories.  Peyton Gregory is a typical teenager dealing with some pretty horrific things so it's not surprising that she develops some issues that are poignant as well.
RaeAnne Thayne is a master at wreaking havoc on readers' emotions while balancing emotional upheaval with optimism.  You can't experience her books without laughing or crying or both!  WILLOWLEAF LANE delves into human imperfections and inadequacies and how society reacts to them.  As always, hope prevails in this fifth book of the HOPE'S CROSSING series.  RaeAnne Thayne has the uncanny ability to reach into your heart and tug on your soul with her words.  For true human emotions depicted in a town worthy of forgiveness, HOPE'S CROSSING is an addictive series of hope.
Support this site by following these links or commenting below…
Read my reviews of previous books in the Hope's Crossing series HERE.
BUY THE BOOK…
What's on your Mountain? What do you like best about series books?

Print this Post