REVIEW: Ten Reasons to Stay by Sabrina Jeffries
TEN REASONS TO STAY is a sassy and flirty historical novella perfect for a break in-between reading novels.  It has enough historical flavor to give you a feel for the time period but moves quickly enough to read in a short amount of time.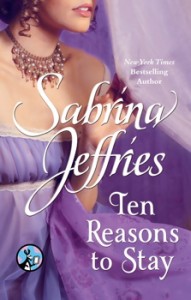 Ten Reasons to Stay by Sabrina Jeffries
Series: School for Heiresses, Book 2.5
Category: Historical Romance
Publisher: Pocket Star (May 6, 2013)
ISBN: 9781476731612
Rating 5 out of 5 Stars
Book pulled from my eBook TBR Mountain Range, purchased by me.
I bought this eBook to read because we started a group book discussion at Romance Junkies Readers, reading books chosen from Romance Junkies' Recommended Reads, and this is our first one.  I haven't read any of Sabrina Jeffries' novels, so this was a great way to be introduced to her style.
Colin Hunt, the Earl of Monteith, doesn't expect to nab a horse thief during his first evening at his inherited property, Chaunceston Hall.  Bad goes to worse when he realizes the horse thief is a young female disguised as a boy, on the run from the arranged marriage her guardian is forcing her into.
Colin is the perfect dark brooding hero who is persistent and sometimes aggressive, but no more so than the heroine, Eliza Crenshawe wants him to be.  Eliza quickly learns how to push Colin beyond reasoning, hoping to throw him off his game long enough to allow her escape.  Protective due to a devastating past experience, Colin isn't about to let Eliza leave and travel by herself as was her initial intent.  In the end, will their cat and mouse game be too tempting to resist, vowing to make it forever?
This historical novella immediately reminded me of those spicy reads in the 1970s that were sometimes lovingly called "Bodice Rippers".  Having cut my romance reading teeth on such evocative stories, I have fond memories of the style of book that initiated me into a lifetime of reading pleasure.  TEN REASONS TO STAY is definitely a hot little number and a fun romp from infatuation to lust to love.  The characters are realistically drawn for the times and very entertaining together.
Although TEN REASONS TO STAY is part of the SCHOOL FOR HEIRESSES series by Sabrina Jeffries, it was easy to read as a standalone without reading the previous books.  In fact, it has made me realize that I've been missing out!
Support this site by following these links or commenting below…
BUY THE BOOK…
What's on your Mountain?  Do you read novellas to try "new to you" authors?


Print this Post