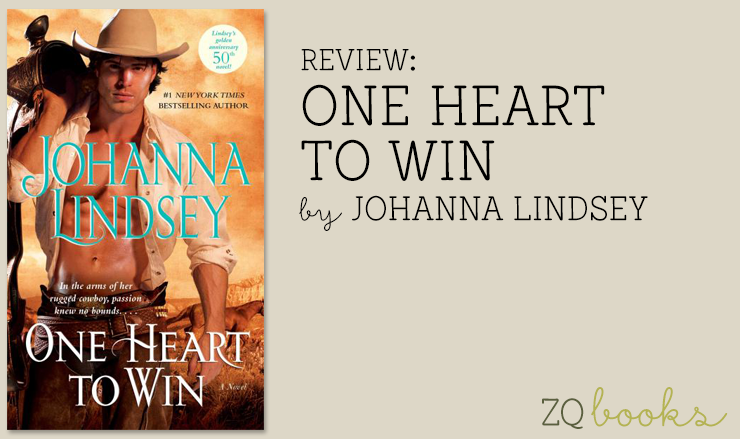 REVIEW: One Heart to Win by Johanna Lindsey
Two feuding families form a truce based on the future marriage of Tiffany and Hunter.  But no one considers that a well-born New York City lady in the 1880s might not want to marry a Montana cowboy, or that the cowboy in question would never consider some fancy lady to be his bride.  Will this fifty year feud continue if this couple refuses to accept one another?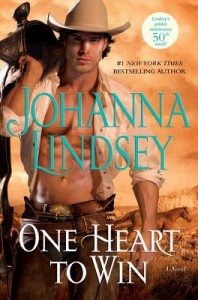 One Heart to Win by Johanna Lindsey
Category: Historical Western Romance
Publisher: Gallery Books (Released: June 11, 2013)
ISBN: 978-1476714264
Rated 4 out of 5 Stars
Book and Review courtesy of Romance Junkies.
The Callahans and the Warrens have been feuding over water rights on their adjoining ranches for years.  Tiffany Warren was promised in marriage to Hunter Callahan when they were just kids, by her mother, before either of them met.  This bond will finally end the feud, or so everyone assumes… but no one ever considered that Tiffany would refuse to marry Hunter.
For fifteen years, Rose and Frank Warren have lived separate lives.  Rose lives in New York City with their daughter, Tiffany, and Frank lives in Montana territory with their three sons.  Rose left Frank in Montana just after he was almost killed, hoping that her idea for a truce with the Callahans would help keep him safe.  Frank thought Rose left because of the feud but Rose has secrets she's been keeping from everyone…
Both families are excited about Tiffany's arrival in Nashart, Montana after her eighteenth birthday.  Tiffany hasn't seen her father since she was too small to remember; only receiving letters in his stead.  Her brothers came to visit in New York City, but her father never did.  This has left Tiffany with a resentment and hate for the father she has never known.
Frank Warren has waited fifteen years to have his daughter with him.  Now that she's to be married, he wants to show her all the comforts she's accustomed to so he hires a housekeeper.  After an unfortunate incident on the train westward, the housekeeper decides to go home while sending an apology with Tiffany for not following through on her commitment to the Warrens.
Tiffany decides this is an opportunity too hard to pass up, to get to know her father without his knowledge by posing as his housekeeper.  But before she gets that chance, two of the Callahan brothers make her an offer she can't refuse.  They mistake her for the Warrens' housekeeper and offer her twice the salary to work at their ranch instead.  An ideal prank, the Callahans hope to surprise Frank by letting him know eventually that they've stolen his housekeeper. But the surprise will be theirs when they find out that Tiffany is there to spy on her future fiancé without anyone's knowledge.  That is, if she gets caught…
Tiffany can't imagine a more perfect solution.  She can avoid her father while getting to know her fiancé without him being on his best behavior.  Besides, it's only temporary and what could possibly go wrong?
Tiffany knows very little about housekeeping but when she's also expected to cook, that's when the real trouble begins.  Can a well-born lady maintain her position as a housekeeper when there aren't enough servants to do the work?  Can she keep up the ruse long enough to find out what her fiancé is really like?
In a fun romp from New York City to Montana, surviving a train robbery and a gunfight, Tiffany Warren is one determined heroine.  She wants to get through her two month visit in Montana without having to deal with her father and prove to her mother that Hunter Callahan isn't the man for her.  But Hunter Callahan has different ideas, even though he's not keen on his arranged marriage either, but that's because he wants the housekeeper and won't stop until he gets her…
I really enjoyed the rivalry between the Callahans and the Warrens because the young men have been pranking each other for years since they were supposed to be honoring a truce.  Neither side wants to give in, and even a marriage might not solve their issues with one another.  Tiffany's brothers are just as much fun as Hunter and his brothers, so Tiffany has her hands full dealing with the lot of them.  Will the town of Nashart survive the showdown that's surely coming?
Even though much of this novel is lighthearted, there are some very touching, heart-rending moments that will surely bring tears to your eyes.  Tiffany is a likable heroine whose inexperience is the perfect opportunity for Hunter to teach her a thing or two.  Even though Tiffany wants to avoid Hunter's flirtations, there's just too much irresistible going on with this charming cowboy.  The secondary characters add interest and flavor, making the Wild West come alive for Tiffany and the reader.
With fun-loving banter, naughty cowboys, a sweet talking hero, a bit of a mystery and more than one couple who deserve a happy-ever-after, ONE HEART TO WIN will satisfy your romantic soul.  Celebrating ONE HEART TO WIN as her 50th novel, it's easy to understand why author Johanna Lindsey is a fan favorite.  Her characters have spunk and it's effortless to care for them as they journey toward their forever love.  I thoroughly enjoyed reading this "new to me" author's latest release and look forward to devouring Johanna Lindsey's backlist!
Support this site by following these links or commenting below…
What's on your Mountain? Tell me your favorite Johanna Lindsey book, or if you haven't read one yet, which one would you like to read?

Print this Post