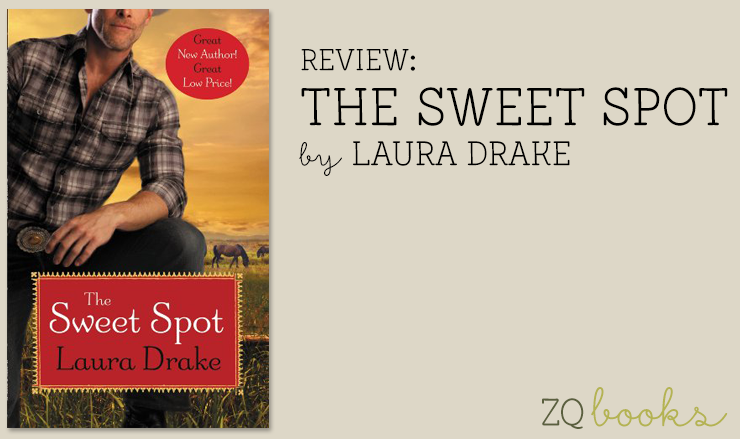 REVIEW: The Sweet Spot by Laura Drake
Sometimes you fall into a story and are captured by the characters who melt your heart, hoping that they'll find their way from tragedy to a happy-ever-after.  THE SWEET SPOT is a journey from the overwhelming sadness of loss, its ability to destroy a family, then bit by bit, their recovery through the healing power of love. Heart-wrenching, funny and thought-provoking, this novel is an awesome beach read.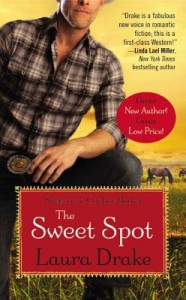 The Sweet Spot by Laura Drake
Series: Sweet on a Cowboy series, Book 1
Category: Contemporary Western
Publisher: Grand Central Forever (May 2013)
ISBN: 978-1455521951
Rating: 5 Stars + Recommended Read
Book and Review courtesy of Romance Junkies.
After firing her ex-husband and throwing him off her father's ranch, Charla Rae Denny is in control of her life for the first time since the accident that changed everything.  In their divorce, the judge split their bull bucking business in half so that Charla could sustain herself without alimony.  Her ex-husband, Jimmy, who hooks up with someone half Charla's age is just another jolt that she can't deal with.  As if the death of their son isn't enough to rock her world, then her addiction to Valium in order to cope with what life has become, while living with her father's progressing Alzheimer's symptoms, just hurdles her faster into a tailspin out of control.  Whoever thought that bull semen would be the avenue to her family's way of living, let alone her responsibility as the once-upon-a-time, stay-at-home mom?
In addition to raising bucking bulls, JB (Jimmy) Denton is an arena announcer for professional bull riding events.  That's where he met his ex-girlfriend, Jess, when he was at the lowest point of his life.  She made life bearable and hopeful for a short time, but that connection sure made a mess of his relationship with his ex-wife.  He realizes what he really wants is the life he had with Charla that he left behind after their son died and Charla pushed him away along with everything else.  Hoping it's not too late to repair their damaged relationship, JB wonders if he can ever get Charla to forgive him.
Whether Jimmy left Charla, or Charla pushed him away isn't important when they need each other now, more than ever. Will they realize that past mistakes don't have to last forever?
Charla meets Bella, a transplanted New Yorker who has recently moved to town with her husband.  Working at the feed store, Bella is as different as night is to day from Charla, which makes their friendship just as hilarious as it is perfect for the both of them.  City slicker meets farm girl is just part of what makes them so different, just like comparing a silk negligee to flannel pajamas.  Bella adds some fashion sense to Charla's expanding bank of knowledge while Charla teaches Bella how to mold her swag into being a true cowgirl, without either of them passing judgment on the other for their differences.  Besties couldn't be better suited.
Angry at the world, Charla has more than enough to contend with but she decides to run the family business on her own, even though she's terrified of horses, cows and everything it takes to manage a ranch on the outside.  Her dad's medicine costs more than the business profits can handle, so she has no choice but to break her addiction to Valium and move on with living, hoping to make the business more prosperous than it is now.
THE SWEET SPOT plays with your emotions right away but some animal humor made me laugh by chapter four.  Charla has her hands full with her dad going in and out of lucidity, but the cows, especially a wandering mother-to-be named Trixie are what will make her realize that she might just have the spunk needed to succeed at this ranching business without the help of her ex-husband.
Even though THE SWEET SPOT explores the stages of grief very realistically, often passing the characters' deep felt sorrow to the reader, it also concentrates on the humor surrounding this family and the love that they have deep inside for one another.  Is living for what they have now and not for what they've lost in the past the answer?
The secondary characters, including the animals, add heart to this already endearing novel.  I felt instantly connected, enjoying the humor and tearful by page 135.  An emotional roller coaster, THE SWEET SPOT touches your soul with the joy of living, enfolding your emotions in the characters' love for life in the end.  Author Laura Drake's storytelling skills are a gift to those of us who love to read an emotional story with an uplifting ending.  If you want a novel that will call to you every time you step away, then THE SWEET SPOT is highly recommended.  Nothing is sweeter than realizing that there's more to come in book two of the SWEET ON A COWBOY series—NOTHING SWEETER releases in December 2013.
Support this site by following these links or commenting below…
What's on your Mountain? Have you read an unforgettable uplifting novel that deals with the stages of grief in a positive way?

Print this Post