REVIEW: Sanctuary Island by Lily Everett
There is a lot to love about this compassionate novel concerning a scarred protector of wild horses who falls in love with the city slicker who is determined to commercialize his quiet oasis.  Can they both get what they want and heal their injured hearts in the process?  Recommended Read!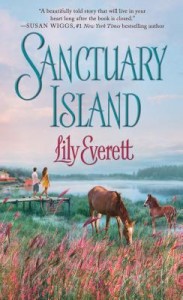 Sanctuary Island by Lily Everett
Series: Sanctuary Island, book 1
Category: Contemporary Romance
Publisher: St. Martin's Paperbacks (Released July 30, 2013)
ISBN: 978-1250018373
Rating: 5 Stars + Recommended Read
Book and Review courtesy of Romance Junkies.
Having grown up surrounded by horses, dreaming of them in the wild ever since reading MISTY OF CHINCOTEAGUE by Marguerite Henry as a child, it's easy to understand my immediate connection to a book partially about wild horses.  The vivid imagery of this windswept oasis captivated me quickly.  Add in that I was on my way to an island vacation, dreaming of riding horseback on the beach and there was no doubt that SANCTUARY ISLAND was one of the books coming with me.  That it turned out to be such a superb beach read is a bonus!
I never expect a "new to me" author's novel to touch me deeply like one of my favorites, so it is always surprising when it happens, which is exactly why I highly recommend SANCTUARY ISLAND—it is full of surprises and great emotional moments in a brilliant story of perseverance.
Off the coast of Winter Harbor, Virginia lies Sanctuary Island, accessible only by ferry so it adds to the trepidation that sisters Ella and Merry feel on their way to meet their mother for the first time in fifteen years.  Ella has always taken care of her baby sister, no matter what she dared to do, so when pregnant, husbandless Merry decides to finally accept one of their mother's many requests to spend time with her, Ella has to accept, too.
Even though Merry is pregnant and they're an hour by boat from the mainland, Ella feels that two weeks won't be a danger to a baby not due for several weeks.  Just how much emotional damage can be done by their estranged mother to her sister during that time remains to be seen.  That's why Ella is there to protect Merry, because Ella feels that she's immune to the woman who gave birth to them since Jo Ellen abandoned them in preference of her alcohol obsession.  But Merry has other ideas and thinks that two weeks won't be enough.  Can Ella convince Merry that their mother is a mom in name only and hasn't changed from the drunken irresponsible woman Ella remembers?
Grady Wilson loves Sanctuary Island and considers himself its protector, as well as the protector of his very good friend, Jo Ellen Hollister.  Jo had saved Grady from himself, with the help of Sanctuary Island, after the injuries from his last rescue mission left him jobless and full of self doubt.  Although he still hides his hands beneath the leather gloves he always wears and the clothing that keeps the rest of his scars hidden, Sanctuary Island has given Grady strength and purpose.
Grady is convinced that Jo's daughters are trouble that Jo doesn't need, especially Ella, who seems to have her sights set on Jo's inheritance for all the wrong reasons.  That is, until Grady is forced to get close to Ella when she needs his rescue skills.  No woman has ever made him feel as alive as Ella Preston did in those few short minutes.
Jo Ellen Hollister is about to lose her family's inheritance due to a bad business deal made by her aunt before she died.  Jo has options, with the man who wants to marry her, but settling for marriage based on finances isn't what Hollister women do.  Besides, adding another person into her relationship with her daughters right now may push them away forever.  Can Jo find a way to keep her ancestral home and also reunite permanently with her daughters?
SANCTUARY ISLAND proves why the "Beauty and the Beast" story arc works so well in a romance novel when it's done with such emotional precision.  Grady is broken and steadily healing physically, with scars, but he hasn't let his heart complete the cycle…yet.  Ella seems so pulled together after years of therapy, but confidence doesn't always mean that you're emotionally fulfilled.  An alcoholic, Jo Ellen Hollister damaged her relationship with her daughters fifteen years ago, and even though she's changed, as well as developed other important personal relationships, it's her daughters' approval she craves the most.  Merry loves her sister and her unborn child, but is she willing to risk both to experience the love of her mother?  The pain that all these characters have endured is palpable, yet when they take solid steps towards healing, you can't help but cheer them on.  It's that tug of combined emotion that pulls you deeply into their lives.
A riveting tale of overcoming fear and emotional roadblocks, SANCTUARY ISLAND makes you fall in love with the island and its inhabitants.  Author Lily Everett brings tears, laughter and a happy-ever-after smile to your face while you're experiencing her well-written, compassionate novel.  I highly recommend SANCTUARY ISLAND as a "no excuses" emotional fight for a happy life in a book that hits home with real-to-life characters.  Their struggles are emotional but cleansing at the same time, making the time spent within the pages of this novel completely mesmerizing.  I can't wait for Merry and Ben's story in book two of the SANCTUARY ISLAND series, SHORELINE DRIVE, due out in January 2014.  I think others will feel immediately connected to the quirky Merry, who is as full of light as her name, and the rough-around-the-edges veterinarian, who avoids human contact in preference of animals who don't talk back.
Support this site by following these links or commenting below…
What's on your Mountain?  Do books from your childhood influence what you read as an adult?

Print this Post