REVIEW: Montana Bride by Joan Johnston
Hetty Wentworth's story continues in book three where Miranda and Hannah's left off in books one and two of the MAIL-ORDER BRIDES series.  She hasn't learned her lesson yet, either, so expect some trouble, some lies, some flirtation, a nose-punch or two, and maybe, just maybe, she'll get her happy-ever-after as the pioneer spirit journeys on!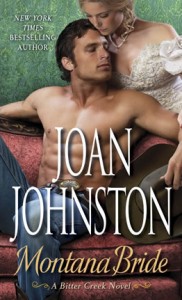 Montana Bride by Joan Johnston
Series: Mail-Order Bride series, Book 3
Category: Historical Romance
Publisher: Dell, an Imprint of Random House
Release Date: January 7, 2014
ISBN: 978-0345527486
Rated 4 out of 5 Stars
Format read: eBook from NetGalley
The Wentworth sisters' engaging stories continue in book three of Joan Johnston's MAIL-ORDER BRIDE series.  If you haven't read TEXAS BRIDE or WYOMING BRIDE yet, my review of MONTANA BRIDE may be a slight spoiler.  It's important to read this series in order because I don't believe the humor in this third book will be taken in the way intended, initially, without the background from the other two books.  They're such fun American pioneer stories, especially when read together, so why not treat yourself to all three?
Henrietta "Hetty" Wentworth stands up for a child whose mother is about to beat him for his latest transgression.  Mrs. Templeton, a widow, and her seven-year-old son, Griffin, with his nine-year-old sister, Grace, are traveling by Conestoga wagon to join Mrs. Templeton's future husband in Montana.  Nothing seems quite right to Hetty about this mishmash family, including the Chinese man who is their guide, but she is grateful they took her in when she was most vulnerable.
Filled with fear and worry about both her sisters, Hetty assumed she would die from the injuries sustained in an Indian attack on her own family's wagon, until this family found her.  Josie was taken captive and Hannah went searching for help right after the attack, leaving Hetty alone and wounded.  Hetty may never know their fate.  Her family has been through so much since the Chicago fire that killed her parents and left the six Wentworth children in an orphanage.  Not knowing if their oldest sister and two younger brothers made it to their destination when Miranda became the first mail-order bride, the three sisters devise their own destiny by marrying off Hannah to a man traveling west.  To learn more, read my reviews of TEXAS BRIDE and WYOMING BRIDE.
The cruelty Hetty experienced at the orphanage by the headmistress is what motivates her to defend both of Mrs. Templeton's children from their mother's intended abuse.  When Hetty and Mrs. Templeton get into a nose-punching, hair-pulling scuffle, they're too close to the edge of a cliff, in the dark, which results in Mrs. Templeton falling to her death.  Even though Hetty was protecting herself as well as the children from harm, she is filled with regret and takes the blame.  Just like she has always felt it was her fault when her family's wagon had to leave the wagon train, resulting in the Indian attack that separated the three sisters.  Will she learn from or repeat past mistakes?
When the Chinese man, Bao, suggests that Hetty take Mrs. Templeton's place as a mail-order bride, as well as pretend the children are hers, she feels it's the least she can do to ensure that the children have a safe home.  There's only one problem.  How can Hetty fool her future husband when she's really a virgin, not an experienced mother of two?  Besides that, those children have some explaining to do.  Can a lasting relationship develop with so many lies?
One thing you need to know about this series is that even though there is tragedy, it often includes a very dry twist of wacky humor.  The scene when the two children realize they're without a mother, again, is quite funny because no one is who they appear to be.  Bao constantly quotes Confucius in broken English and just adds to the mayhem.  To make her deception believable, Hetty trains as a nurse, learning from Bao so she can fool her future husband that she's his nurse mail-order bride with two children.  Just how she'll be able to hide her "child" daughter's teenage breasts and her son's orneriness remains to be seen.  Why worry about love when so much more could go wrong?
And no, this novel isn't all fun and games.  There is a serious love story developing which includes a ready-made family.  It includes plenty of danger to overcome in order to survive such a barren landscape. When you get to that point in the story, toward the end, when everything is happening and you're not sure if any of them will make it with their heart intact, you may sob a few tears from the simple beauty of what the holiday season brings to fruition.  These characters are far from perfect but by the time they get their happy-ever-after, you'll feel they all deserve it.
Author Joan Johnston has a keen eye for quirky circumstances that put her characters, and the reader, through a wringer.  Laughing one moment and crying the next, you'll always have such a great time getting to the happy-ever-after.  Joan Johnston engages the senses in a charming style which creates an eager addiction to her stories.  I can't wait to find out who stole Josie and where she lands in book four, BLACKTHORNE'S BRIDE.
Review written by Dorine, Courtesy of Romance Junkies.
Support this site by following the above links, buying books by clicking on the graphics, or commenting below…
What's on your TBR Mountain Range? Do you enjoy quirky characters who make you laugh in some types of historical romance?

Print this Post