REVIEW: After the Rain by Renee Carlino
An emotional journey, this western contemporary will touch your heart.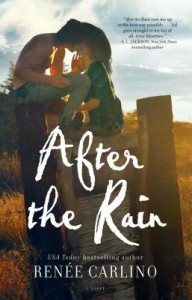 After the Rain by Renee Carlino
Category: Contemporary Western
Publisher: Atria Books (Avail. Nov 11, 2014)
ISBN: 9781476763996
Blue Ribbon Rating: 4
Format read: eBook
Avelina Jesus Belo has ranching in her blood from working on a ranch with her father since she was very young. After he dies, her mother is so distraught that she eventually moves back to Spain to heal. Avelina assumes she'll end up in New York with her brother where she'll finish high school.
Everything changes the day Avelina meets Jake at a rodeo where they're both competing. Jake McCrea is twenty-one and eighteen-year-old Avelina falls madly in love with him and they marry. They're hired on as wranglers at a ranch 100 miles northeast of Great Falls, Montana, happy in their love for one another until tragedy ruins Jake's life as he knows it, eventually leaving Avelina alone to grieve and ask why.
Dr. Nathanial "Nate" Meyers is a young, brilliant heart surgeon with a great future, just like his dad. Nate works all the time, focused on his career, allowing nothing else to break that concentration, including a good bedside manner or an emotional connection to his patients. When a young patient dies, Nate believes it is his oversight that caused the death. His father, the head of the department, puts his son on leave and sends him to Montana to regroup before the pending lawsuit on the surgery.
Nate's Uncle Dale, a large animal veterinarian, now lives on the ranch in Montana where Nate used to visit when he was a child. It's his dad's hope that between Bea and Redman Walker, who run the ranch with a no-nonsense approach, along with his Uncle Dale's sense of humor, that Nate will learn to forgive his past through the hard work they'll give him.
That's where he meets Avelina. They have an immediate connection and for the first time in years, Avelina speaks and laughs. Nate has the perfect opportunity to encourage change in her because although he knows her past, he hasn't been there to experience it like everyone else.
Avelina is a very sad, young woman with self-destructive behavior. Nate has no idea how to love someone, but with Avelina he can't resist trying, in an almost obsessive way, which is so very unlike him.
AFTER THE RAIN projects a very subtle D/s relationship with a twist. Avelina has been abused in the past and because she doesn't feel that she deserves love, she anticipates abuse, almost encouraging it. Nate is very tender with her. He has always been so caught up in his career that he hasn't taken the time to love but he wants to learn with Avelina.
When Nate is dominant in the way he speaks to Avelina, it seems out of character because he appears more studious and tender, yet, it's almost as if he's anticipating what Avelina wants and gives it to her in very subtle increments. Their relationship is like a dance, a push and pull with angst sprinkled within.
While reading this book I wasn't sure if I liked it or not. It was interesting but different from what I normally read, so I couldn't always relate to the characters' heightened inner turmoil even when I understood it. The story is intriguing, though. I wanted Avelina to find peace, so I kept reading even though I sometimes became annoyed with the characters for what seemed to be immature, emotional attachment, as well as poignant detachment, at other times.
Overall, I did enjoy this couple's journey because it was unusual. Plus, the black moment was riveting, which sealed the deal for me. A possessive, all-consuming love story that will touch your heart, AFTER THE RAIN is intense until the end.
Reviewed by Dorine, courtesy of Romance Junkies. ARC provided by NetGalley.
Support this site by following the above links, buying books by clicking on the graphics, or commenting below…
What's on your TBR Mountain Range? Do you enjoy complicated relationship stories?

Print this Post