REVIEW: Only Enchanting by Mary Balogh – Recommended Read!
ONLY ENCHANTING is captivating and delightful, full of humor, forgiveness and love, exactly what a great romance should be. A Recommended Read!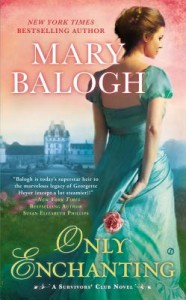 Only Enchanting by Mary Balogh
Series: A Survivors' Club Novel, Book 4
Category: Historical
Publisher: Signet (October 28, 2014)
ISBN: 9780451469663
Rated: 5 + Recommended Read
Enchanting aptly describes Mary Balogh's newest release in the SURVIVORS' CLUB series, ONLY ENCHANTING. It may be Flavian's, Viscount Ponsonby's, impression of Agnes Keeping when he first meets her, but I was just as enchanted with Flavian and his interaction with Agnes throughout this beautifully written novel. Author Mary Balogh made me laugh within the first few pages and I knew at that moment that this was a book to savor. What great characterization—so entertaining!
At twenty-six, Agnes Keeping had already been abandoned by her mother as a child, married and widowed, and now lives a quiet life with her elder sister, Dora Debbins, in a small cottage in Gloucestershire. Agnes' dearest friend is the newly married Sophia, wife of Viscount Darleigh, who has invited the sisters to a ball at their mansion, Middlebury Park. The ball was to be a rendition of a harvest ball years past but it is also a reception for the newly married couple who had done so quietly without much fuss. This first ball for Agnes is where she falls in love or lust; she's not really sure which emotion stands out more, but neither are what she envisioned for herself.
Viscount Ponsonby, known by his closest friends as Flavian "Flave" Arnott, has recovered as much as possible, or more so than expected, from his time at war. As one of the seven Survivors' Club members, he looks forward to their annual gathering at Penderris Hall. This year their meeting has been unanimously agreed upon to be moved to Middlebury Park rather than Penderris Hall, as his dear friend Viscount Darleigh, who is blind, doesn't want to leave his wife so soon after she gave birth to their son. Flavian still struggles with words and memory, so although he recognizes the woman he met at the ball months ago, when he encounters her again on the way to the Survivors' Club meeting, he can't for the life of him remember her name. He does remember he thought her to be enchanting but why that word, he can't imagine.
This is the first novel I've read by author Mary Balogh and it's easy to recognize why her books are so popular. I was completely mesmerized by chapter one and laughed immediately at the sisters' perception of the ball, the attendees and most especially, Viscount Ponsonby. Flavian's mocking eyebrow, hooded eyes and his rogue way of posturing, while his slight stutter seems to be his only fault, struck my funny bone from the very beginning.
Agnes Keeping has Flavian's measure right from the start, and her sense of humor, as well as her heart, is a joy to witness as these two soon-to-be-lovers banter their way to marriage. I laughed a lot but also there was such deep emotion locked away inside each of them that was evenly distributed throughout their story. It's not an easy journey but what they learn along the way makes the reader feel as if this couple will have a long lasting love.
It's rare to find an author who can pull me in within a few paragraphs and make me feel the ambiance of this era in history, but also make me laugh at the sensibility of those times as well. Mary Balogh has a keen eye for mannerisms which make her characters come alive, sometimes with imperfections that stand out in glorious hues.
As book four in the SURVIVORS' CLUB series, ONLY ENCHANTING easily reads as a standalone, but if you're anything like me, you'll want to repeat the experience by gathering up the rest of the series for a marathon. I wasn't confused while I read, I just felt left out by not having read what seems like a thoroughly enjoyable series about healing after being at war. Each of the Survivors' Club members were injured in some way so their camaraderie and care with each other is endearing. I can't wait to know the rest of their stories after reading this one.
ONLY ENCHANTING is captivating and delightful, full of humor, forgiveness and love, exactly what a great romance should be. A Recommended Read!
Reviewed by Dorine, courtesy of Romance Junkies, eBook provided by NetGalley.
Support this site by following the above links, buying books by clicking on the graphics, or commenting below…
What's on your TBR Mountain Range? What's your favorite historical romance?

Print this Post