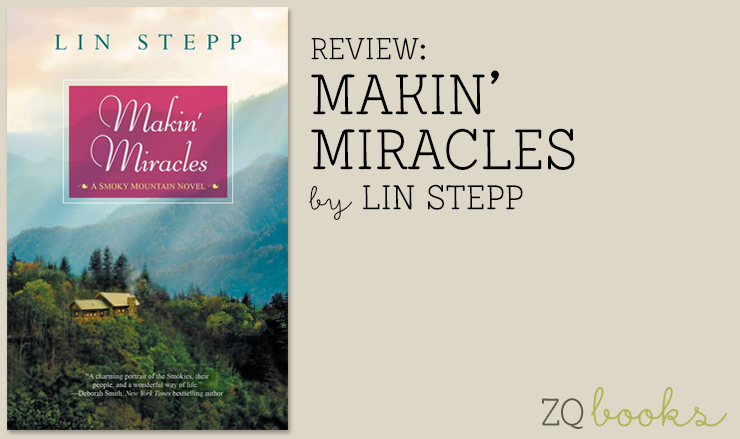 REVIEW: Makin' Miracles by Lin Stepp
A Christian romance that centers on a Tahitian-American seer whose gift is said to be directed by God and a talented nature photographer who struggles to understand her light against his darkness. Gatlinburg, Tennessee's mountain beauty is explored while two creative people find themselves falling in love.
Makin' Miracles by Lin Stepp
Series: The Smoky Mountain series, Book 7
Category: Contemporary Christian Romance
Publisher: Kensington (December 30, 2014)
ISBN: 9781617732782
Rated 4 out of 5
Format: read in eBook, also available in print
Zolakieran "Zola" Devon is half Tahitian and a gifted seer as well as the shop owner of Nature's Corner, an eclectic gift shop in Gatlinburg, Tennessee. Zola believes her "knowing" and ability to give advice about what she is shown is directed by God. Her family members agree, especially when their own intuitions don't seem to be a God directive like Zola's. When she shares a prediction with a customer who comes into her store, she never expects this man to be the one who will change her future.
Spencer Jackson is a talented nature photographer, author and gallery owner in Gatlinburg. The Tahitian woman's warning about his date, who is a co-worker of sorts, robbing him makes him angry at first. Once back at his home, his date acts peculiar and Zola's warning comes to mind. When he finds his money and his grandmother's jewelry in his date's purse and she isn't even repentant, he's appalled and asks her to leave.
Zola is surprised that someone built a house at her favorite place in the mountains near her home in Tennessee while she was away visiting her family in Mooréa, an island northwest of Tahiti. When she hikes up the mountain to see if the owner has ruined the vista, Zola is so thrilled to discover her childhood hideaway undisturbed, never expecting the landowner to be the same man she had warned just days before. Her enthusiasm surprises him when she can't resist kissing him full on the lips in her happiness.
Spencer and Zola begin a friendship built on their mutual love of nature, hiking to places where Spencer can take photographs for his next book. Their attraction is immediate, but can they move past their differences? Spencer has family issues he ran away from twelve years ago and Zola has the seer gift that can interfere with the best of relationships. Will these two creative souls find a way to mold their individual worlds and personalities into one that will work for both of them?
MAKIN' MIRACLES is a beautiful spiritual story. I was especially moved by Zola's method of getting Spencer to release his pain to the sun and sky midway through the book. That scene really spoke to me emotionally and spiritually. I'm really curious to know if it affects other readers the same way.
For me, initially, the dialog seemed to be blocks of telling, so I had a hard time getting used to it. After a while it became a charming part of the characters' personalities. There is innocence in Zola's viewpoint. It sometimes makes her goodness stand out like a beacon, never realizing what kind of danger can harm her. That purity made Zola's innocence shine, sometimes with an immaturity that she had to grow through. I don't know if this was intentional or not, but it worked for me.
Zola's essence is light-filled. She's not afraid of her gift and it's not that she's overly brave but she realizes that God doesn't give her more than she can handle. And He doesn't for a long time. Spencer, on the other hand, has a dark, brooding side that makes him untrusting in relationships due to his past. Spencer's pain is very deep and understandable once the reader meets the source of it.
I've read many books about characters with seer talents but never one where the talent was thought of as spoken by God. The information shown to Zola is to be given immediately but not all are willing to hear. I really loved this aspect of the story. As a Christian romance, faith is a prominent part of the tale and increased my enjoyment of it. There is a comparison between fortune-telling and Zola's gift that I found interesting, so this novel kept me thinking and wondering from beginning to end.
The setting of Gatlinburg, Tennessee, is one of my favorite places so if you've visited or have dreamed of visiting, you'll get plenty of vistas to imagine in this story. I particularly enjoyed the photography sessions with Spencer and the description of some of his photos. If you love nature photography, you'll crave the mountains after reading this book. Next, the story moves to Richmond, Virginia, for a brief visit, then there is a short time spent on Mooréa, so some tropical breezes will satisfy your curiosity there as well.
For those who love inspirational novels that teach forgiveness, understanding and love, MAKIN' MIRACLES sets itself apart in a unique and uplifting story. I'm looking forward to reading the previously released DOWN BY THE RIVER and the future, September 2015, release of SAVING LAUREL SPRINGS in THE SMOKY MOUNTAIN series by Lin Stepp. If you're a hiker, you might be interested in THE AFTERNOON HIKER by J.L. and Lin Stepp which is now on my wishlist. I love finding new-to-me authors who seem to treasure nature as much as I do.
Reviewed by Dorine, courtesy of Romance Junkies. ARC provided by NetGalley.
Support this site by following the above links, buying books by clicking on the graphics, or commenting below…
What's on your TBR Mountain Range? Do you enjoy seer novels or those novels that focus on an outdoor setting?

Print this Post