REVIEW: All the Right Places by Jenna Sutton
Can a denim dynasty CEO and a budding fashion designer work their way to a partnership of the heart? From San Francisco to Nashville, this couple hopes that love equals forgiveness in this contemporary romance.
Quinn O'Brien makes quite an impression in the first chapter when he's thinking about the butt of the woman on the escalator in front of him and how the jeans fit. Of course, we realize right away that he's not just being a guy who likes a rear-end view, but the acting CEO of a denim empire, Riley O'Brien & Co. He and his siblings have been trained to appreciate the way a pair of jeans molds to a body. Even though the woman's shape and red curly hair attracts him, he can't help but be annoyed that she's not wearing Rileys.
Quinn's sister Teagan has been pushing to revamp the women's division and Quinn has been hesitant due to the risk. Her latest tactic brings in Amelia Winger, an accessory designer for an up-and-coming country music star, to design some accessories for Riley's women's division. When Quinn is introduced to Amelia in a surprise meeting, he can think of nothing else to say when he realizes it's the same woman from the escalator, other than "nice ass". He immediately corrects himself by telling Amelia it's nice to meet her, but Amelia swears she heard him quietly say something else, and chalks it up to her nerves about this meeting that will affect her career.
Teagan maneuvers Quinn and Amelia to spend more time together, observing their initial attraction to one another. But can Amelia ignore her professionalism and sleep with the boss? Especially since she's planning more with Teagan for the company than they've told Quinn?
Initially, I wasn't impressed with Quinn as he seemed a little full of himself. However, he shows his sensitive side when he not only buys Amelia a juicer to use during her stay in San Francisco, but also purchases three bags of vegetables and fruit that are perfect for juicing. It demonstrates his consideration for what Amelia would want, rather than just throwing some groceries together.
Amelia lives a quiet life in a farmhouse outside of Nashville with her best friend who is a new country music star. Amelia's family background makes her very afraid of loving anyone. The only person she truly loves and considers family is her best friend, Ava Grace. Quinn overwhelms Amelia but she can't resist his charm. Can she risk lying by omission to Quinn when they become intimate?
Will Quinn and Amelia enjoy each other for the time they are working together, or will their relationship become a partnership of the heart?
Quinn likes to embarrass Amelia with his forthright approach to sex, and he is quite the talker, but since he only has eyes for her, Amelia becomes more open when they're together. Amelia doesn't drink alcohol or say inappropriate words and tries to remain the good girl, but Quinn is persistent and brings her out of her shell. They are fun together and their love story, although it is rocky at times, gradually grows, but will they be smart enough to overlook their differences in time to make it work?
Although this book occurs in San Francisco and Nashville, I didn't get a sense of the setting from the storyline. ALL THE RIGHT PLACES is a pure relationship novel without much secondary plot to drive it, but the characters are fun and interesting so it makes up for the lack of detail in the locale. The descriptions of their homes are detailed amply to easily envision them in my mind as I was reading.
The fashion industry from a blue jeans company's point of view is an interesting backdrop for a series, which is what drew me to this book to review. I love my denim! The characters are wealthy business owners and used to getting their own way, but because love has eluded them, it's fun to see them fall hard for the one who captures their heart. Quinn's sister Teagan's story is next in book two, COMING APART AT THE SEAMS, due out in December 2015. Love that title and from what little I've read about Teagan, it seems to suit what we can expect from her relationship before she gets her happy-ever-after. There is also a hint at Cal's future, Quinn and Teagan's brother, so I'm guessing his story will be next?
A June 2015 release, ALL THE RIGHT PLACES is author Jenna Sutton's debut book in the RILEY O'BRIEN & CO. series. It's sexy and will appeal to those who enjoy relationship stories with erotic language between a couple who are growing in love for one another. If you enjoy stories about a close-knit family in business together, with future stories about the siblings, then put the RILEY O'BRIEN & CO. series by Jenna Sutton on your wish list.
Reviewed by Dorine, courtesy of Romance Junkies and The Zest Quest. Print ARC provided by the publisher.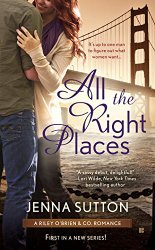 Get your copy at Amazon.
All the Right Places by Jenna Sutton
Series: Riley O'Brien & Co, Book 1
Category: Contemporary Adult
Rated 3.5 out of 5
What's next in the Riley O'Brien & Co series by Jenna Sutton.
What's your favorite style of contemporary fiction? Romance? Suspense? Something else?

Print this Post