Simple Foil Wrapped Chicken
Foil Wrapped Chicken is a simple, fast, super tender way to make chicken that I use whenever I'm in the mood for more veggies and Mr. Carnivore wants protein. Sometimes I'll stir-fry vegetables, roast them or simply make a salad. Add a microwaved baked potato to foil wrapped chicken, plus salad, and you have an easy complete meal within one half hour.
My secret weapon to make super fast Foil Wrapped Chicken is to use Weber's Just Add Juice for the marinade. Weber's marinades are so good and easy, why reinvent when you're in a hurry? I've probably used every single marinade that Weber makes, that's how much I like them, but I always come back to Weber's Just Add Juice Orange or Lemon. Sometimes I'll switch the lemon juice for lime juice and add some fresh cilantro to jazz it up. The Weber's Southern Whiskey is also good and that calls for 1/4 cup of olive oil instead of the juice. You can also use these same marinades for grilling but I like the no-mess of foil packets.
Foil Wrapped Chicken can be baked at the same time you're roasting vegetables so it works well together if you have a Carnivore or more in the family. I usually make several foil wrapped boneless chicken breasts so we can have leftovers to go into other meals during the week which is what we did the very next day with the Low Fat Roasted Vegetables (another recipe coming up here at The Zest Quest). It's also a great way to make Leftover Chicken and Vegetable soup, another favorite recipe I'll share with you very soon.
Simple Foil Wrapped Chicken
Prep Time: 5 minutes
Cook Time: 30 minutes
Total Time: 35 minutes
Yield: Serves 2-4 people
Serving Size: 1 piece of chicken per person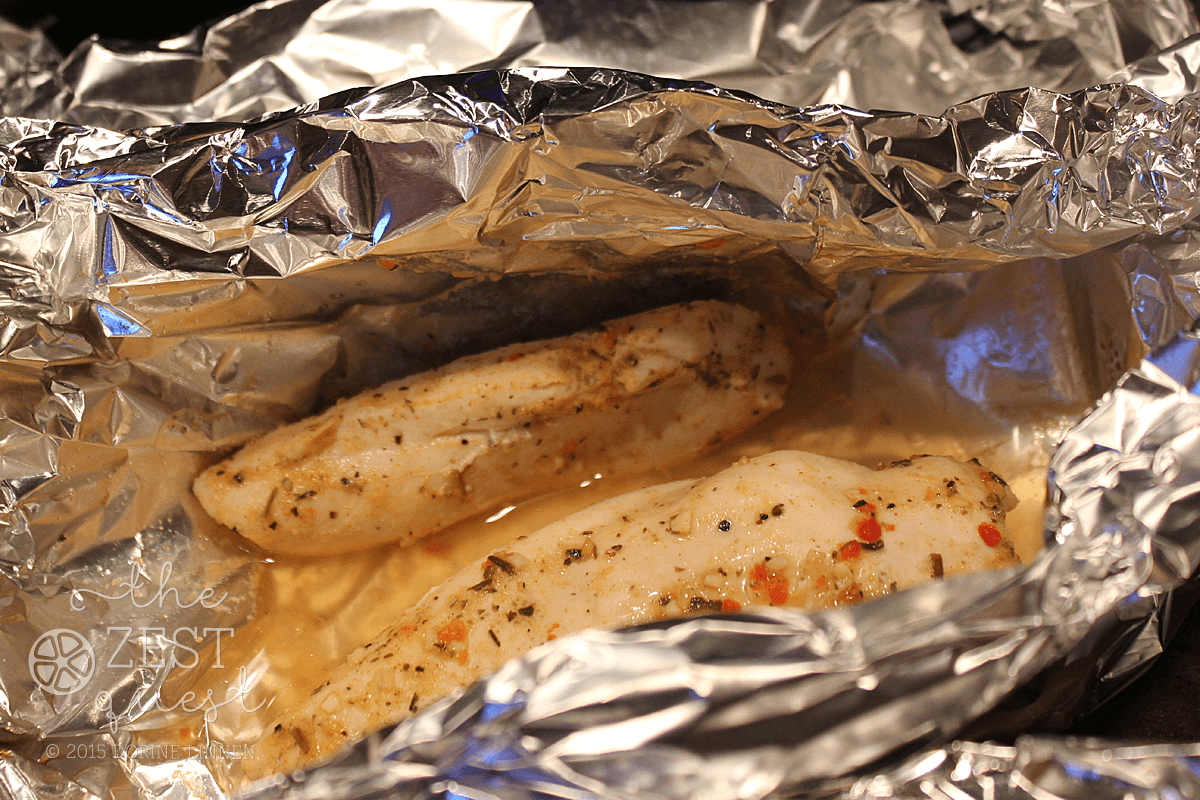 Ingredients
Weber's Marinade packet
2-4 Boneless Chicken Breasts
Orange, Lemon, or Lime Juice
Instructions
Mix Weber's Just Add Juice marinade mix with 1/2 cup of orange, lemon or lime juice in a zip lock baggie. Put 2-4 small chicken breasts into the baggie, seal, and store in the refrigerator for 30 minutes to marinate.
Preheat oven to 425 degrees Fahrenheit. Get out a cookie sheet that has a small lip in case you have a break in your foil pouches. Tear a piece of foil big enough to go around each piece of chicken twice. This insures that you have enough foil to fold on top to seal.
After chicken has marinated 30 minutes, place the chicken on foil. Fold foil over each piece of chicken so that edges meet and then fold or roll down toward the chicken to seal. Repeat for each chicken breast. Toss the remaining marinade. Do not pour on top of the chicken because the chicken will become juicy enough inside that foil pouch while baking.
Put foil pouches on the cookie sheet and bake for 30- 40 minutes. Temp check the chicken at 30 minutes with a meat thermometer to make sure you don't over cook it. Mine is usually done in 30 minutes but it will depend on the size of your chicken breasts.
Throw away the foil and leftover juice for a no-mess clean-up.
Enjoy from The Zest Quest!
Notes
You can also use chicken tenders and put several in each packet.
Can't find Weber's marinade? You can substitute about 1/4 to 1/2 cup of Fat Free Italian Salad Dressing for your marinade or regular Italian Salad Dressing if you're not watching the fat in your diet. Or make your own Italian Vinaigrette and use it instead. It won't have as much zing as the Weber's but it's still good!
http://thezestquest.com/2015/07/25/simple-foil-wrapped-chicken/

Print this Post