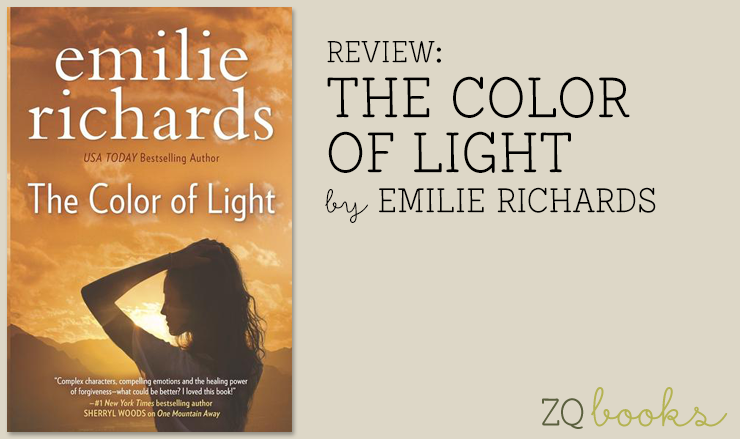 REVIEW: The Color of Light by Emilie Richards
I couldn't help but think about THE THORN BIRDS by Colleen McCullough when I began reading this story. Author Emilie Richards has a talent for grabbing a taboo subject, twisting it, turning it on its head, torturing her characters with it for a bit, then giving us the happy-ever-after we crave. So good!
Reverend Analiese "Ana" Wagner has been one of my favorite characters ever since we were introduced to her in book one of the GODDESSES ANONYMOUS series and I was so excited to hear that this book is her personal story. Ana's quick wit and ability to reason with clarity in any situation has always impressed me. She's someone I think most of us would appreciate as a friend.
Reverend Ana doesn't hold back her opinion, even as a woman guided by her faith, but her approach always has a bit of finesse, tempered with an inspirational message. She's also funny in her thought process and humble about her own faults. Finally in THE COLOR OF LIGHT, we get to follow Reverend Ana's difficult foray into love and then wonder if she'll ever experience her own happy-ever-after, because she doesn't ever do anything easy, including falling in love with the man responsible for her entering the seminary, her dear friend, a Catholic Jesuit priest.
For those who have been following this series, many of our favorite secondary characters are in this book once again. I enjoyed catching up with Ethan, Harmony, Cristy, Georgia and Dawson. For those who are reading this book first before the other three, you won't be lost, but this book will mean so much more to you if you've followed along with Reverend Ana from the beginning. Also, even though each of the books have traces of faith undercurrents mixed in, I think this book is the most prominent in regards to questioning and accepting your faith journey. I'm glad I read the first two books so I could relate more to the characters who advise and support Ana.
Reverend Ana hasn't heard from her friend Isaiah Colburn, a Jesuit Catholic priest, in years. When she's accosted at a rally meant to bring about support for the homeless, she is sure the man who helps her up after being knocked down is Isaiah. What is he doing in Ashville, North Carolina, when the last she heard he was serving in a parish in San Diego, California? He disappears into the crowd and Ana is left to wonder if it was really him or just her wishful thinking.
Ana's world has become overwhelming. She's trying to help her congregation, but many of them prefer a male minister so they question her at every turn. Ana is trying to do it all, sometimes unsuccessfully. Ethan, Ana's good friend's husband, has become her confidant because he's not a member of her congregation, and that makes him safe for Ana to unburden her fears and doubts. Ethan accompanies Ana back to the church safely after her speech at the rally, but they find something neither of them expects, a homeless family using one of the church buildings that was accidentally left unlocked while they were gone.
Reverend Ana takes it upon herself to allow the homeless family of four to use the apartment in this building that has been unused for some time without consulting any of her church members. The fate of the homeless family becomes an issue that divides the church and Reverend Ana has to use all her resources, including much of her free time, to ensure that this homeless family gets a second chance.
Meanwhile, Isaiah visits Ana and partially explains his absence from her life and then his reappearance, but much of what he's thinking and feeling he keeps to himself. Gradually their friendship is rekindled. Will Isaiah disappear again, or will he make an effort to personally commit to Ana?
I really love Emilie Richards' characterization and especially what she's done with Ana. Even though this book is about two people of devout faith, it's not preachy. Both of them have doubts in themselves and their calling, so it's realistic. Much of what Ana believes is just good common sense with a faith inspiration and I think this is the type of book that teaches life lessons as much as it entertains. Ana is far from perfect so her struggles are heartfelt.
Of course, Emilie Richards never takes the easy road with her characters, so hinting at a romance between a protestant minister and a priest is sure to inspire some great discussion, but I think it is very tastefully done and it never once offended me. THE COLOR OF LIGHT is appropriately named for the stained glass window Ana's congregation is designing, but it's also about the varied nuances of faith within this novel, allowing the many hues to light up this story.
Fear and the anxiety caused by that fear is also well-explored in this novel in several ways. There are so many interesting topics covered by each of the characters that it makes them easily relatable. Shiloh Fowler, the teen whose family is homeless, has had to grow up fast but her path is yet to get worse before it gets better, and even though I could predict what was coming, it didn't make it any easier to read when it happened. A bevy of emotion is tied up in this homeless family with very real and unfortunate circumstances that will make you think twice about what we're doing to help those who are displaced.
My favorite GODDESSES ANONYMOUS story is book one, ONE MOUNTAIN AWAY, but I think that's because it was my first experience with Emilie Richards' talent. I also enjoyed book two, SOMEWHERE BETWEEN LUCK AND TRUST equally in comparison to THE COLOR OF LIGHT. I can't wait to catch up with the series by reading book three, NO RIVER TOO WIDE. Fans of the series will appreciate THE COLOR OF LIGHT because we get to know Ana on a more personal level and experience her life journey as it reaches new heights. None of these characters are perfect and I think that's what I like best about the GODDESSES ANONYMOUS series which exemplifies great women's fiction. They're each trying to find their path through life's hard knocks in a way that makes them better people for their effort, often resulting in a calling of the heart in the process.
Beautifully written and especially poignant in regards to the homeless, THE COLOR OF LIGHT touched my heart and I can't wait for the next GODDESSES ANONYMOUS book.
Reviewed by Dorine, courtesy of Romance Junkies and The Zest Quest. Digital ARC provided by the publisher through NetGalley.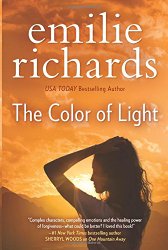 The Color of Light by Emilie Richards
Goddesses Anonymous series, Book 4
Category: Inspirational Contemporary
Mira (July 28, 2015)
Rated 4.5 out of 5
The Goddesses Anonymous series in order…

Print this Post