Ohio Fruit Season – Farm Share Week 9
Our Ohio Farm Share in week 9 is fruity and such a surprise! Fruit is included in our diet weekly, but I never really thought about an Ohio fruit season until this year. I know most vegetables and when they're available in Northeast Ohio because I have grown them, even if I don't grow everything we eat every year. I've started seedlings and planted everything from what I've grown myself, or I buy plants from nurseries, so I know how to plan ahead for what I want to harvest using the Square Foot Gardening method. I read my first Square Foot Gardening book many years ago and realized how amazing it works for those of us with a limited amount of space. I still remember the excitement when my brother tried the same method for the very first time. It is so fun to share the methods to garden in small spaces with others.
On a small urban plot that has become mostly shady, it's touch and go as to what will grow well on our own small piece of this earth. We often plant vegetables in pots and move them to where the sun is shining. Relying on outside sources is a given, but the joy of eating fresh and experiencing what we can do ourselves is a must each year, even if we can't do it completely ourselves.
Growing our own fruit has been limited to growing our own strawberries for a few years until that bed became too shady, we grew watermelon and cantaloupe a couple years but not very well due to the lack of sun, plus we've picked wild blackberries and raspberries over the years, or obtained fresh blueberries from the farm of a friend. We'll stop at roadside stands and pick up apples, etc…, but I haven't really ever considered when I need to do these things in order to have fresh picked fruit locally grown all year. I have craved the space needed for some fruit trees or blueberry bushes and a sunny spot for my treasured strawberries, but it's not going to happen anytime soon unless we cut down a few of our precious trees that shade our house which keeps the utility bills down.
When fruit is harvested and what can actually grow in Northeast Ohio is something new I'm learning as we go this year and it's surprisingly exciting and fun! And aren't these Dragon Tongue Beans the coolest vegetable? They really stand out amongst the peppers and the cantaloupe in the background.
So, I'm sure you'll understand my enthusiasm for all the fruit this week! If not, then just think of me as the wacko lady with a newly acquired fruit obsession who is jumping with joy. 😀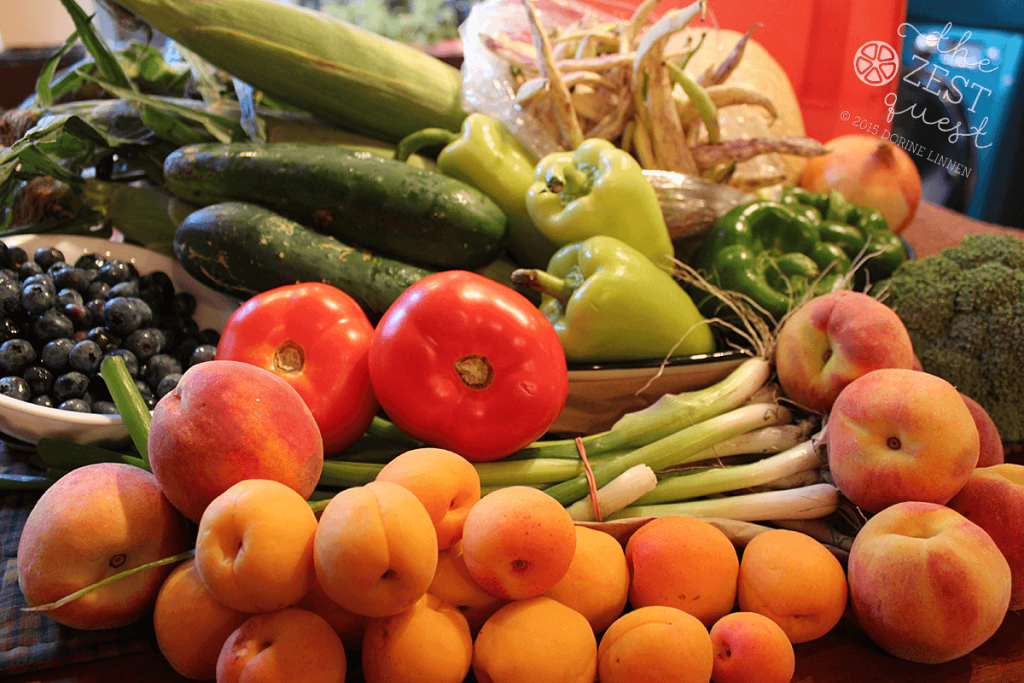 This week our small Vegetarian farm share included (above photo)…
Blueberries – 1 pint
Peaches – quarter peck
Apricots – 1 pint
Cantaloupe – 1 huge one
Corn – 8 ears
Broccoli – 1 head
Dragon Tongue Beans – 1 lb.
Onion – 1 yellow
Hungarian Hot Peppers – 3
Green Peppers – 2
Cucumbers – 2
Green Onions – 1 bunch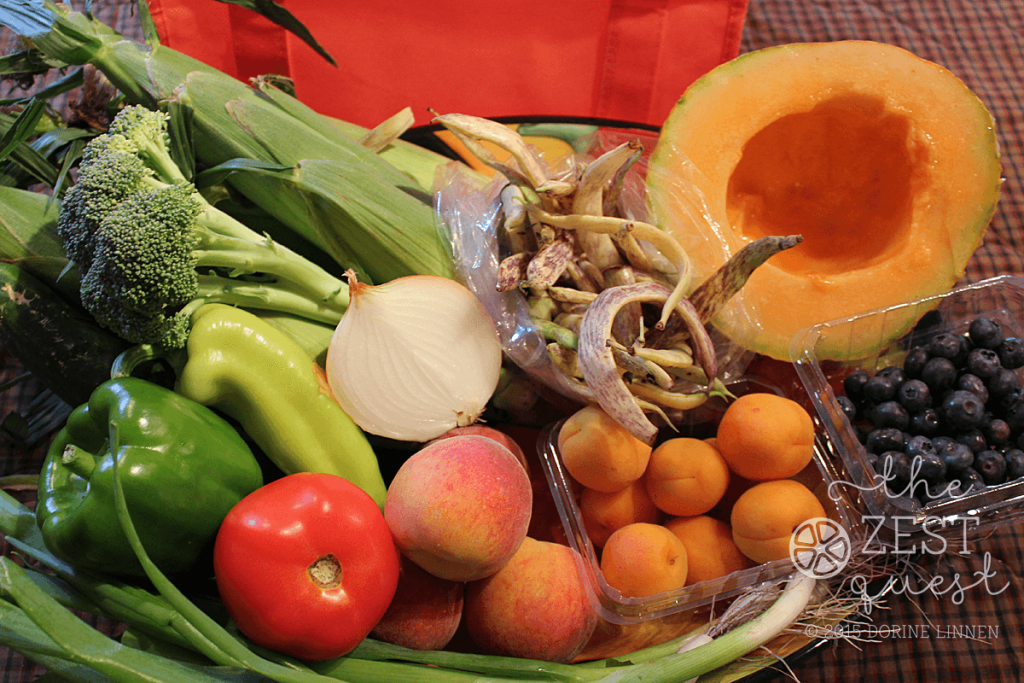 My half of the Vegetarian small share this week (above photo) and what's left since Thursday…
Blueberries – 1/2 pint
Peaches – 5 or 6 – 3 left and we enjoyed them, even the slurping when the juice runs faster than we can catch it.
Apricots – 1/2 pint – about 10 – 8 left, two were delicious.
Cantaloupe – 1/2 huge one –  half is left, need to eat this quick because it's very ripe.
Corn – 4 ears – sounds like good cook out food
Broccoli – 1/2 head – this will be gone easily in a salad or stir fry, won't be enough for steamed
Dragon Tongue Beans – 1/2 lb. – these are really cool, looking forward to the predicted nutty taste
Onion – 1/2 yellow – so perfect
Hungarian Hot Peppers – 1 – debating on this, depends on how hot!
Green Peppers – 1 – if I don't use this up in something, I'll freeze it — have a bag of frozen peppers in the freezer constantly
Cucumbers – 1
Green Onions – 1/2 bunch – about 4
Extras added…
We added a few things: a pint of grape tomatoes bought from Fresh Fork Market on our pick-up day, plus we hit Highland Square for their Farmers' Market organized by the Countryside Conservancy in Akron, Ohio, and got 2 loaves of bread from Great Lakes Baking Co. in Hudson, Ohio, and some lettuce from Schmidt Family Farms in Medina, Ohio. Both breads are super heavy and not overly sweet. We've been enjoying the Cranberry Walnut with some cinnamon butter in the morning and the Multigrain with all those seeds and nuts has been great just as a slice at dinner with the Stir Fry Steam (recipe coming soon) two nights in a row. We put about 2/3 of each loaf in the freezer because we don't eat fresh bread fast enough to keep it fresh. I find that freezing 4 slices in a quart size freezer bag is perfect for the two of us to consume quick enough when we defrost it. I much prefer bakery fresh bread to the standard loaves sold in the grocery. It's more expensive but we only eat one slice at a time instead of two because it's so heavy.
What we still have or have used up from weeks 7 and 8…
Leek – 1 – Gotta find a way to use this up this week
Red Onion – 1 – so pretty, waiting to be used in our pantry, maybe in a bean salad.
Carrots – 3 – 1  used in salad, very sweet – storing the rest in the fridge
Peaches – 3 – 1 left to fight over — they are awesome!
Patty Pan Squash – 1 large – used in a "stir fry steam" recipe to follow
Green Beans – 1/2 lb – forgot all about these – used in a "stir fry steam" with the squash this past week
Cucumbers – 1 – we've been eating cucumbers in salad but not fast enough – had to throw one away this week. Pout. Must get better!
Wheat Bread – 1/2 loaf – tomato and cheese sandwiches and a couple mornings of peanut butter toast used this right up.
Swiss Chard – 1/2 bunch – I really have to do some preserving for soups this winter, must find time!
Curly Kale – 1/2 bunch – used the final bit in the "stir fry steam" — absolutely love this in our salads. This Curly Kale is a new love and something I could eat every week.
Corn – 4 ears – this was an excellent bi-color sweet corn and we hung on to it for 5 days before eating it so I was quite pleased that it stayed so fresh so long. I don't think that's a recommended time to keep refrigerated for best nutritional value but I messed up and it seemed okay to consume.
Blueberries – 1 pint – we shared these with our granddaughters on french toast and in a fruit salad they loved.
Cauliflower – 1 purple – so cute! – Steamed with a small Leek in Chicken Stock and served with mashed potatoes and Herbed Pork Loin Roast — recipe coming soon!
Zuchinni – 2 –  used in a "stir fry steam" recipe I'll share with you later
Tuscan Kale – 1 bunch – I prefer the curly Kale and this didn't fair so well on the time I kept it. If any of it is salvageable, we'll stir fry it a bit to freeze for soups.
Cabbage – 1 HUGE purple one!  Still in the fridge waiting to be blanched and frozen. The outside leaves needed tossed but I think it will make it until I have time.
Red Potatoes – 2 pounds – oh these are so yummy. Only a couple tiny ones left
Broccoli – 1 head – aye, caramba! still in the fridge! Finished this in a stir fry.
Dill – 1 bunch – this was lovely on the Low Fat Fresh Green Beans recipe here and on our salads. Still a little bit left after loading it on a "stir fry steam," a recipe I'll share with you later.
Cucumbers – 2 – happily munched on these in our salads – 1/2 left
Green Beans – 1 lb – made away with these right away in our tummies in Low Fat Fresh Green Beans recipe here.
Guernsey Yogurt – 1 quart – this will last at least thirty days. It's soupy and perfect for some blender action, so I'm thinking the frozen strawberries from week 4 and some of the wonderful honey will be great with it.
Overall, I'm very happy with the results and feel that we're eating better and spending less money on groceries! Watch for my Top 10 Reasons to Buy a Farm Share post coming up this week to see if it will work for you too.

Are you eating fresh?

Print this Post