REVIEW: Plain Threats by Alison Stone
PLAIN THREATS by Alison Stone is an unusual suspenseful romance between a widowed Amish woman and a college professor who researches the Amish ways of life for his articles and classes. This isn't your standard Amish suspense plot either so it held my interest.
I've begun to love Amish Suspense books, Amish and Suspense being two characteristics in romance that I didn't think would mix as well as they do, but they're becoming a favorite scenario of mine. There's an innocence that can be easily maneuvered in a community that's based on trust and faith – PLAIN THREATS is a believable example of this situation.
Rebecca Fisher is an Amish widow with three children to support so she works at the local diner. Her family's reputation has been tainted by her husband who murdered two people and then died in jail. Her deceased husband's behavior still haunts Rebecca in everything she does, especially when dealing with her stepson who is going through his Rumspringa, the time when teenagers explore outside of their Amish community before their baptism into their faith.
Rebecca is so worried about her stepson that she reaches out to an outsider, Professor Jake Burke, who researches the Amish youth for his articles and the Amish classes that he teaches in college. Rebecca hopes that her stepson Samuel has confided in Professor Burke so that she can find out how to help him.
Jake, a former army ranger, wants to help the young widow when she approaches him about her troubled son, but he has to maintain the confidence of the youth he interviews. If they think he's telling their parents their secrets, then Jake will no longer have a good resource for his research. Not that Jake knows much about Samuel anyways, but he needs to be careful how he helps Rebecca, for her reputation as well as his own.
As tensions escalate, Jake can't stop himself from helping Rebecca and their attraction grows. Rebecca loves her farm and the Amish way of life. Becoming friends with an Englischer and allowing him to help her family looks wrong to her community. Can she let Jake go when he's the only man who makes her feel safe?
Rebecca was mistreated by her husband and is embarrassed by what his deeds did to her family's reputation. She's meek in the beginning, but as the threats against her family intensify, Rebecca's mamma bear instincts come to life. Jake's parents were once Amish, then left the community and married. Both his parents died young and Jake has always wondered what his life would have been like if his parents had never jumped the fence. Now that he's met this sweet Amish woman, who makes him feel at peace for the first time in his life, can he let her go when she has no intention of leaving her way of life?
PLAIN THREATS is one of the books I received in my Love Inspired reader service subscription package. I haven't read many of the Love Inspired line, which is why I joined the reader service, and I've never read any books by Alison Stone before this book. It's a great way to explore new-to-me authors and a specific style of books. I especially appreciated the page count of PLAIN THREATS which made it easy to read within a day.
PLAIN THREATS is a sweet love story that takes place during a dangerous time in an Amish community when outside influences creep past their trust and faith. Those who love romance with chaste kisses and the love of the land will appreciate this story. PLAIN THREATS is a good example of love mixed with faith with some unusual twists by an author who has researched her subject matter well. I thought I knew everything about the Amish but I learned some things that kept me intrigued. Although I did suspect the villain early on, I wasn't positive who it was until the end. The suspense was well layered and left enough possibilities that I was kept guessing. I look forward to more Amish stories by Alison Stone.
Reviewed by Dorine, courtesy of The Zest Quest. Print book purchased.
Plain Threats by Alison Stone
Category: Amish Suspense Contemporary Romance
Harlequin Love Inspired (September 2015)
Rated 3.5 out of 5
Reading next by Alison Stone…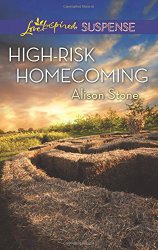 Do you enjoy Amish Suspense stories?

Print this Post