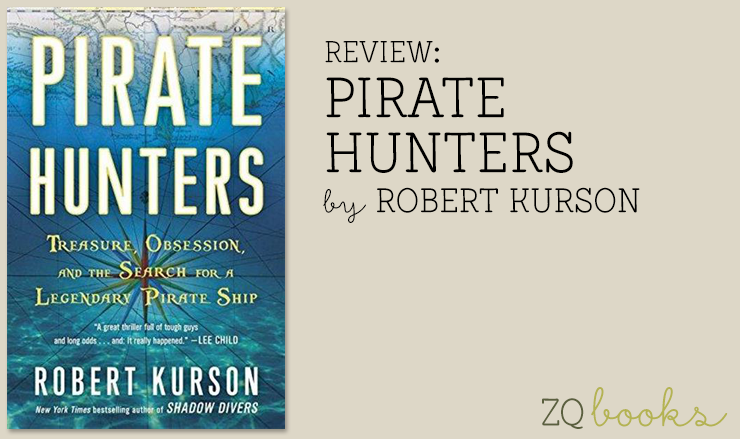 REVIEW: Pirate Hunters by Robert Kurson
Seventeenth century pirates could elicit not only fear in their wake but instill cooperation without firing a shot, just by their reputation shared by survivors. I have always been intrigued by pirates so PIRATE HUNTERS grabbed my attention just by the name, but when I realized it also included seventeenth century history, I was ready to dive in.
This book begins with an author's note which gives the reader a synopsis of what's to come by describing a meeting with John Chatterton and John Mattera, the two main players in this story. Their quest to find the ship of Joseph Bannister, a seventeenth century pirate who opposed the British Navy in an epic battle that he won, has been rife with adventure and mystery, some of which is still unresolved today. PIRATE HUNTERS follows these adventurers on a journey of a lifetime, taking them back into history before they find the truth about Joseph Bannister.
John Chatterton and John Mattera are each famous in their own right as divers. Finding their own treasure is something they're about to do when they get a call from a man they admire. They join Tracy Bowden, a legend in treasure hunting, when he requests their help. He tells them a story about an English sea captain who went rogue and became a notorious pirate. Why would a successful sea captain with an impeccable record toss it all away to become a pirate? Countries are outlawing private salvaging so will this team find their treasure before it's taken from them by competitors or the government? These are just two of the many interesting questions answered in this true story that reads like a novel.
I read the first quarter of this book fairly fast but then got hung up and slowed down for several chapters. There is a tremendous amount of detail about each person's life prior to this treasure hunt and I was impatient to get to the pirates. I wasn't sure I'd be able to finish this book until I got to a section that described a connection to the mob and the pace picked up. After that, I zoomed through to the end of the novel.
Fair warning – there are some gory details of piracy that may affect the most squeamish of readers, but it's important to understand the lifestyle that led to these acts. Pirates were once used to keep some countries from profiting in trade. When trade agreements were made, pirates became the hunted.
What I admire most about this book is the commitment of the treasure hunting team and their families, as well as the dedication of Robert Kurson to be able to put their story into a readable format. The amount of research, the years spent and the hours of interviews by all parties proves their love of solving a mystery. It's not just their love of the treasure but their love of the hunt and the history behind it all that gives them the clues to find lost sunken ships. I have such admiration for that kind of dedication.
PIRATE HUNTERS is a fantastic story of modern day treasure hunters who have to rely on history and intuition to guide them. If you love a good hunt, for financial treasure or for history revealed through research, then I recommend you read PIRATE HUNTERS. Anyone this devoted to their dream deserves an award for their efforts. The cost alone could scare many, as well as the dangerous situations faced, but the years of devotion have given me a whole new respect for those in this story who followed their dream as far as it would take them.
Reviewed by Dorine, courtesy of The Zest Quest. ARC provided by the publisher through NetGalley.
Buy your copy at Amazon.
Pirate Hunters: Treasure, Obsession, and the Search for a Legendary Pirate Ship by Robert Kurson
Category: Non-Fiction Adventure
Random House (June 16, 2015)
Rated 4 out of 5
Do you enjoy real life adventure stories?

Print this Post