Hiking Challenge 2015 – Wood Hollow – Hudson
Downy Loop at Wood Hollow – Hudson Metro Park is fairly new and it was fun to discover its assets on Hike #2 of our 2015 Fall Hiking Challenge. Considered a "satellite park" of Liberty Park in Twinsburg, this park doesn't have all the amenities of some of the larger parks in Summit County but it is an enjoyable place to hike.
It does have a portable restroom at the entrance of the trail and a pretty little pond to sit by for some quiet time. What I enjoyed most was the meadow filled with wildflowers (below) and the deep woods with the bright sunlight peeking through (above featured photo).
The mixture of these Asters and Goldenrod starting to fade among other wildflowers drew my eye right before the entrance to the woods.
A fairly easy hike of 1.2 miles, Downy Loop is filled with boardwalks, bridges and bare ground pathways. The pathways are a bit rough yet, not having had the chance to be beaten down by enough foot traffic, so some of it is harder to walk on than older trails. The trail is wide enough, it's just a bit bumpy and can make your feet rock a bit, so for someone with easily agitated feet, it will be a bit more painful than a well-aged pathway. Also, the boardwalk isn't quite wide enough to stop for photos with other hikers behind you, so we tried to be considerate of those much faster than us.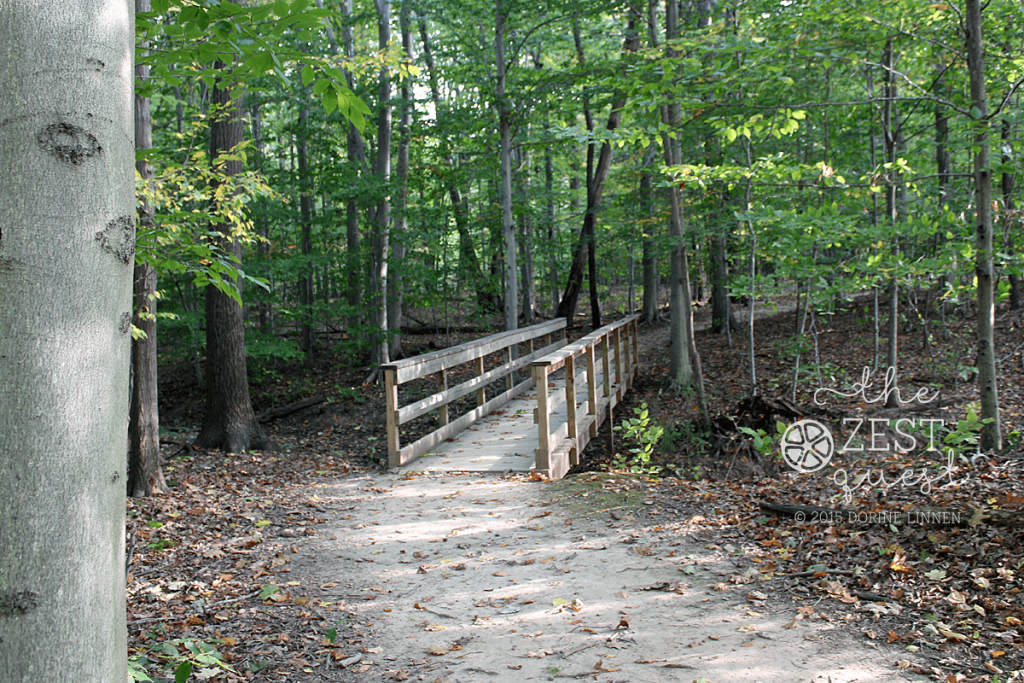 You can see how new everything is by the fresh-cut look of the wood of this bridge. It's super quiet except for the sound of footsteps of other hikers behind you when you're on the boardwalk, otherwise you feel as if you're deep in the woods on the way to grandmother's house, waiting for the big bad wolf to pop out from behind a tree.
I like looking off the trail for unusual vistas or interesting plants when there aren't animals to draw my attention. This park was eerily quiet as far as birds or animals were concerned. I did come across a baby snake pointed out to me by a couple of other hikers. I guess he was moving across the trail and they decided to move him off to the side. His hissing and tongue wagging pretty much told us he wasn't pleased with that decision at all. I wasn't sure what type of snake he was so I zoomed in for a photo that didn't come out clear enough to show here. Sorry — I wasn't moving in for a close-up of his cranky self.
Isn't this a pretty pathway to nowhere? It looks as though it's used by wildlife, but it's not part of the trail, just a sideview I thought was beautiful.
Isn't this such a gorgeous mixture of moss on this textured fallen log, mixed in with dried grasses and fallen leaves? It drew me in like a beacon. I wonder who or what lives in that hole? Mother Nature is so fascinating.
Sorry for the leaning view here. I had to bend over sideways to get this view of this meadow and treeline that lies on either side of the hidden roadway you can't see, because of the way I took the photo. I was fighting a migraine, so a little topsy-turvy is to be expected. LOL I just thought that the colors of the Black-eyed Susans mixed in with the meadow grasses was so beautiful set against the changing colors of the trees. It feels like a real life Monet painting to me – all soft and hazy.
Overall, a very pretty place to be when the wind is blowing hard – I felt well-protected from the elements in the woods and there wasn't a long stretch of open land to traverse from the treeline back to the parking lot, even though it looked a bit overwhelming by the time I came out of the woods. This hike felt like more than 1.2 miles, but I didn't track it as I went. The last part of the trail goes across a grass lawn so there are many different textures for your footing. A good pair of shoes with wedged flat edges will keep those of us who wobble easily, upright, and give some of our foot muscles a needed workout. I really enjoyed the diversity of this trail and the subdued quiet on a windy day.
What types of surfaces do you like to hike on the best?

Print this Post