Veterans week in West Virginia – Sunsets, Mountains, More!
Veterans Week in West Virginia was an enjoyable getaway in late fall. The photos tell our story and will entice you to make your own. West Virginia State Resort Parks offered a 50% discount to Veterans from the first through the fifteenth of November, so my husband and I took advantage of it. I'm so proud of his service, plus all the ways he has worked to support Veterans as a volunteer over the years. We always go to one of the dinners sponsored somewhere on Veterans Day, which I find to be one of the most moving experiences I've ever had. Getting away this year instead, just the two of us, was extra special. Thanks to the West Virginia State Resort Parks for offering such a great opportunity in appreciation of Veterans' service. We'll be back!
My husband and I have enjoyed spending time in West Virginia since our early days as a couple. It's close enough to drive to in one day from Ohio to anywhere in the state and not feel exhausted from travel. The scenery is beautiful and the people are super friendly. It's probably one of the states we visit most often just because it has such an appeal for us. I never get bored of it and truthfully, I really crave the mountains or the Ohio River Valley as a once a year excursion and we usually end up going there more than once.
This time we went to Pipestem State Resort Park in Pipestem near Princeton, West Virginia. We stay in Princeton a lot when we travel south as there are several hotels and restaurants in this area that we enjoy. We're especially fond of the Microtel in Princeton for a clean, comfortable overnight stay. We often go to Pipestem State Resort Park to eat dinner and enjoy the view when we're in Princeton, but we've never stayed at the park until this trip.
We chose Pipestem for several reasons but one reason was because they offered horseback riding in November. I love riding in the mountains and most parks in Ohio and West Virginia close their stables in October. I also like to extend my enjoyment of the fall colors and Pipestem is further south where we were hopeful we'd still get the tail end of that color. We try to squeeze in a bit more color every year by traveling south in the fall. It's my favorite time of the year so I can't really get too much of it. And really — even if there wasn't that much color — isn't' the view outstanding?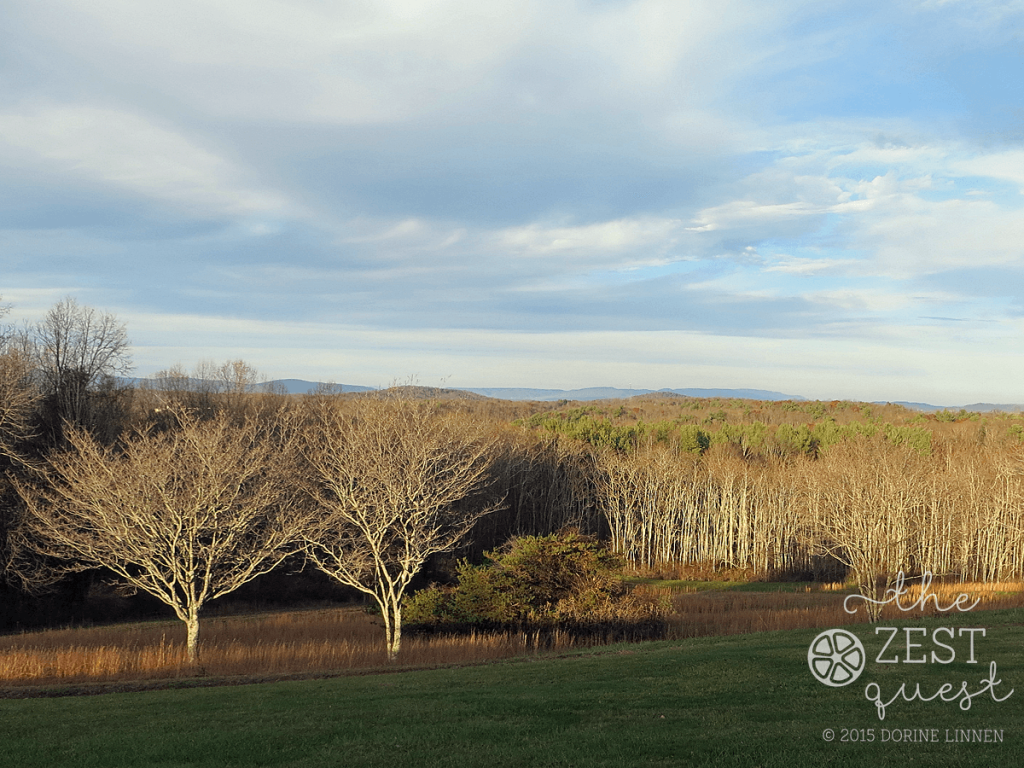 Every moment we were at Pipestem there was something to photograph. The vistas are constantly changing from fog in the morning to the dark shadows scooting across the mountains when the sun hits the clouds. You can  hike, ride horses and take photos for 3 or 4 days and be completely fulfilled without much else. I just love the way the setting sun hit these trees and lit them up like they were Christmas lights themselves.
The stables at Pipestem are run by a private company separate from the park's services. The rates are reasonable and the hours available for one half hour and one hour rides are convenient. They even offer an overnight riding/camping package during the season. I'm not sure I could ride that many hours, which if I remember correctly is several hours within two days and includes a stay overnight in a historic cabin. My body is usually toast after just an hour of riding, so I'm not sure I could do several hours and still be able to walk afterward. HA! It sure sounds like fun though and has been on my bucket list for years.
We passed behind this cabin (called the Harris cabin) built in 1900 on our trail ride. You can see the horseback riding trail behind the cabin on the right hand side. There are several more outbuildings at this location as well as a nature center that wasn't open during the week when we were there. This is approximately where we started our ride and then ended up down further near that water you can see in the photo above.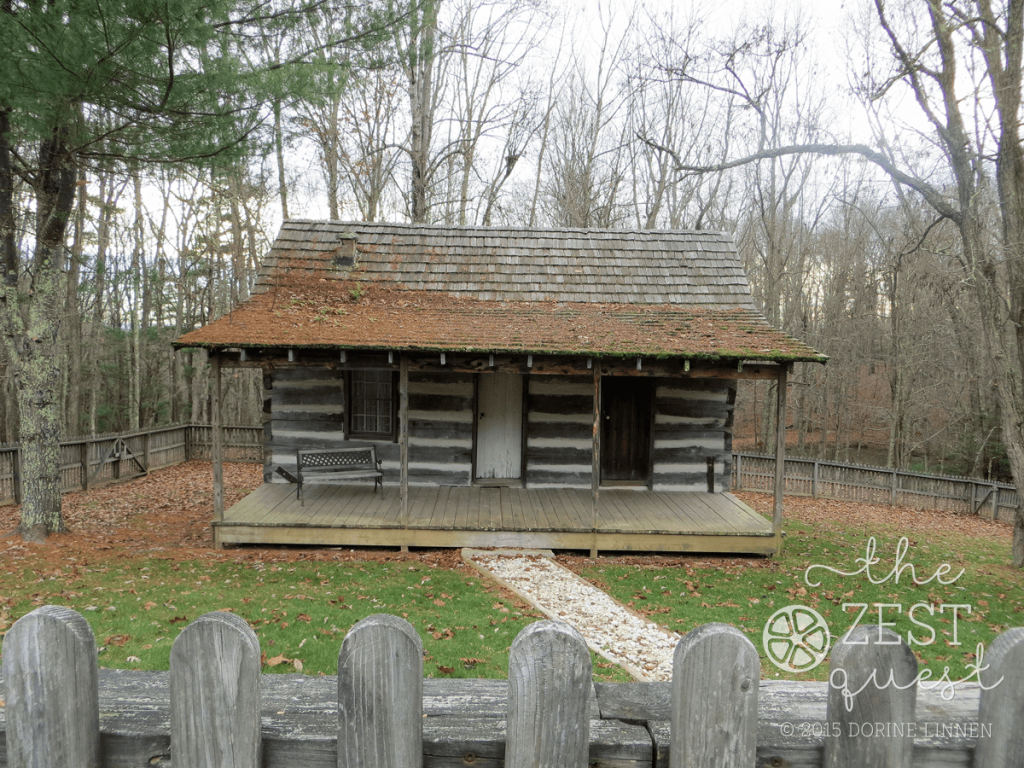 I spent much of the ride asking our guide questions about the horses and the area because I find that local people can give you the best feel for what it's like to live in a different area of the country. I love learning about the locals and dream about moving to every new place we visit. Not that I'll ever move but I think I just like to dream, so talking to the locals always makes my trip complete. There's a nice lake at the bottom of the trail that can be reached by hiking or horseback riding that has some good fishing, something we didn't get to try this time but something to put on our list for next time. I didn't get a picture as it was hard to take photos on horseback. I think the lake is a bit higher than that river you see in the above photo, but you get an idea of how deep into the woods you get to ride in the short trip and the long one. From what I remember from our guide, the long trip goes down to the river where you ford it on horseback, then you ride up the other side to reach the cabin where you stay the night.
We were at the park the week before they allow a controlled hunt to thin out the deer population. I have mixed feelings about this as the deer are so beautiful and we really enjoyed photographing them. They were everywhere in large quantities, bounding across our paths when we were walking and riding. I understand that they'll starve if they overpopulate an area, but it still makes me sad that some we photographed might not be there next year. I do appreciate that the sustenance is something needed by families who call this area home. It reminds me of reading about Native Americans who would pray in thanks for the animal's life that was given to prolong their own. That always seemed to be such a good tribute.
This doe in the photo above was very intrigued by us taking photos above her, so we got many poses just by speaking to get her attention. It's a little blurry as we were in very low light on a second or third floor balcony, but you get the idea by her inquisitive stare.
All in all, it was a very good trip. I think Pipestem is one of my favorite state parks just because it does have so much to offer. It has a beautiful indoor pool that I heard was very warm. We didn't take time to swim as we were enjoying the outdoors and taking photos too much. I'd like to go back when the weather is a bit warmer and hike some of those trails. We spent a lot of time at various overlooks taking photos. The one day it was a bit too windy and chilly for outdoor fun, so we took advantage of their reading room. It's stocked with some magazines and books if you don't bring your own, as well as some snack machines. There's always free coffee in the lobby so that kept us toasty. The lobby is also a great place to cozy in by the fire and look out over the scenery. We spent a good amount of time each day on a couple of the decks overlooking the valley, taking pictures of changing sky in various lighting. And we didn't even see the whole park. We still have the Aerial Tramway to ride to the other lodge which isn't open at this time of year.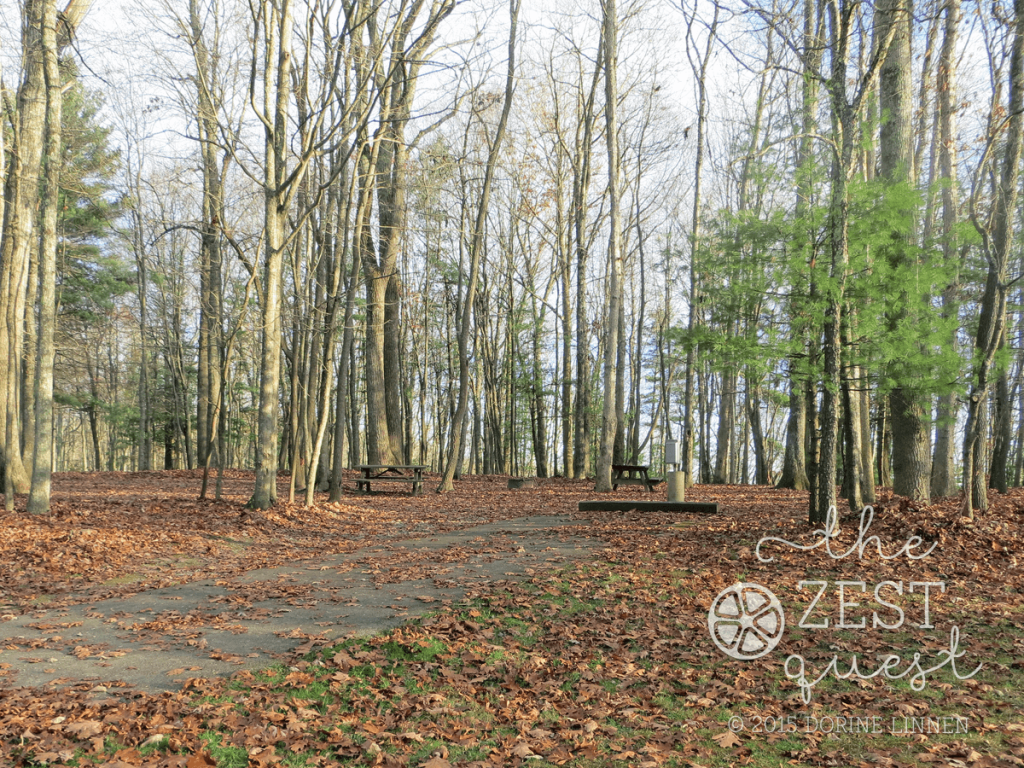 We also checked out the campground for a future trip. The sites were a good size and I found quite a few that would be good for tents. The bathroom at the campground was gorgeous. I don't think I've ever seen one as nice as this. Definitely a good place to rough it with some conveniences when we're ready for an another adventure.
Of course, a trip to the mountains is never complete without gorgeous sunsets and we were not disappointed. With lots of vantage points to take pictures of them, it became some of our favorite photo sessions.
I used two cameras and my cell phone throughout the week to make sure we didn't miss anything. I could easily go back here several times and never tire of taking photos.
I almost felt as if we were in the Serengeti while taking this shot. Such a beautiful vista!
One thing that caught my attention on the list of events is the Primitive Bushcraft weekend where you learn some survivalist skills. I'm putting that on my wishlist to do if I can talk my husband into doing it with me. Sounds fun, right?
We also made a trip into Princeton and enjoyed the small shops such as the used bookstore. We visited the Veterans Memorial Museum and enjoyed the gorgeous murals on the sides of buildings and down a little alleyway between shops. It's a cute town with some nice architecture I'd like to photograph in the future. It was super windy the day we were there so we didn't take much time with our photos, sometimes leaning out the car window for a quick shot.
This painting on the side of this building is across from the bookstore. It seems so appropriate that this is its view. How clever to use this expanse of building to jazz up the downtown.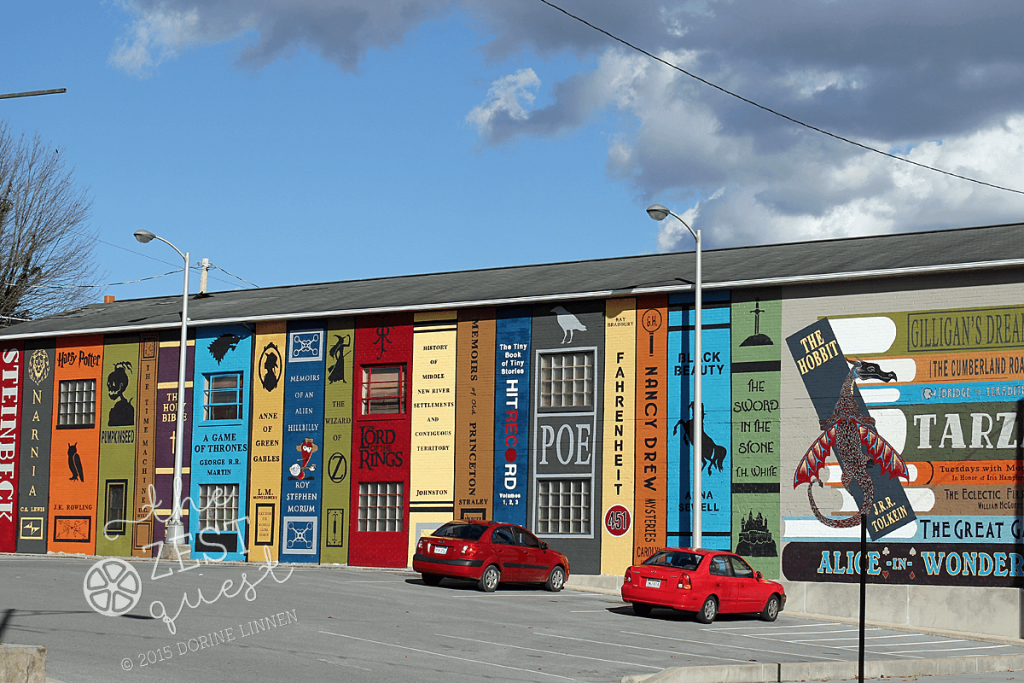 If your zest needs recharged, take a few days to discover West Virginia and some of its many state resort parks. I've lost track how may times we've been there this year alone and I'm excited to see what we'll find next time!
Please note — this isn't a paid travel post — it's excerpted from our real experience while in a place we love. Hope you enjoyed traveling with us!

Print this Post