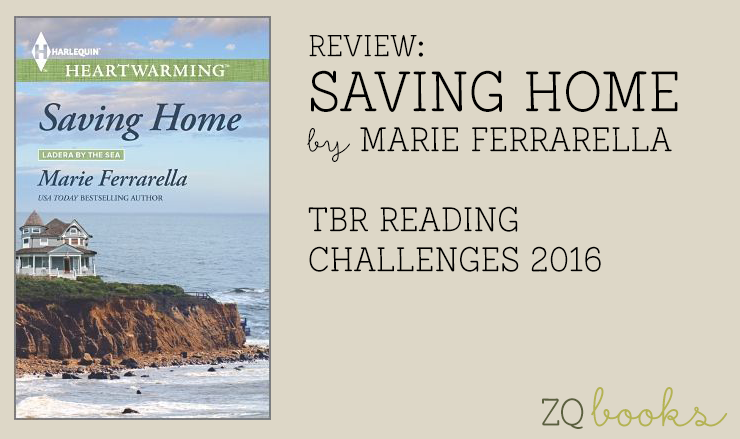 TBR Challenge 2016: Saving Home by Marie Ferrarella
SAVING HOME by Marie Ferrarella boasts a contemporary setting that is quaint, with a past that's about to be discovered by a family in need of a miracle.
TBR Challenge 2016 – Theme: Series Catch-Up, Contemporary Romance 2016 Reading Challenge
Why was this book in Dorine's TBR? I enjoy the Love Inspired line at Harlequin, so I wanted to compare it to the Heartwarming line to see which one I like best. I purchased SAFE HARBOR and SAVING HOME by Marie Ferrarella together last year in digital format because I loved the idea of an inn as a setting. After reading SAFE HARBOR, I wasn't sure if it was the author or the line, but it just didn't fit my preferences. Months went by and I let SAVING HOME get buried further and further into my Kindle black hole. This series catch-up challenge had me digging for a short book to read that would cover both my challenges. I was also in a reading funk, so I didn't trust any book to pull me out of it. I needed short so if I couldn't finish it, I could find something else to meet these challenges quickly. So happy this book got me out of my funk!
REVIEW:
Andrea (Andy) Roman is a bit blue over her three older sisters' marriage status, with two of them nearing the end of their pregnancy. As the only not-even-dating sibling, she feels left out and a little empty. So much so that she's thinking about leaving the family business, Ladera by the Sea, a bed and breakfast inn on the coast of California.
Logan MacArthur is impressed with Andy the first time he faces off with her when he tries to see Andy's father at the inn. The woman is like a barracuda circling the waters, not allowing him to get near her father's office. Just why Andy feels the need to protect her father is beyond Logan's imagination, but as a lawyer, he's used to maneuvering until he gets what he wants for his clients. As far as he's concerned, the Romans have no choice but to accept his client's proposal, so he won't give up until he makes that clear.
As it turns out, Andy has every reason to worry. Her father hasn't been looking well and the shock of what the lawyer tells him is the final blow. Will she reach the doctor in time to save her father? Will they all survive the lawyer's news?
Book 4 of the LADERA BY THE SEA series was a much better fit for me than Book 3. I'm so glad the TBR Challenge 2016 encouraged catching up on a series, because I had been putting off reading SAVING HOME. I didn't enjoy SAFE HARBOR by Marie Ferrarella as much as I had anticipated, so I shelved SAVING HOME for someday. That just proves to me that you can't judge a series by reading just one book. SAVING HOME is interesting, entertaining and includes a wonderful, sweet ending that will satisfy fans of the series, as well as first time readers.
I'm happy that this book also qualifies for the Contemporary Romance 2016 Challenge because I think it's a good one for anyone trying contemporaries for the first time. It's also perfect for those who love sweet romance. At only 174 pages, you'll know pretty quick whether the Heartwarming line at Harlequin is the type of book you'll enjoy. It really doesn't matter if you haven't read the first three books in this series because SAVING HOME is easy to follow without knowing all the characters, or the history of the setting.
Because I wasn't sold on book 3 by the end, I was a bit skeptical of book 4. At first, SAVING HOME seemed repetitive of SAFE HARBOR, as well as tedious when all the characters kept going on about the rain. When a chapter ended with thoughts of the rain and the next one began with more thoughts of the rain, I was beginning to wonder if I could finish this book. It seemed almost like filler with all that weather talk. I really dislike filler. It makes me twitch, roll my eyes and sigh. I was impatient to get to the heart of the story, which wasn't happening fast enough for me. I'm so glad I persevered, because I think my quibbles about book 3 rolled over to book 4 and I wasn't giving it a fair shake. By 50% I was thoroughly enjoying the repartee between Logan and Andy, ready to dig in until their happy-ever-after. Now that I look back on all that foreshadowing, I realize why it was there. Don't give up on this one if it bugs you at first because the story is excellent with lots of family values thrown in that are well worth your time.
The romance in SAVING HOME moves very slow. We don't meet the hero until chapter three and even then, we don't have a real sense of why he matches so well with Andy until much further into the book. Andy is super bristly with Logan and gets pretty snippy with him. She has her mamma bear armor on and is ready to do battle when she learns what he's trying to do to her family.
This tight-knit group of people always see the best of a situation with their father's influence. Richard Roman has always taken in the underdogs, believing there is good inside everyone. A firm believer in a second chance, Richard has filled his inn with people who need one. This eclectic mix of people who stay at the inn, or work there, become the Romans' extended family. Logan is one more lost soul who gets stranded at the inn, which not only benefits the family's situation, but offers something much more valuable to Logan for the very first time… love.
My only real quibble, because I've read the previous book, is that I couldn't stop wondering where Silvio was during a couple medical emergencies. With his medical background, I wondered why Andy was left to deal with those on her own. Other than that and the slow beginning, the last 50% of the book makes up for those objections.
I laughed several times at the verbal sparring between Logan and Andy. I smiled like crazy at their antics. They were really cute together once they got past their initial irritation with each other. Logan's story is also emotional without making him seem wimpy. I enjoyed how the Romans were exactly what he needed. The family as a whole entertained me in the last half of the book. The dialogue and plot seemed to move much faster and I was anxious to read it.
Focusing on love and family loyalty, SAVING HOME represents Harlequin's Heartwarming line with appeal. A sweet love story with an intriguing plot, SAVING HOME delves into the inn's history, as well as updates fans on news about all four sisters. If you love a couple with some spunk, then you'll enjoy Logan and Andy's very romantic conclusion.
To follow this month's discussion on TBR Challenge 2016, check out the links here. To follow this month's discussion on the Contemporary Romance 2016 Reading Challenge, check out the links here. SAVING HOME meets the February challenge for TBR Challenge 2016 and is the second book I've read for the Contemporary Romance 2016 Reading Challenge ( #ContRom2016 ).

Happy reading!
Review by Dorine, courtesy of The Zest Quest. Digital copy purchased by me.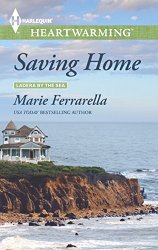 Saving Home by Marie Ferrarella
Series: Ladera by the Sea, Book 4
Category: Contemporary Sweet Romance
Publisher: Harlequin Heartwarming (January 1, 2015)
Rated 4 out of 5
Do you have series books languishing in your TBR?

Print this Post