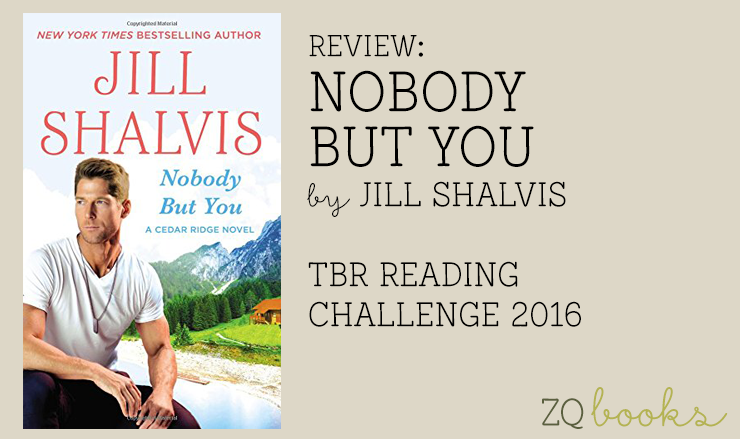 REVIEW: Nobody But You by Jill Shalvis
Laugh-out-loud funny and sob-worthy poignant, Jacob and Sophie's story in NOBODY BUT YOU by Jill Shalvis is the best of the series. Fans will appreciate the comradery when all the siblings and significant others come together to overcome their business issues and plan a heartwarming Wounded Warriors event in this third book of the CEDAR RIDGE series.
Sophie Marren divorces her lawyer husband and wants nothing from their failed relationship. But the judge wisely suggests she take something. Sophie chooses the one possession that means the most to the cheating jerk, his boat. Now Sophie is homeless, unemployed due to her ex's influence, and lives on a boat that makes her seasick. Working one part-time job after another, Sophie spends her evenings looking for a cheap or free place to moor for the night.
Jacob Kincaid has spent years away from his siblings fighting wars in other countries with friends who have become his family. When one of his friends is killed, Jacob comes home on leave to reconnect with the people who should be the most important in his life. Will his twin brother and other siblings accept him after his years of rejecting their love?
There are several reasons I loved this book from the first chapter. Sophie is living on her ex-husband's boat and she's terrible at it. She's seasick and Jacob comes to her rescue. At least that's what he thinks he's doing but Sophie doesn't want Jacob's sympathy or his help. The scenes at Jacob's cabin on the lake are so realistic and I loved them. It's just isolated enough to give these two characters some one-on-one time that's very telling. I really enjoyed the accuracy of the boating scenes and empathized with Sophie's ineptitude. I could feel her frustration and was fascinated by her resilience.
It's all in the little things that draw me into a Jill Shalvis story. The way Jacob stoops down to get on Sophie's level when she's sick. How he holds her hair back as she's ill, even though she's trespassing by mooring at his dock. I could easily visualize and commiserate, like a movie playing in my head. Writing like this is pure magic and it just gets better throughout the novel. It's concise, well-depicted and flows.
Then there's the whole family dynamic of a soldier coming home after a long absence, having left in anger when he was eighteen years old. His siblings' reactions are precious. His twin Hud is the hardest for Jacob to face and it takes them the better part of the novel to work out their issues. It's so moving when Hud realizes what he didn't know. That's beautiful when it's revealed and how it falls apart from there. Jacob has secrets and he isn't as uncaring as Hud thought, but can Hud forgive him? Their sister Kenna is an awesome character. She made me cry and I loved her part in this novel. Her role is significant at the end of the book and it made me connect with her even more. I can't wait for her story!
Jill Shalvis' talent is consistency, with crisp scenes devoid of typos, quirky characters who are laugh-out-loud funny and sob worthy emotional – a satisfying package that makes me impatient for the next novel. Jill Shalvis' funny isn't slapstick comedy but a rare talent of taking the mundane and twisting it just enough to make it laughable and relatable because it's familiar. On the other hand, Jill Shalvis develops characters easy to care about and to relate to when the deep emotion hits, as it always does, making me cry with sloppy sobs. These characters aren't sappy, weak people who are down on their luck, either. They're strong, resilient people who make the best of any situation Even if that situation calls for having a pity party for a few minutes. When Sophie and Jacob win, you'll feel as if you've won right along with them.
Sophie Marren and Jacob Kincaid are relatable because they've screwed up more than once and are now owning their mistakes and making the best of their situation. Could they have done better with their choices? Certainly, couldn't we all? That's what so enjoyable about their pairing. They're broken people who deserve a chance and they aren't afraid to reach out and take it. They're also sexually combustible together so expect more than sensual, close to erotic love scenes. The characters aren't exceptionally potty-mouthed but there are enough naughty words to keep the story realistic with a military hero.
I laughed, I cried and I couldn't stop reading. Jacob and Sophie are my favorite Cedar Ridge couple. There's some dialogue at the beginning about a "license" that cracked me up. That sets the stage, where you realize that even though Jacob has experienced more than he should in his life, he's not going to give up on Sophie. He's going to have her back just like he stood by his comrades in war.
Although NOBODY BUT YOU can be read as a standalone, I think you'll appreciate it more by reading the series in order. SECOND CHANCE SUMMER and MY KIND OF WONDERFUL introduce the Kincaid siblings and their significant others. NOBODY BUT YOU expounds on the relationships built in the first two books, which is why it's my favorite of the CEDAR RIDGE series so far.
An engaging novel focused on a veteran who deserves happiness, you'll feel the honor and comradery only known by the military. Add in a homeless heroine with enough spunk to be his equal, who organizes everyone's life while picking up her own, and you have a happy-ever-after you'll love. NOBODY BUT YOU is Jill Shalvis at her best, telling stories of brave, imperfect people who deserve the happiness they earn, step-by-brave-step.
Review by Dorine, courtesy of Romance Junkies and The Zest Quest. Digital ARC provided by the publisher through Netgalley.
Nobody But You by Jill Shalvis
Series: Cedar Ridge, Book 3
Category: Contemporary Romance
Publisher: Grand Central Publishing (March 29, 2016)
Rated 4.5 out of 5
Read my reviews of SECOND CHANCE SUMMER and MY KIND OF WONDERFUL.
Do you enjoy contemporary romance that showcases military men or women?

Print this Post