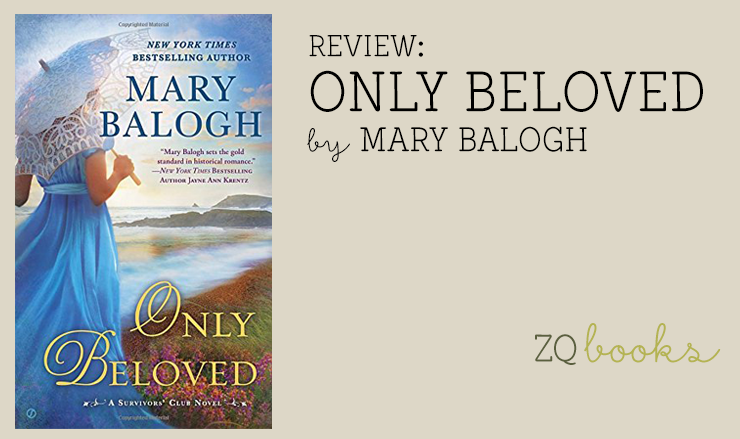 REVIEW: Only Beloved by Mary Balogh
ONLY BELOVED by Mary Balogh, the seventh book in the SURVIVORS' CLUB series, features an older couple, each with a painful past, hoping to find peace and companionship. A charming finale of a beloved series.
When the last one of his six Survivors' Club friends marries, the Duke of Stanbrook realizes he's lonely. At forty-eight years old, twelve years after suffering the tragic loss of his son and wife, George never considered a second marriage. It suddenly occurs to him that he needs a life companion and he can think of nothing else. There is only one woman he will consider. The talented music teacher he met last year, thirty-nine-year-old spinster Dora Debbins, seems to be the perfect choice for a partner. George wastes no time once he decides and sets off to ask her.
After she gets over the shock of George's unexpected visit and proposal, Dora accepts. Dora's painful past kept her from marriage, so she never anticipated an offer, especially from a duke. It doesn't take long for the panic to set in when Dora realizes what it means to be the Duchess of Stanbrook. Will George and Dora get over their painful past to love each other and be happy?
SURVIVORS' CLUB series fans will appreciate and understand this novel much better than someone who hasn't read the previous six books. Although I've only read the last three stories prior to this one, I was able to comprehend most of the series catchup portion of the novel. I'm sure it will be even more exciting for someone who has read all the books.
Even though it's great catching up with the Survivors' Club members, I enjoyed this couple's day-to-day life the most. George reminds me of my husband and this couple resembles my own contented life with my best friend. As an older couple, they're past the infatuation stage of love and lust, while still able to flirt and tease each other into laughter and passion. They don't expect love, so it's more gratifying when they find it.
My least favorite type of romance book is one that begins with a wedding rather than building to it, so I wasn't sure I'd like this one. I should not have doubted Mary Balogh's talent because I enjoyed this couple's journey immensely. The quick marriage without the get-to-know-you phase of a long engagement works for George and Dora. I think if they thought about it too long, they may have delayed and never discovered how perfect they are for one another. By jumping into marriage without expectations, other than the need to have a life companion, they're uninhibited enough to enjoy each other's company and fall in love.
I empathized with George's backstory. He's the kindest man who thinks of everyone before himself. When Dora finds out what George has been hiding from everyone, including his Survivors' Club confidants, it's heartrending. Dora has endured a tragedy that has shaped her life as well, but George finds a way to help her overcome it. Will he ever let Dora into his history long enough to help him heal?
I'm especially fond of the Cornwall location, having grown up listening to my great-grandmother's stories of her childhood home. It's a great setting that speaks to George's isolation, as well as giving the Survivors' Club members a vast landscape to sort through their issues and gather yearly to reconnect.
George and Dora are the sweetest couple working through a lifetime of pain before they met. I loved their laughter and gentle souls. ONLY BELOVED is a slow, lingering romance, concentrating on this couple's daily lives, which makes this book a soothing journey that blooms into a beautiful love story. There are a few plot devices that rile things up before they settle into their happy-ever-after, but they're not what drew me into this novel. George and Dora are lovely together, and they make this book shine brightly with their love and passion for life.
ONLY BELOVED is a beautiful love story that also serves well as the end of the SURVIVORS' CLUB series. The club members reunite and fans will enjoy the surprises in the Epilogue. ONLY BELOVED is a classic love story that's comforting to the reader as a mature couple discovers the happiness they deserve.
Review by Dorine, courtesy of Romance Junkies and The Zest Quest. Digital ARC provided by publisher through NetGalley.
Read my reviews of ONLY A KISS, ONLY A PROMISE and ONLY ENCHANTING by Mary Balogh at The Zest Quest by following the links.
Only Beloved by Mary Balogh
Series: Survivors' Club, Book 7
Category: Historical Regency Romance
Publisher: Signet (May 3, 2016)
Rated 4 out of 5
Do you enjoy Historical Regency Romance series? Which ones are your favorites?

Print this Post