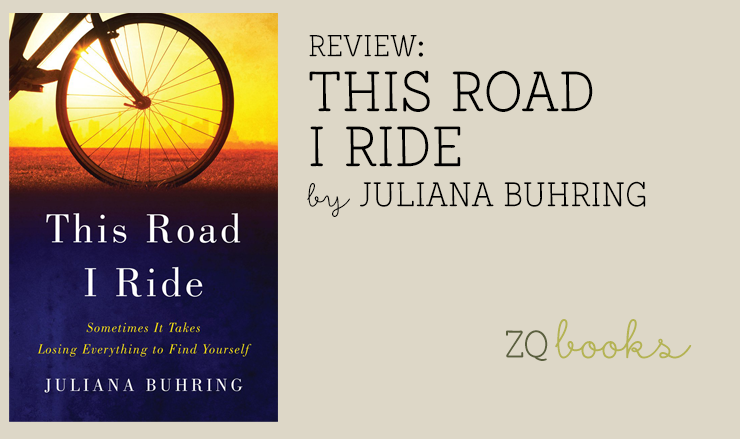 REVIEW: This Road I Ride by Juliana Buhring
THIS ROAD I RIDE by Juliana Buhring is an inspirational cycling memoir especially enjoyed by those who appreciate mental and physical endurance. Juliana's story is not just about the ride, but includes snippets of what she endured in captivity in a religious cult and other traumatic events in her life that she works through while cycling across the world.
One of the first memoirs I read was about a cyclist who built his own recumbent cycle and traveled across country. I have searched for that book for years, hoping to reread it one more time, but I can't for the life of me remember the title or the author. Having physical limitations of my own, I live vicariously through others who are able to push through their pain to accomplish unbelievable achievements.
Juliana Buhring wasn't an ultra-endurance cyclist when she decided to break a Guinness World record. Juliana was just a woman suffering through grief after the tragic death of the man she loved. Like many of us who grieve, she was questioning her own existence beyond the life of her friend. What makes Juliana more inspiring than this common experience is that she had also endured being raised within a religious cult, often against her wishes. Without a father or mother to guide her for many years, Juliana learned to rely on her friends for support. Her journey reunites her with many of these friends who support her during her low-funded pursuit to break a world record. This is a story of true grit and the human will to survive.
THIS ROAD I RIDE is a testament to Juliana Buhring's ability to overcome hardship. I was fascinated with her bravery. Traveling alone can be nerve-racking and overwhelming for anyone, but to travel alone across the world on a bicycle in order to break a record, when you're not even a trained athlete in that sport, is mind-boggling. Once I started reading, I was completely engrossed in the outcome. Juliana Buhring's physical endurance is the stuff of legends. It's easy to be awed by someone who can break a record, but there's so much more to her story. There are some beautiful quotes and inner thoughts that add to her day-to-day struggles. I was often terrified for Juliana, knowing that at any moment, some outside element could cause her injury or death. Full of life, loss, suspense, bravery and inspiration, THIS ROAD I RIDE is captivating.
Review by Dorine, courtesy of The Zest Quest. Digital copy provided by the publisher through NetGalley.
This Road I Ride by Juliana Buhring
Category: Biographies & Memoirs, Sports, Cycling
Publisher: W. W. Norton & Company (May 24 2016)
Rated 4.5 out of 5
Further reading by this author…
What are your favorite types of memoirs?

Print this Post