REVIEW: The Beast of Clan Kincaid by Lily Blackwood
An enjoyable debut, THE BEAST OF CLAN KINCAID by Lily Blackwood creates anticipation for this mercenary's missing brothers' stories. Fans of Scottish historical romance books will especially enjoy the twist at the end of this novel that propels us forward to book two, expected in December 2016.
Niall Braewick and his two brothers fled separately with adults the night their land was stolen and their parents were murdered. Bards sing about the night the castle was overtaken and the Kincaids were betrayed, although the songs say the brothers died, when in truth at least one of them is still alive to exact his revenge. Niall has sworn to avenge his family's betrayal and hopes to find his brothers, even though he hasn't seen them since they escaped as children.
Now a renowned mercenary, Niall plans to work his way into the current laird's trust by hiring out his services. He never expects to fall in love with the MacClaren's daughter. Elspeth is grateful to the man who saves her life three times but avoids him once she realizes how he makes her feel. Elspeth is responsible for ensuring the future of her clan by marrying well, and a mercenary with neither land nor a powerful clan to offer aid won't be acceptable to her father.
Chapter one of this book sets the stage for a trilogy very well. It's what drew me to this debut as I especially enjoy these types of stories. The emotion was palpable and intriguing, promising the reader some surprises in future chapters as well as in upcoming books. Although I found some of this story predictable, I was especially pleased by the last chapter which made me hopeful for book two.
There are many twists and turns in this novel. Some of them felt contrived and overly planned so that the plot didn't flow naturally. Although those plot points are intricate and meld into one another, they often seemed too convenient. I would have preferred if some of them were left out to improve the believability. I didn't want the couple to easily come to their decision and be tempted so much by their lust for one another. I wanted more struggle in their resolution to make it feel as if they'd considered all possibilities.
I was most enamored by the volume of secondary characters who made the setting realistic. The Kincaids who had been waiting were convincing and a nice touch to the realism. I love the feel of the kinship within a castle's walls and the fealty earned by a brave warrior. Niall is a formidable man with a soft spot for Elspeth. Even though he's bent on revenge, he earned points with Elspeth, and myself as a reader, for his honor and his ability to forgive injustice due to human frailty. I wasn't as convinced by Elspeth's choices and questioned her reasoning several times toward the end, but I feel they're well-suited as a couple.
THE BEAST OF CLAN KINCAID is a solid beginning to what promises to be a trilogy full of adventure. By the end of this novel, I was hopeful for book two, THE REBEL OF CLAN KINCAID, and I am intrigued by what may lead us to book three, THE WARRIOR OF CLAN KINCAID. Author Lily Blackwood's style is entertaining and her skills make me optimistic for upcoming novels.
Review by Dorine, courtesy of Romance Junkies and The Zest Quest. Digital ARC provided by the publisher through Netgalley.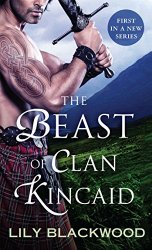 The Beast of Clan Kincaid by Lily Blackwood
Series: Highland Warrior, Book 1
Category: Historical Romance – Scottish
Publisher: St. Martin's Paperbacks (May 31, 2016)
Rated 3.5 out of 5
What's your favorite type of historical romance?

Print this Post