REVIEW: Under the Desert Sky by Sara Luck
UNDER THE DESERT SKY by Sara Luck portrays an unusual combination of a South African hero traveling to the Arizona Territory in the 1900s. Raising ostriches for their plumes isn't something I ever heard about from our history, so I find that part of this novel appealing within a western historical romance.
Due to a bit of scandal caused by her mother divorcing her father, Phoebe Sloan accepts a position as a housekeeper in the Arizona Territory so she can start over in a place where her family's history is unknown. That's where she meets her husband and they start an ostrich farm after they're married, prior to his death. Struggling with the farm as well as caring for their young son while grief-stricken, Phoebe hopes she can hang on to the farm when someone seems determined to instigate her failure.
Christian De Wet travels from South Africa to help deliver some ostriches to a friend of his employer. When he arrives, he's recruited to assist the community with the financial plans to resolve their water issues. When Christian witnesses Phoebe's troubles firsthand, he offers his protection until her hired hands return from a festival. Will Phoebe survive more scandal when a handsome stranger moves into her home?
I love stories about women who are trying to make it on their own in the West. Phoebe is an interesting heroine who knows her worth even when her in-laws don't recognize it. Christian was a street urchin as a child until a woman took him under her protection. His lack of family experience draws him to Phoebe's obvious love for her son. I enjoyed their unusual relationship and how their backgrounds affected their reactions.
I especially enjoyed the ostrich farm aspects of this story. There were some great details about the birds, the difficulty in raising them, and why it was such a lucrative business for the times. One pet ostrich added some heartwarming moments.
The beginning of this novel is very choppy, offering insights from several places, characters and time frames. I had a difficult time connecting to the numerous characters because the story seemed disjointed with no fluidity to draw me in. I also felt that sections of dialogue were stilted and didn't flow naturally. Some tighter editing would have lessened the page count and added more excitement to the story's pace. Even with my nitpicking on the story's structure, I still give huge praise to the author for creating one of the most unusual backgrounds for a historical western. I enjoyed many aspects of this story and look forward to more.
Author Sara Luck succeeds in creating an unusual novel with several unexpected nuances that will please historical western fans looking for something different.
Review by Dorine, courtesy of Romance Junkies and The Zest Quest. Print copy provided by the publisher for an honest review.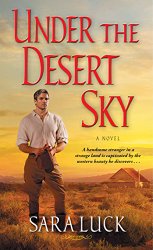 Under the Desert Sky by Sara Luck
Category: Western Historical Romance
Publisher: Pocket Books (March 29, 2016)
Rated 3.5 out of 5
Love westerns? Check out my review of Rimfire Bride by Sara Luck.
Do you enjoy unusual themes in historical romances?

Print this Post