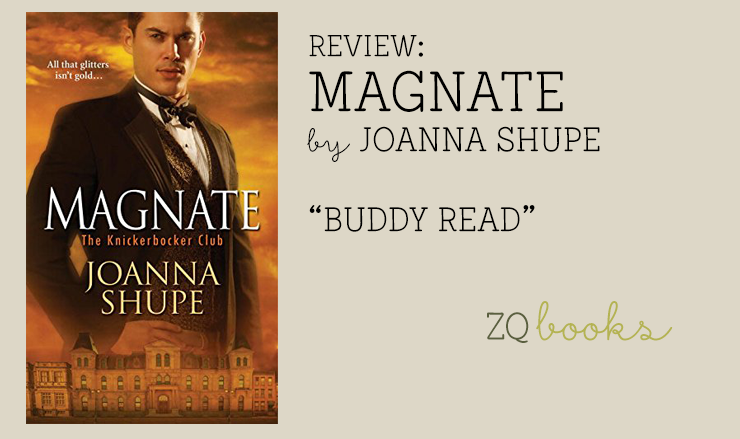 REVIEW: Magnate by Joanna Shupe
I purchased a print copy of MAGNATE by Joanna Shupe for a buddy read at Goodreads. Thanks to Andrea, Ash, Bubu, Christina, Jill, Linda, Luli, Lyuda, Nefise and Oana for introducing me to this author and for the great discussion.
I was intrigued with the heroine who starts her own brokerage firm when women were expected to leave the financial world to men. The modern day financial market isn't an interest, but I was captivated by the historical details in this book. The Gilded Age isn't a time period I'm normally drawn to, but Ms. Shupe charmed me enough to anticipate continuing with her series.
Her high society upbringing didn't prepare Lizzie Sloane for business, but her aptitude with stock speculation influences her dream of opening a brokerage firm. First, she'll need a man to front her business, and who better to do that than her brother's friend, the wealthy steel magnate Emmett Cavanaugh. Having grown up in the slums, escaping successfully, Emmett isn't afraid of what society thinks, which ends up as a challenge and unexpected trouble for Lizzie.
Lizzie is playing with fire, and her brother is determined to keep her reputation secure, no matter what that entails. Will one careless business meeting put all Lizzie's dreams in danger, or will the danger be within the dream itself?
I really liked Lizzie. She is a gutsy woman for her time, considering that she lived a sheltered life with her brother handling everything for her. Emmett was naughty and pushed Lizzie until they were both cornered. It's a lot of fun watching them both figure out if they belong together.
Author Joanna Shupe brings the aura of the rich and influential to vivid color. Old money versus new money is authentically portrayed. The setting and historical facts made the story both intriguing and believable. I was especially fascinated by the devastating snowstorm and the results in New York City when snowplows weren't in existence. Having lived through major snowstorms with modern conveniences, I never considered the hardships faced in the 1800s.
I enjoyed the pacing of this novel. It continued to surprise me and I appreciated this couple's conflict, as well as the secondary characters who influenced them. Lizzie and Emmett are unexpectedly explosive together which creates an exceptionally heated relationship. Not quite erotic, but very sensual, their attraction is a slow build to combustion.
I was entertained by the etiquette quotes at the beginning of each chapter. They set a tone for society's expectations and it was amusing when those rules were ignored.
Even though I enjoyed the majority of this novel, I did feel that the conflict was tied up a little too quickly and neatly toward the end. I expected more resistance from Lizzie, considering her convictions. Up until that point, I appreciated the pacing, so I wanted a bit more confrontation from Lizzie toward Emmett's reasoning before accepting her life with him. She just seemed to let him off too easy, considering how she felt about her brother. I wanted Lizzie's earlier spunk to shine and it fizzled out.
With the current historical market inundated with similar settings, I find this series set in America refreshing. More please! I'm excited to discover how Ms. Shupe will redeem Lizzie's brother in the next novel. He came off in a bad light to me for the majority of Lizzie's book, even though Lizzie loves him. After reading the excerpt for BARON, it sounds like William Sloane will meet the perfect schemer who won't be a pushover in book two.
I'm always looking for a fresh spin on historical romance. I wouldn't have chose this novel without the influence of my friends. Thank you! Joanna Shupe surprised me more than once and I can still visualize her scenes from her thorough depiction. There are only a handful of historicals that are memorable like that for me. The fact that I'm still thinking about this book and visualizing that snowstorm, plus, that I was able to read it off and on over months, says a lot about this author's talent at setting a scene. I wanted to finish, even when real life left me without choices to do so. Rarely can I pick up a book to read when I've tarried that long and still remember what happened.
This book wasn't perfect for me, but it had so many good points calling me back to it, that it stands a bit higher in my memory than books I've rated much higher. Maybe that's because I have such big hopes for the series as a whole.
A refreshing historical that will make you wonder about the world when nothing was as easy as it is today, MAGNATE is a great start to an absorbing new series. I hope THE KNICKERBOCKER CLUB series continues to match strong women with high-powered men, a characteristic MAGNATE introduced successfully.
Review by Dorine, courtesy of The Zest Quest. Print book purchased by me.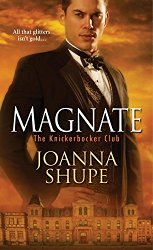 Magnate by Joanna Shupe
Series: The Knickerbocker Club, Book 1
Category: Historical, The Gilded Age
Publisher: Zebra (April 26th 2016)
Rated 4 out of 5
Baron by Joanna Shupe, book 2 in The Knickerbocker Club series coming October 25, 2016.
What types of historical romances would you like to see published today?

Print this Post