REVIEW: Montana Dawn by Caroline Fyffe
MONTANA DAWN by Caroline Fyffe is a good introduction to a historical western series featuring brothers who run a cattle ranch in Montana. I picked up this digital copy free for my Kindle, which is how I try many new-to-me authors. The cover attracted me to the book, but it was the historical setting of Montana Territory that made me select it. I don't add every book I can get for free, although it does seem like it sometimes with the volume I add to my TBR pile. 🙂
I love the beginning of this book. Author Caroline Fyffe creates a scene that I visualize instantly. A lone cowboy fighting with his excited horse hears a noise he can't identify. He finds a woman in labor, alone in a wagon with her young son as her only assistance. The youngster hits Luke with a frying pan, defending his mother from "this sidewinder". Luke McCutcheon can't leave a woman stranded when she asks for his help.
Luke delivers Faith Brown's daughter and eloquently comes up with a reason to name her Dawn. Faith is running from something. Luke is sure she's lying and he is determined to find out her secrets. He offers her protection within his cattle drive back to the ranch he operates with his family.
This novel has many great attributes including an unexpected plot that sucked me right in. The historical details are good. Some of the description made me uncomfortable because it seemed overindulged and repetitive. I could have done without the thorough explanation of breastfeeding and infant care, as well as another birth that was graphic. It wasn't distasteful, it just seemed to slow the story down too much. That information wasn't what I wanted or needed to know. I was far more interested in the setting and the characters, so I wanted to move faster through their story. It will depend on the type of reader you are on the volume of detail preferred. I waver between wanting more to a little less in most historicals.
I loved the cowboys and Luke's family. They add a lot of humor. Luke's Native American heritage intrigues throughout. Not knowing the full extent of his background until later in the novel when more is revealed is well-placed. That revelation is emotional and telling. The end of the book is cute and made me laugh. The storytelling covers a good range of emotion that makes this novel entertaining.
MONTANA DAWN will settle western cravings for those of us who love a frontier story. I look forward to reading more books in this series, starting with book two, TEXAS TWILIGHT.
Reviewed by Dorine, courtesy of The Zest Quest.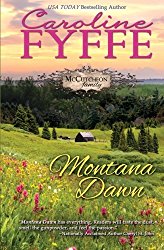 Montana Dawn by Caroline Fyffe
Series: McCutcheon Family #1
Category: Historical Western Romance
Publisher: Leisure Books (January 1, 2014)
Rated 3.5 out of 5
Book two of the McCutcheon Family series, Texas Twilight.
What's your favorite way to find new-to-you authors?

Print this Post