REVIEW: Far Horizons by Kate Hewitt
FAR HORIZONS by Kate Hewitt is a good historical pioneer story that travels from Scotland to the New World in Canada in the 1800s. Dual storylines follow characters in both countries, keeping the reader curious about whether they'll reunite.
The book begins in Scotland on the Isle of Mull with Harriet Campbell contemplating the journey for the MacDougalls. Her childhood best friend, Allan MacDougall, is leaving with his family to start over in the New World. She had hoped there was a future for them, but Allan left without proposing, asking her to wait for him. Her father's failing farm and health won't wait, so Harriet may be forced to make decisions that will harm her future with Allan. Dangers await this couple and their families along with sorrow – will love sustain them?
In the beginning, I enjoyed this novel because it takes place in early North America and Scotland with characters and plots in both countries that are connected. It's also the reason it can be confusing, switching back and forth between them. It's a book to read with few interruptions so that you can concentrate on the vivid details.
I especially enjoyed the wilderness details in Canada, creating a realism for Allan's family's survival. Their struggles are many including amongst themselves. I was intrigued by Allan's trapping adventure but I wished for more detail about his every day life.
As I read further, it became much easier to keep track of the characters and what they were experiencing individually. The lead couple are apart for most of the book, writing letters and hoping to hear from one another. Their love is strong but it's easy to suspect that it's not strong enough to withstand separation and temptation.
I felt more enamored by this story toward the end, even though some parts of it seemed rushed. I would have liked to know more about the conclusion of this couple's journey, specifics that were glossed over to tie up the plot. Maybe we'll hear more about them in future books. I was especially intrigued by the author's revelation about her own family's history, whose letters were the backbone for this novel. That made it even more charming as I'm captivated by letters that have survived time which give us a glimpse of our history. What a treasure for the author's family. It couldn't have been easy to create this novel around real life events and make it as believable and seamless as it is, which I appreciated even more by the end of the book.
Although I enjoyed the setting and the characters, the novel needs some editing. There are missing words and misused pronouns that were like a speed bump, jarring me out of the story. This is a simple fix that would enhance the reading experience as the book is too good to have those issues. Don't let that stop you from trying this book as I think it's worth it.
Even though I had a few bumps while reading, I'm curious about the next two books in the EMIGRANTS TRILOGY. Author Kate Hewitt creates a saga about pioneer life that's believable and intriguing.
Review by Dorine, courtesy of The Zest Quest. Book obtained for free from Amazon during an author promotion.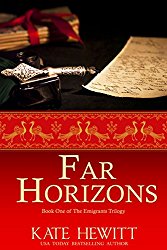 Far Horizons by Kate Hewitt
Series: The Emigrants Trilogy, Book 1
Category: Historical Romance Saga
Publisher: Kate Hewitt Ltd (November 20, 2013)
Rated 3.5 out of 5
What type of historical books do you enjoy?

Print this Post