Review: The Christmas Room by Catherine Anderson
THE CHRISTMAS ROOM by Catherine Anderson drew me in with the vintage camper on the cover but the characters snagged my heart. I laughed and cried as they found their way to happy-ever-after.
Cameron (Cam) McLendon moves to Montana with his son and mother. His mom and dad helped raise Caleb, so bringing his mom with them to his dream property after his father's death makes sense. Madeline (Maddie) is a well-known mystery writer who can continue her craft anywhere. Whether she can keep her secret during this upheaval or not is another story.
Sam Conacher built a reputation as mean-spirited and unreasonable after his wife's death. So much so that only three people will work for him and one of them is his daughter, Kristin. Sam is especially protective of Kristin, often ruining any man's reputation who shows an interest in her.
When Kristin and Cam meet, they agree to date secretly to stay out of Sam's crosshairs. It's when Sam discovers their attraction that fireworks explode between him and Cam's mother, Maddie. Can the lion overcome the lioness in a game of rude barbs while protecting their young?
At over 400 pages, there are more characters to enjoy in this family drama that threatens to resemble the gunfight at the O.K. Corral. Maddie and Sam are hilarious as they sling verbal threats at one another. I was happy their fiery friendship is as well developed as Cam and Kristin's budding romance.
Sam thinks the Clampetts have moved in when he looks at the vintage camper and various outbuildings scattered across the McLendon river property. Had he known it was up for sale, Sam would have bought it to keep the trash out. Unfortunately, the McLendon's new home construction faces multiple delays so they're improvising until it's built. Teenager Caleb McLendon comes with his own set of problems as the new kid from California in a contemporary western small town.
THE CHRISTMAS ROOM is a sweet story about blended families. The characters are well drawn and distinctive. More than the plot or technique which are both enjoyable, the characters are bold in my mind as if they're real.
This is a large book that could have been tightened to a few less pages and not lost impact. I found myself skimming toward the end as I was ready to experience their resolutions. Although it seemed overdone in some places, readers will appreciate the ability to experience everything with the characters. There were also a couple places that I felt could have been elaborated a bit more but none of my quibbles stopped me from eagerly consuming it.
The dual love stories for two different generations of characters was especially appreciated. I really love reading about well-seasoned couples who find love for the second time. They're not always easy to love, have a multitude of obstacles to overcome, and must find ways to mesh past and present that is emotionally stunning.
Sam Conacher stole the show for me. He's cranky and unbearable to those who love him. He has such deep-seated pain that expels in anger. His journey to forgiveness isn't easy and often hurtful to everyone within an arm's reach of him. The fact that they still love him proves he's worth redemption and this reader was elated by the end of the novel.
This is not a story centered on Christmas as the cover may imply, but it has all the blended family holiday feels. The novel's title reasoning becomes apparent by the end the book and is enchanting. I cried several times in this novel. It's beautifully rendered and makes the reader care deeply about the characters.
I believe this is the first book I've read by Catherine Anderson in many years. I'm sure I read the Comanche series before I kept track or wrote reviews. Ms. Anderson's talent pulled me right in like some of my favorite authors. Her easy-to-love style of laying out an emotionally wrought family tale that's heartwarming and filled with laughter is addictive. THE CHRISTMAS ROOM will warm you with its keen spirit of love. Recommended!
Review by Dorine, courtesy of The Zest Quest. Digital copy provided by the publisher from NetGalley for an honest review.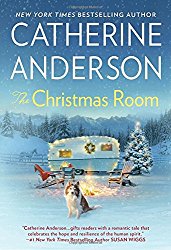 The Christmas Room by Catherine Anderson
Category: Contemporary Western Romance
Publisher: Berkley (September 26, 2017)
ISBN: 978-0399586316
Rated 4.5 out of 5

Print this Post