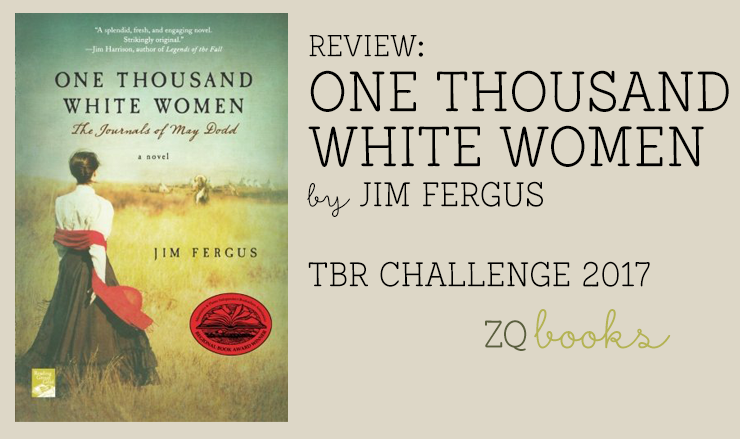 REVIEW: One Thousand White Women by Jim Fergus
One Thousand White Women: The Journals of May Dodd by Jim Fergus is an enthralling piece of fiction that will make you swear it really happened. I loved the characters and the journey they took me on.
Why was this book in Dorine's TBR? This book was read for Wendy the Super Librarian's "Kicking it Old School" challenge in August 2017. Written in 1999, it had been on my shelf since at least 2011 or longer. I know it was on my wish list for a while because of two reasons. I love a story about Native Americans and pioneers working together. That it contained "journals" hit another one of my passions.
I'm particularly fond of journals and gravitate toward authors who use them. I like them used as research for authors who make their dialogue more realistic – Allan W. Eckert used this technique in The Frontiersmen. I also love it when they're inserted into the novel, or a novel that is completely done as a journal. That's what drew me to this book, and even though I know it's fiction, it felt as if it really happened before my eyes. I kept going back to the author's notes about how this book came about because I wanted it to be real.
The novel is based on a historical moment that was never carried out to fruition. A Cheyenne chief requested that one thousand white women be given to his warriors as brides in 1854. Since the Cheyenne believe that children born of a marriage are the downline of their mother's people, it made perfect sense to this chief. In this way, his people could assimilate into the white man's world. The U.S. President never agreed to his request, but what if we did?
The fun begins when the author takes this fact and twists it by pooling insane asylums and jails for the women to be sent to the Cheyenne. Of course, some of them are perfectly sane and respectable, but the mix-up of such a variety of women makes for very entertaining reading. You must allow yourself to be entertained and not think about the ridiculousness of the situation. I thoroughly enjoyed the insanity.
Because the book starts in modern day, I had a hard time getting into it. I understood the sense of it by the end, but it stalled my reading a bit. Once I got into the lives of the women traveling with May Dodd, I was hooked.
Will Dodd begins the novel by describing his family's embarrassment over his insane ancestor, May Dodd, who was hospitalized and supposedly died in the asylum. Rumor has it that she really escaped to cohabitate with the Cheyenne. J. Will Dodd is an important part of the beginning and the end of the novel, as well as an enticement to read book two.
Then the author leads us to believe that we're reading excerpts from May Dodd's journals with minor editing. That's the fun part because I can see how easily May Dodd and her friends became real for me.
I loved the characters in this book. They all had issues to overcome and were so very different from one another. Yet, they became such close friends by enduring the same situation. This is what bonded them to themselves as well as to the Cheyenne.
The Englishwoman, appropriately named Miss Flight, who specialized in birds was such a good character. Her artistic ability was utilized by the tribe and her eccentricities were well drawn. She is one of my favorites.
Then there are the red-headed Kelly sisters of Irish descent who were jailbirds. Those two are rambunctious trouble makers who are a riot to follow. They easily make a place for themselves within the tribe as warriors of note. Their actions can also be a bit gory, which I didn't find as believable.
May Dodd continues to describe her journey and the women who are with her, in a gossipy fashion, telling a bit of their history that's very amusing. Sometimes she writes to her sister and talks about her own history mixed in with the current times. She falls in love with two men, torn between two worlds that are destined to collide. I loved the woman she becomes and felt her passion for a world that works together. Such a gripping story!
The Native American detail is exquisite. I loved the setting and how it came alive through the women's perspective. I was amazed at how well author Jim Fergus wrote the female point of view. That's not easily done, and it was so convincing that half the time I felt like I was reading a book written by a woman. There is a good amount of violence as well, so this book might not work for those who try to avoid the realities of our history in their pleasure reading. It made me appreciate the characters' plight even more for their endurance, but it was often a disturbing reality.
My only advice to those who read One Thousand White Women is that you have the next book, The Vengeance of Mothers, easily at hand to read next. I was lucky enough to receive that one for review just as I finished this book, and I could hardly wait a minute to dive in. This advice is especially for those who hate a cliffhanger. I don't want to hear your screams from here!
Will strict historical fiction lovers enjoy this book? I think so, if you love a good adventure and can just relax and enjoy the journey. I absolutely loved it, and consider myself an avid historical fiction reader, as well as enjoy romantic historical fiction. Although this book has romance, it leans heavily toward historical fiction. One Thousand White Women peers in at an idea that might have saved the Cheyenne from the white man's greed. I loved the idea of merging our people to live peacefully. Of course, it only works in my dreams – not in our history or the novel, but it makes for an excellent fictional tale. I highly recommend this book to those who love an adventurous pioneer western.
A review of The Vengeance of Mothers (One Thousand White Women, Book 2) by Jim Fergus is coming soon!
Review by Dorine, courtesy of The Zest Quest. Print copy purchased and retained on my keeper shelf.
One Thousand White Women: The Journals of May Dodd by Jim Fergus
Series: One Thousand White Women, Book 1
Category: Historical Western Fiction, heavy on the fiction
Publisher: St. Martin's Griffin (February 15, 1999)
ISBN-13: 978-0312199432
Rated 4.5 out of 5
More recommended reading…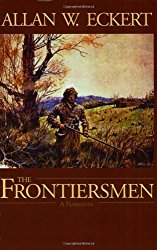 Print this Post