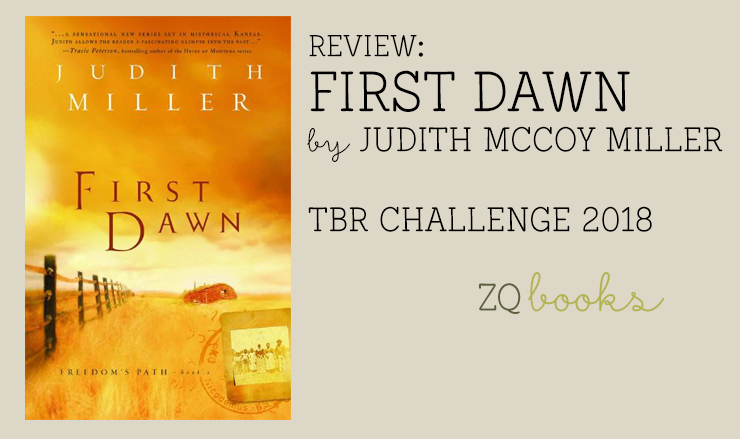 REVIEW: First Dawn by Judith McCoy Miller
FIRST DAWN by Judith McCoy Miller illuminates a lesser known piece of history in an engaging tale during the Reconstruction Period after the American Civil War. I love it when I learn something from historical fiction.
Why was this book in Dorine's TBR? American pioneer history is a favorite theme of mine in romantic fiction. I'm fascinated by these brave souls who risk everything in pursuit of a better future, then fall in love during those hardships. I wasn't aware of this westward expansion by former slaves to a city intended for them, so it drew me to this novel. FIRST DAWN suits our "kicking it old school" challenge because it was published in 2005.
Jarena Harban and her family leave sharecropping in Kentucky to take a chance on moving West. Jarena has no desire to leave her home. After the death of her mother, Jarena oversees the household tasks and teaches her younger twin sisters. Their father believes there is a future in a new city developed in Kansas. Formally a slave and currently a sharecropper, he dreams of owning his own land.
Several families join their journey westward to the town they've been told is ready for them. They're disappointed when there isn't a town as promised. Can they survive the upcoming winter with their ill prepared provisions?
Close by, another town is chosen as a destination by a southern white family. Doctor Boyle, along with his wife and daughter leave their elaborate home in Georgetown, Kentucky, to venture west to Hill City, Kansas. Dr. Boyle, a northerner who has lived in the south in his wife's family home, never agreed with slavery practices in the south. Not shy about his opinions, he hasn't been well-received by his neighbors. Eager for equality, he can't wait to start a new life with his family in Kansas.
Macia Boyle isn't happy about her future in Kansas, hoping to return to Kentucky to marry her plantation-owner boyfriend. Dr. Boyle hopes Macia will mend her selfish inclinations and realize her life can be more fulfilling. When the families in both cities realize cooperation will help them all, a unique relationship changes their future. But not before hardship tests them each step of the way.
I enjoyed this story because it's such an unusual tale. Filled with scripture, love, and hope, the families who are duped with "promised land" in Nicodemus struggle to survive. Dr. Boyle and his friends from Hill City want to help them, even though they were also promised more than they received.
The vernacular used in the novel often makes the dialogue difficult to read, but it does lend a realism. I like a lot of dialogue in my novels and this one was very close to my preferences. Some discussions were rehashed too often, which slowed the story down for my taste. The historical detail is not overly done. Instead, it's layered in a way that I never doubted I was in a historical setting, but I didn't get bored by lengthy descriptions.
Although race equality and inequality are very much a focus, I loved that it illustrated all races, including Native Americans, in a light of forgiveness and cooperation for the good of all. It's not all rosy, though – there are enough villains to test their faith.
I had hoped when I started this novel that it would be a romance driven novel, but it's not. By the time I realized it, I was completely absorbed in the story. Yes, there are romance elements, but this book doesn't complete that story arc. It reads more like a historical saga, where relationships will mature in future books.
What I liked most is the history I didn't know. It fascinated me that men romanced black sharecroppers who were formally slaves with a promise of their own land rich for farming. Then they did the same thing to the white pioneers, setting up two towns separated by race. When they arrived, both parties realized everything they were told might be a lie. Some held on to the hope of that bright future described to them, while others left disappointed. The struggles of those who stay and forge their way illustrates the pioneering spirit. I was excited to discover the Nicodemus National Historic Site as a rare piece of history preserved in honor of the western expansion by African Americans depicted in this book.
I did get a bit anxious toward the end of the book and wanted to skip ahead to reach the end. The conclusion wasn't fully satisfying because there was too much detail about what I didn't want to know, and not enough about what made me curious. I believe that's typical of historical saga-type books from what I remember. Not a frustrating method, just not what I expect in the type of books I currently read.
Even with the few things that weren't what I expected or wanted, I'm interested in the next two novels in the FREEDOM'S PATH series. If you're not normally a religious historical novel reader, the plot and circumstances warrant taking a chance on this one. I enjoyed its positive message and the transformation of the characters. Because I'm intrigued by the possibilities of their future, the characterization is the best part of FIRST DAWN, following the intriguing lesser known historical facts that the novel was based on.
Review by Dorine, courtesy of The Zest Quest. Digital book purchased. Thank you in advance for using the buy links within this review. Affiliate links assist with the maintenance costs for this blog.
First Dawn by Judith McCoy Miller
Series: Freedom's Path Series, Book 1
Category: Western Historical Fiction
Publisher: Bethany House Publishers (July 1, 2005)
ISBN: 978-0764229978
Rated 4 out of 5
Next in the series…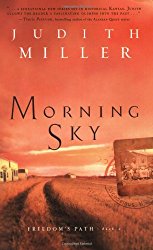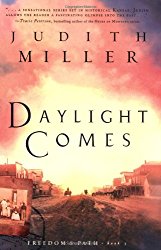 Print this Post