REVIEW: Wild Montana Sky by Debra Holland – photos!
WILD MONTANA SKY by Debra Holland is a sweet western historical romance that features likable characters in a challenging situation. I included more photos from our western vacation because I love dreaming about Montana.
Why was this book in Dorine's TBR? When faced with choosing sweet or spicy for this month's challenge, I had gobs to choose from in both categories. But I've been on a sweet romance tangent in my buying, so I really need to lessen the pile. I tried two other books before I found this one. One was a DNF within a few chapters, so it will be donated, then the next one was okay, but I didn't like it enough to evaluate. Since I reviewed Debra Holland's novella for our January challenge, I was curious how a full-size novel would compare. Three books off the TBR Mountain Range this month!
We meet Elizabeth Hamilton and Nick Sanders in the prequel, BENEATH MONTANA'S SKY. I highly suggest you read that just because it's so good. If you don't, book one in the series stands well enough on its own. Elizabeth is Pamela's best friend, so when Pamela marries John and moves to Montana, they're separated in distance, but their friendship continues through letters. What Elizabeth doesn't realize is that Pamela has adapted to frontier life much faster than Elizabeth can anticipate for herself.
Nick Sanders is John's godson and knows Elizabeth through paintings and her letters to Pamela. He has been secretly in love with her for years, so when she comes for a visit, he hopes it's permanent. The only problem is that Nick is extremely shy and tongue-twisted with Elizabeth. When their local wealthy banker shows an interest in courting Elizabeth, Nick feels the need to quickly convince Elizabeth he's the better man.
There's a lengthy love triangle in this book. At first, Elizabeth seems well suited to the banker for two reasons. He's the spitting image of her fiancé who died, and they're both comfortable with the Boston society crowd. He can provide her with everything she's accustomed to, but does she want comfort or adventure?
Oh, and the sister-in-law, Genia, who Laurence married is a piece of work! I fully understood Elizabeth's need to run away from home when that woman took over her brother's household in Boston. Which, by the way, had always been run by Elizabeth who is now displaced. There are quite a few chapters devoted to Elizabeth's dilemma in Boston with the new wife, and her mother who comes to visit, so I was spitting mad by the time Nick took her away from them. LOL
The setting in Montana didn't seem to come alive for me as much. Maybe because I was distracted by the wealthy banker's opulence in a rustic town. I also wanted to know why the town buildings had false-fronts. That mystified me, and I wanted more clarity. I know they existed in history, but I couldn't remember why, and it drove me silently crazy. I can't help it, I wanted more historical Montana feels.
WILD MONTANA SKY didn't make me squeal with joy like the prequel novella in this series, but that doesn't surprise me. The author didn't do anything wrong, I was just so darn excited to find her when I read the novella, that my reading was heightened by my enthusiasm. I wasn't as off-the-wall giddy this time while reading, but I really enjoyed the book, and I'll eagerly read the next one in this series. They're addicting, and I'm glad I stocked up when they were on sale.
For me, I find that many authors are better at writing a specific page length. I don't always like novellas and category-size novels from the same author equally. Some are just more gifted at one or the other. That's not the case with this author because Debra Holland's style engaged me in both books.
I did have a momentary hardship with the age difference between Elizabeth and Nick. I'm not sure why I find an older man with a younger woman preferable to an older woman with a younger man. Maybe it's because my husband and I fit that older man/younger woman scenario, that I just can't imagine it any other way. I kept wondering what this young cowboy saw in her, even though she was beautiful.
Elizabeth was also a little too froo-froo for someone I'd imagine loving Montana. I picture someone who'd gravitate toward rustic, but I guess that's misleading because I adore Montana and I can act like a diva when I set my mind to it, even though I envision myself more like a pioneer. LOL It's funny how we get this idea in our head as we're reading, and we can't fathom how it will ever work out. She eventually frees herself of the stigmas of being a lady, so it's all good.
But, when you think of the old west, and how few women were available, then it makes more sense. Nick was smitten before Elizabeth arrived. Also, it's very evident that Nick grew up fast, as was necessary for his situation. I guess after my initial wavering, I accepted their age difference, because the author convinced me with her characterization.
There were some scenes with a bear that didn't fully convince me, but they served their purpose and I enjoyed the outcome. Most of the time I didn't question what I was reading because I was entertained. That's because it's sweet, romantic, and very cute when Nick and Elizabeth are together. Pamela and John's children are adorable, and they add to the drama. I loved how Pamela has grown into this self-sufficient mother who fights for her children.
My favorite sentence from this novel fully describes Nick's love for Elizabeth. He wanted her to be happy, whether she ended up with him or not.
"Before she chose to step into Livingston's gilded cage, he wanted her first to experience flying free."
Nick pushed Elizabeth to blossom before our eyes and it was beautiful to observe. That was probably my favorite part of this novel – Nick's constant attention to Elizabeth's western experience showed he cared as a man should for a woman.
If you love western historical romance, then I highly recommend this sweetly romantic series so far. I've enjoyed both books and I'm anxious to read STARRY MONTANA SKY. I think they would make great book club discussion topics because I certainly can't stop talking about them within my reviews! Sheesh – I sure was wordy this time. 🙂
Review by Dorine, courtesy of The Zest Quest. Book purchased in digital format. Thank you in advance for using the buy links within this review. Affiliate links assist with the maintenance costs for this blog.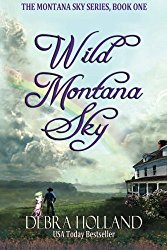 Wild Montana Sky by Debra Holland
Series: The Montana Sky Series (Book 1)
Category: Western Historical Romance
Publisher: Montlake Romance (August 28, 2012)
ISBN: 978-1612184661
Rated 4 out of 5
Next in the series…

Print this Post