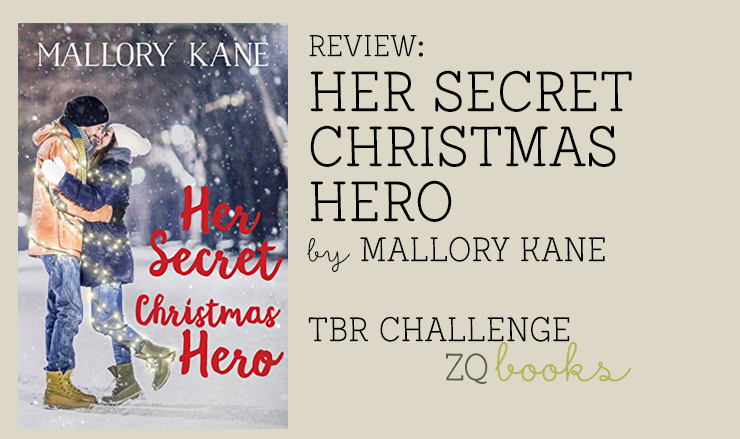 REVIEW: Her Secret Christmas Hero by Mallory Kane
Her Secret Christmas Hero by Mallory Kane is a very short holiday story that takes place on a horse ranch, one of my favorite themes. Unfortunately, this novella is too short to give the broader feel of the setting I prefer.
Why was this novella in Dorine's TBR? I collect free novellas when I find them, especially for new-to-me authors. Not that every author is gifted at writing novels and novellas equally, but this gives me an idea of whether I want to try longer books by the same author. It's also a great way to stretch my reading into some of the TBR themes I wouldn't normally choose.
Let me preface this review with the caveat that the holiday theme for our TBR Challenge is my least favorite. I love the idea of Christmas themed stories, but rarely find any that satisfy my craving. Choosing a shorter book for this challenge gets me through when I don't have any time for reading. I should rephrase that. It's probably better stated that my brain wants to play mind-numbing games on my Kindle, or watch mindless TV, more than reading when cold weather hits.
I don't know why, but the idea of cozy reading by a fire, which is huge on my wish-list, never happens because my brain won't allow it. Hence the reason why my huge TBR of Christmas themed books never get read. I keep thinking this year I'll do it! Nope – I stall every time. I'm starting to think that maybe I don't really like holiday themed stories as much as I think I do.
Her Secret Christmas Hero drew me in with its beautiful cover. Having heard of the author, I was curious about her style, so I downloaded the book without investigating further. At first, I thought this book was part of a series by the way it's labeled on GoodReads as "Secrets of Cherry Lake #6". After much research, I still don't know why it's listed that way as I can't find any series link. Maybe it was part of an anthology at one time.
I don't normally review books that fail the believability-factor for me, but I think the author's talent is there, it just didn't pass my grouchy pickiness in this book. I came down with a bad sinus infection when I should have been reading and writing this review. Having to continue my shopping and other holiday insanity while I'm sick put me into Miss Cranky Pants territory with no sign of relief. Trust me – a grouchy review is the least of my sins.
First of all, there were too many missing words or grammatical errors for such a small story. Note to publishers – if you're going to give a book away free to entice new readership, and you make an effort to give it such a gorgeous cover, please take the time for a thorough edit. Truthfully, I set the book aside when I thought I was at 50%, because I couldn't believe the innocent heroine would have insta-love or insta-lust with someone she knew was a criminal. Someone else may feel the attraction and believe the hot sex that happened quickly, but I couldn't stop the "Danger Will Robinson" flashing lights from going off in my head.
A day later, I decided to give it another go, only to find out that the reason I was only at 50% was that there were so many excerpts in there for other books that it equaled the page count for the story. I was much further along than I had anticipated. But, by that time I was so annoyed at the heroine for being a goofball, and at the publisher for loading all those excerpts, that I couldn't imagine reviewing this fairly. Then, I went back in and realized there was a free story in there by another author – not the load of excerpts that my sick self imagined. Oops. That was a nice surprise – she says sheepishly. 🙂
To summarize, Her Secret Christmas Hero had many good parts that I enjoyed. But, I can't overlook missing words and too much sex because I fully expected the heroine to be pregnant if the hero went to jail. That wasn't the end, but my mind had gone there, so the true end made no sense to me. If you like a bad-boy hero who really doesn't want to be a bad boy, then this novella might be for you. I loved the mama horse and her baby – those scenes were really sweet.
There you have it – Miss Cranky Pants reviewed this novella because she has no time or patience to read another for the TBR Challenge. I promise the positive me will be back soon. 🙂
Reviewed by Dorine, courtesy of The Zest Quest. Digital copy obtained for free in an Amazon promotion.
Her Secret Christmas Hero by Mallory Kane
Publisher: Tule Publishing; 3 edition (October 20, 2015)
ASIN: B016Z5ODM4
Rated 3 out of 5
The TBR Challenge year is complete! I'm looking forward to doing it again in 2019. I was thrilled with how many books I read off my TBR because the challenge made me find them. Yes, my print TBR is a nightmare, but my digital TBR has dwindled to a reasonable amount because of this challenge. Thanks to Wendy the SuperLibrarian for corralling all of us.
What are your reading goals for 2019?

Print this Post